Organizational charts, also known as org charts, are important tools for visualizing the structure and hierarchy of an organization. They provide a clear understanding of how the different departments, teams, and individuals fit together and work towards achieving the organization's goals.
Many organizations use org chart software to create, update, and manage their org charts. Here are some benefits of using org chart software:
Time-saving:

Org chart software can save much more time than manually creating and updating org charts.

Customization:

Org chart software provides a high level of customization, allowing organizations to create org charts that reflect their unique structure and needs.

Collaboration:

Org chart software enables teams to collaborate on org chart creation and updates, making it easier to ensure accuracy and completeness.

Data visualization:

Org chart software can create interactive, visually appealing org charts that make it easier for employees to understand the organization's structure and hierarchy.
Org charts are crucial tools for any organization, providing clarity, communication, and decision-making support. Org chart software can make the process of creating, updating, and managing org charts more efficient, collaborative, and visually appealing. That being said, several org chart tools are currently available in the market, and it becomes difficult to choose the right tool.
In this article, we have laid out the top 6 org chart software based on features, user reviews, cost, and ease to use for beginners.
EdrawMax
EdrawMax is an all-in-one diagramming software that offers a variety of features for creating high-quality org charts. Its intuitive interface and comprehensive toolset make it an ideal choice for organizations of all sizes.
Here are some features of EdrawMax that make it a great tool for creating org charts:
Smart Templates:

EdrawMax offers a range of pre-designed templates for org charts, allowing users to create professional-looking org charts quickly.

Robust Interface:

EdrawMax's user-friendly interface makes creating and customizing org charts easy, even for users with little to no design experience. Additionally, the tool is available in Windows, macOS, Linux, and even Web versions.

Vector Symbols:

EdrawMax's extensive library of vector symbols provides users with various shapes and icons, making it easy to create unique and visually appealing org charts. As a registered user, you can create personalized shapes and add vector text to your org charts.

Online Collaboration:

EdrawMax's cloud-based platform allows easy online collaboration, enabling team members to collaborate on org chart creation and updates.

SSL Certification:

EdrawMax provides SSL certification to ensure the security and privacy of users' data.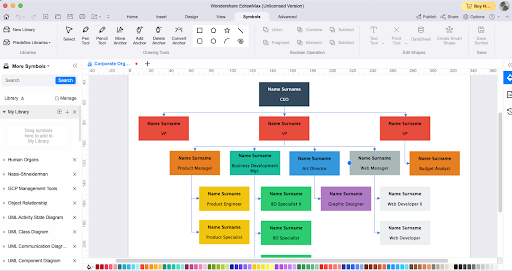 Here are a few limitations of EdrawMax as an org chart software:
Limited Integration:

With so many amazing features, EdrawMax has limited integrations. Currently, it lets you import files from Visio and CAD's DWG and DXF formats.

Real-time Collaboration:

While EdrawMax offers remote collaboration, it has a few limitations regarding real-time remote collaboration.
Cost:
Free Version
Subscription Plan: $99/year
Website: https://www.edrawsoft.com
Verdict: EdrawMax is an excellent tool for creating org charts, offering a variety of features like smart templates, vector symbols, online collaboration, SSL certification, and integration with other software tools. With its user-friendly interface and comprehensive toolset, EdrawMax is a great choice for students, beginners, and small and large organizations looking to create high-quality org charts efficiently and effectively.
Lucidchart
Lucidchart is a web-based diagramming tool that is designed to make it productive for users to create a wide range of diagrams, including org charts. Some of the key features of Lucidchart that make it a good choice for creating org charts are as follows:
Drag-and-drop functionality:

Lucidchart makes it easy to create org charts by allowing users to drag and drop shapes onto the canvas. Users can easily add new shapes, connect them with lines, and adjust the layout of the chart to fit their needs.

Customizable shapes:

Lucidchart offers a variety of shapes that can be used to represent different roles or positions within an organization. Users can customize these shapes with text, images, and colors to make them more meaningful.
However, there are some limitations to using Lucidchart for org charts. For example:
Limited free version:

While Lucidchart offers a free version, it has some limitations in terms of the number of available shapes and templates. Users may need to upgrade to a paid plan to access more advanced features.

Steep learning curve:

While the drag-and-drop interface is relatively easy to use, creating complex org charts with multiple levels can be challenging. Users may need to learn how to use all of the features and tools available in Lucidchart to create the chart they need.

Limited customization options:

While users can customize the shapes and colors used in their org charts, there are some limitations to what can be changed. Users may not be able to fully customize the appearance of their org chart to match their specific needs.

No Offline Tool:

Lucidchart is a web-based application and does not offer desktop versions.
Cost:
Free: Comes with three editable document
Individual Plan: $7.95/month
Team Plan: $9.00/user/month
Website: https://lucid.app/
Verdict: Lucidchart can be a good option for creating org charts. However, if you are planning to customize your content to the fullest, you might need to check other tools. Additionally, the lack of options for Windows, macOS, and Linux also put this tool in the backseat.
Creately
Creately is a software tool enabling users to easily create customized organizational charts. This intuitive platform offers a range of templates and design options, allowing users to efficiently depict the structure of their organization in a visually appealing way. With Creately, you can effortlessly build professional-looking org charts to map out roles and responsibilities within your business or team.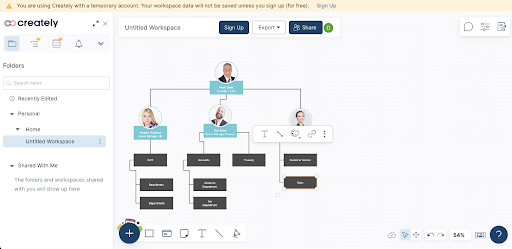 Some of the features of Creately are:
Free-Form Canvas:

Creately's free-form canvas allows users to create diagrams in any shape or form they desire. Users can add, move, and resize objects and shapes as needed and adjust the layout and formatting of their diagrams to suit their needs.

Linking Data:

Creately allows users to link data to their diagrams, making it easy to visualize complex information and relationships. Users can link data from spreadsheets, databases, or other sources and can also create links between different parts of their diagrams to show how they are connected.
Here are a few limitations of using Creately for designing organizational charts:
Difficulty in Choosing Shapes:

Creately's library of shapes and icons can be difficult to navigate, and users may struggle to choose the right shape for their diagrams.

Learning Curve for Beginners:

Creately can have a steep learning curve for beginners, especially those who are new to diagramming software. The interface can initially be overwhelming, and some users may require additional training to use the software effectively.

Limited Customization Options:

While Creately offers various customization options, users may find that these options are limited compared to other diagramming tools. For example, some registered users may not be able to fully customize the look and feel of their diagrams or create custom shapes.
Cost:
Free: Offers three canvas
Starter: $8/month/user
Businesses: $149/month
Website: https://creately.com/
Verdict: Creately is a good option for those who require collaboration features. However, for users who require more advanced features or customization options, better tools are available. Other tools, which fall under the same price range, offer more advanced functionality and a wider range of customization options.
MS Visio
Microsoft Visio, or simply Visio, is a diagramming and vector graphics tool widely used by businesses to create flowcharts, process diagrams, network diagrams, and other visual representations of complex systems and processes. One of its most popular use cases is for creating organizational charts, which can help businesses to visualize and communicate their organizational structure, roles, and responsibilities.
Some of the features of Visio are:
Real-Time Collaboration:

Visio allows for real-time collaboration among team members, which can be especially useful when creating and editing org charts. Multiple team members can work on the same org chart simultaneously, saving time and improving efficiency.

Flexibility:

Visio provides a high level of flexibility when creating org charts. Users can choose from a variety of templates and shapes to build a chart that fits their organization's unique structure.
There are also several limitations to using Visio as org chart software. These include:
Hefty Cost:

Visio is relatively expensive software, which can be prohibitive for small businesses or organizations with limited budgets.

No Mac/Linux Versions:

Visio is unavailable for Mac or Linux operating systems, which may limit its usefulness for some organizations.

Too Complicated:

Visio's many features and customization options can make it overwhelming and difficult to learn for some users, especially those who are not familiar with diagramming software.
Cost:
Visio Plan 1: $5.00/user/month
Visio Plan 2: $15.00/user/month
Website: https://www.microsoft.com/en-us/microsoft-365/visio/flowchart-software
Verdict: Visio can be a powerful tool for creating org charts, but it may not be the best choice for all organizations due to its cost, platform limitations, and complexity. Other org chart software may offer more affordable and user-friendly options with a wider selection of templates.
Sift
Sift is a software platform that provides tools for creating and managing org charts and other HR-related functions such as talent management, workforce planning, and employee engagement. Sift's org chart software helps businesses to visualize and organize their organizational structure clearly and concisely.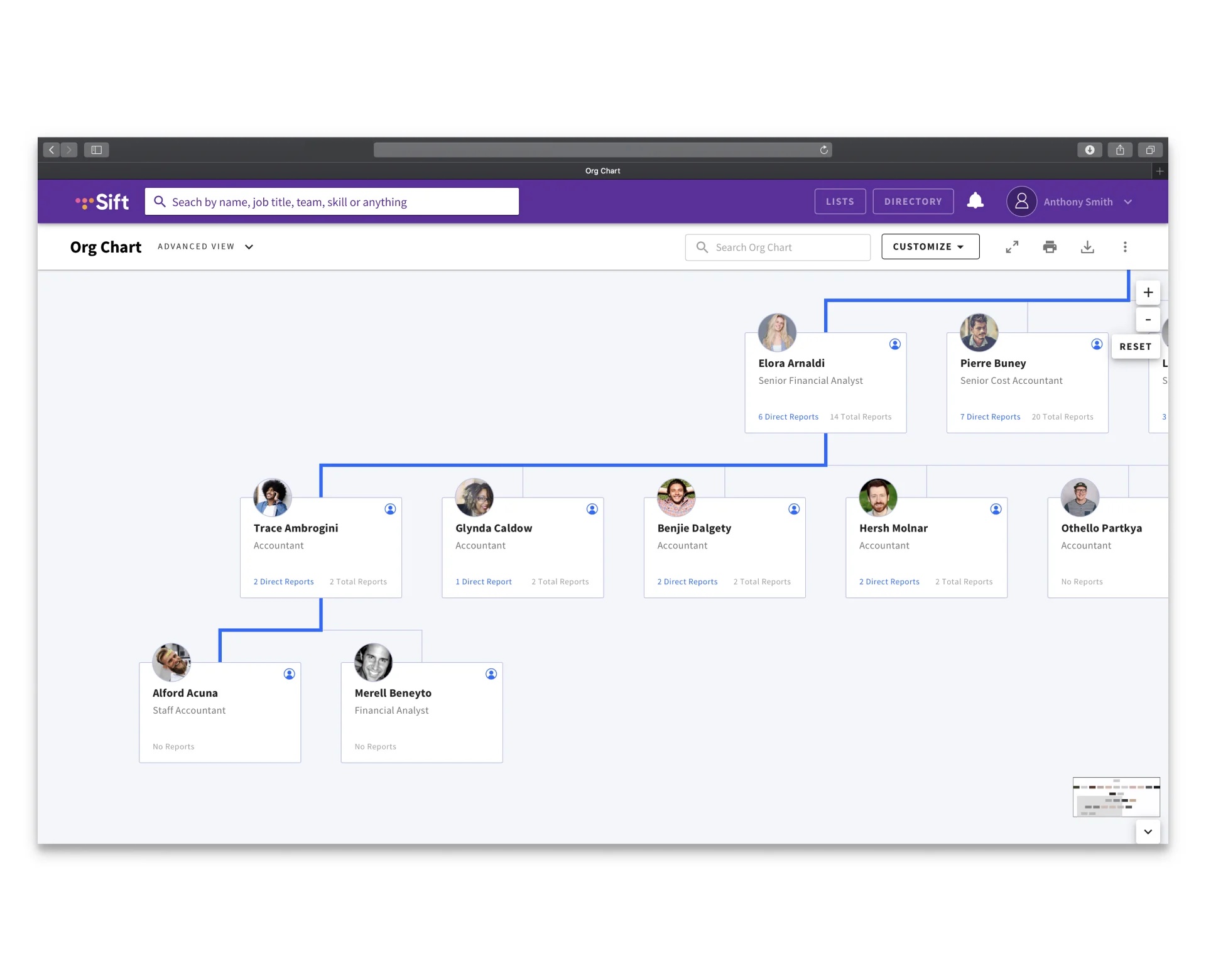 Some of the features of Sift are:
Organizational chart creation:

Sift offers a user-friendly interface that allows businesses to create and manage their organizational charts, including identifying team members based on hobbies and interests.

Individual profile section:

Sift allows businesses to create individual employee profiles that include important information such as job titles, contact details, and performance metrics. This feature enables organizations to keep track of employee data and performance metrics, which can be used to inform management decisions and employee development plans.
Despite its many useful features, Sift also has some limitations, including:
Buggy phone app:

Sift's mobile app can be prone to bugs and glitches. Few users have reported that the buggy app can make it difficult to use and navigate.

No in-depth information:

Sift's software only provides limited information about the organizations, which can be limiting for businesses that require more in-depth information to inform their decision-making processes.
Cost:
Starter: $1.50 per profile per month
Pro: $2.50 per profile per month
Website: https://www.justsift.com
Verdict: Sift is a useful HR software platform that can help businesses to manage their workforce more effectively. However, businesses should know its limitations before implementing it within their organizations.
Freshteam by Freshworks
Freshteam is an HR software platform developed by Freshworks that provides tools for recruiting, onboarding, and managing employees. With Freshteam, businesses can streamline their HR processes and manage their workforce more effectively.
Some of the features of Freshteam are:
Easy to use:

Freshteam's user-friendly interface makes it easy for businesses to manage their HR processes, from recruitment and onboarding to employee management and performance assessment.

Organizational chart creation:

Freshteam provides tools for creating and managing organizational charts, allowing businesses to visualize and organize their company's hierarchy clearly and concisely.
Despite its many useful features, Freshteam also has some limitations, including:
Limited support:

Freshteam's customer support can be limited, which can be frustrating for businesses that need assistance with the software.

Limitation in Org Chart:

Even though Freshteam lets you create org charts, it is predominantly not an org chart software, and that is why businesses will find it clumsy if they are only looking for a tool that lets them create org charts.
Cost:
Free: For 50 Employees
Growth: $1.03/employee/month + $69 platform fee/month
Pro: $2.06/employee/month + $107 platform fee/month
Website: https://www.freshworks.com
Verdict: Freshteam is a useful HR software platform that can help businesses to manage their workforce more effectively. However, it offers very limited templates and customization options when it comes to ideating, creating, and sharing org charts. 
Conclusion
Choosing the right organizational chart software is essential for businesses looking to manage their workforce effectively. In this guide, we compared the top six org chart software options based on their features, limitations, and cost. After careful consideration, we believe EdrawMax is the best org chart software for your business. EdrawMax offers collaborative tools, Visio file import options, a range of free templates, and a free vector-symbol library from where users can choose from 25,000+ symbols and clipart. Additionally, EdrawMax provides a high level of customization, allowing businesses to tailor their org charts to meet their specific needs. With these features, EdrawMax provides a comprehensive and user-friendly solution for businesses looking to streamline their organizational management processes.
---
Interesting Related Article: "Benefits of using Gantt Charts in Project Management"