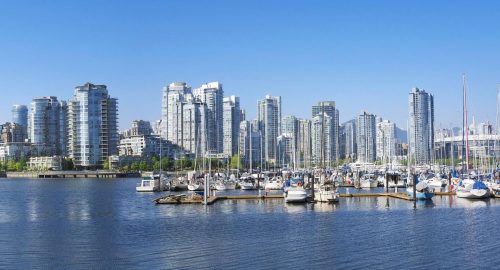 The Canadian economy has grown exponentially in the past few years. In 2018 alone, over 422,000 jobs were added, representing an increase of 2.3%. As the largest city in Canada, Toronto is one of the country's economic powerhouses. The city is home to over 2.7 million people, which leaps to 6 million when neighboring suburbs are combined. Around 47% of people in Toronto have immigration status of some kind, making Toronto the most diverse city in Canada and the world. The city boasts a variety of people with different skill sets and backgrounds, making it a best-suited destination for employers to find talent. 
Money is an important factor for fresh graduates in deciding which career paths they will choose. Even though there is some fluctuation in the highest-paying jobs every year, a few stable jobs always make the cut. The demand for many of these jobs has increased substantially due to the global pandemic. 
The average salary in Toronto is around C$68,000, with living costs 100% higher than the country's national average. So, some people earning this average might even struggle to make ends meet. The monthly expenditure of a family of four is C$4,828, excluding rent. This means to be considered rich in Toronto one has to earn over C$90,000 per year. In this short piece, we will be talking about the top seven highest-paying jobs in Toronto. 
1. Surgeons 
Canada is known for its outstanding public healthcare system. According to the Organization for Economic Cooperation and Development (OECD), the country ranks 24th among 30 nations. It features three physicians per 1,000 residents. Medical experts work in high-stress environments. Given the high demand for medical professionals in Canada, there are many openings for doctors and nurses in the private and public sectors. 
The employment rate growth of family physicians and general practitioners in Toronto is among the highest in Canada. Due to high demand, medical professionals, especially surgeons, are well paid. Being a surgeon may seem like a difficult task, as a general surgeon does an undergrad and postgrad degree. A specialist surgeon further does a five-year residency program.  Despite the fact that there have been more graduating surgeons in the last couple of years, the demand for these professionals is expected to increase till 2028, thus, making the profession one of the highest-paying in Toronto. 
2. Psychiatrists 
Psychiatrists specialize in mental illness. By 2028, the number of psychiatrists in Canada is expected to reach 81,000, including 22% of graduates outside Canada. With people recognizing mental health and illnesses more seriously, the demand for psychiatrists has increased, especially during the pandemic. Almost all major companies have created a dedicated role of internal counselors/psychiatrists for the mental health of their employees. 
3. Dentists
Dentistry is one of the highest-paying jobs in Toronto. Some reports suggest that  12,200 new dentist jobs will be added by 2028, and around 7,000 new job seekers are projected to join this field. This discrepancy between demand and supply offers a perfect opportunity for fresh graduates to enter this field if they are looking for a high-paying profession. According to the Canadian government, the demand for dentists will increase with the aging of the Canadian population. 
4. IT Managers
An IT Manager develops information technology strategies for the company, researches solutions, and manages the staff. IT managers play a critical role in executing and implementing plans for the smooth functioning of IT activities in an organization. Since most industries are technologically driven, IT managers are in high demand due to their technical expertise. 
5. Marketing Managers
Marketing managers play a crucial role in developing an organization's or product's marketing strategy. They usually work on the promotional aspects of models and campaigns and ensure the company is targeting the right audience. Marketing managers often maintain a marketing budget to ensure that their company is not under or overspending on marketing. With a number of companies working on digital marketing, which seems to be the next big thing, the role of marketing managers has become more important than ever. Given the digital nature of marketing, modern-day marketing managers should be experts in digital marketing. 
6. Lawyers 
Lawyers provide legal advice to various individual or corporate clients. Being a lawyer in most countries is considered a matter of pride and a high-paying job. According to Job Banks Canada, 46,000 new positions for judges and attorneys will be created, equal to the number of fresh LLM graduates entering the labor market. 
7. Pilots 
Pilots have expertise in operating aircraft, including navigation, flight control, and flight engineering. The Aeronautics Act of 1985 contains the rules and regulations related to aviation, and the main governing body is Pilot Licensing in Canada. There is a high demand for commercial pilots, which is expected to grow for the next 10 years as numerous licensed pilots are going to retire. 
This list of the highest-paying jobs in Toronto is not exhaustive. There are many other jobs across the medical, IT, and management sectors that pay above the city mean average. The key to finding the best job is understanding whether it aligns with your expectations and future career goals. 
Author's Bio
Gordon Pelosse
Senior Vice President, Employer Engagement CompTIA 
Gordon Pelosse is the Senior Vice President, Employer Engagement at CompTIA, a non-profit that has established itself as the voice of the IT industry.  With over 40 years of experience, he helps employers find talent in a competitive labor market and trains unemployed and underemployed people for the IT sector. 
---
Interesting Related Article: