As a business owner, you want your office space to be comfortable for your employees and impressive to your clients. But achieving that perfect balance can be difficult, especially if you're not sure what design trends are popular in Malaysia.
Don't worry, we've got you covered. Here are the top commercial interior design trends in Malaysia that are sure to give your office space the makeover it needs.
Unique Furniture and Accent Pieces
If you want your office space to stand out, then you need to incorporate some unique furniture and accent pieces into the design. Bold patterns and bright colors are always eye-catching, but you can also go for more subtle pieces that still make a statement. 
Either way, furniture, and accent pieces are a great way to add some personality to your office space. This is because they can be used to create different areas within the space, which can be helpful in terms of both function and aesthetics.
Creative and Geometric Patterns
Patterns are a great way to add visual interest to any space, and there are endless possibilities when it comes to commercial interior design. 
If you're looking for something a little more traditional, then opt for classic geometric patterns like stripes or chevrons. Or if you want something with a bit more personality, go for something more creative like abstract shapes or nature-inspired designs.
Outdoor Spaces
One of the latest trends in commercial interior design is incorporating outdoor spaces into the office layout. This is especially popular in Malaysia due to the tropical climate. Adding an outdoor seating area or balcony can not only make your office space more visually appealing but also provide a place for employees to relax and take a break from work.
The experts from Interior Design 2 U Malaysia suggest that "When incorporating an outdoor space into your office design, it's important to consider the furniture and layout carefully. You want to create a space that is both functional and stylish."
Comfortable Seating with a View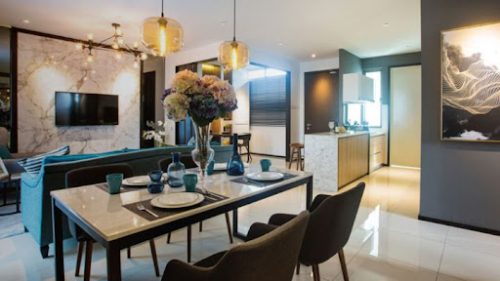 Another trend that is becoming increasingly popular in Malaysia is comfortable seating with a view. Employees spend most of their day sitting at their desks, so it's important to have chairs that are comfortable and support their back properly. But it's also important to have chairs that look good too!
Adding some stylish chairs with a pop of color can really brighten up an office space. And if you have a view of the cityscape or skyline, even better! Employees will love being able to take in the sights while they work.
Modular Walls for Easy Installation
If you're looking for an easy way to renovate your office space without breaking the bank, then modular walls are a great option. 
They're easy to install and can be reconfigured as needed, making them perfect for any size office space. Plus, they come in a variety of materials and finishes so you can find the perfect look for your business. 
Summary
As you can see, there are plenty of commercial interior design trends to choose from in Malaysia. So whether you're looking for something traditional or more modern, there's sure to be a trend that suits your office space. The most important thing is to have fun with it and create a space that your employees and clients will love. It's time to get creative and make your office space stand out from the rest!
---
Interesting Related Article: "7 Interior Designers Favorites to Make Home Cozy and Chic"