One of the world's top economists believes that Bitcoin and other cryptocurrencies are bubbles destined to crash.
Bitcoin, the most widely known cryptocurrency, has been around since 2009.
Nouriel Roubini, who accurately predicted the 2008 global financial crisis, described Bitcoin as "the mother of all bubbles" in an interview with Bloomberg.
Since surging to its record high of $19,511 on Dec. 18 (following the introduction of regulated futures contracts in the US) the value of Bitcoin has plunged by more than half.
The cryptocurrency has been affected by increased regulation of trading in South Korea and threats by other governments to follow suit, a $500-million heist at Japanese bitcoin wallet and exchange service Coincheck Inc., as well as a policy change by Facebook banning all ads associated with the cryptocurrency.
Bitcon wallets are cryptocurrency wallets. These digital wallets have keys which give owners access to funds. The keys also allow them to receive payment.
Bitcoin dropped below $8,000 for the first time in months on Friday amid a massive sell-off. The digital currency dipped to as low as $7,695.10.
Nouriel Roubini tweeted:
"Now Bitcoin crashing below 8000, headed toward 7000. Down 60% from the peak, 40% in a month and over 10% today. The Mother Of All Bubbles And Biggest Bubble in Human History Comes Down Crashing."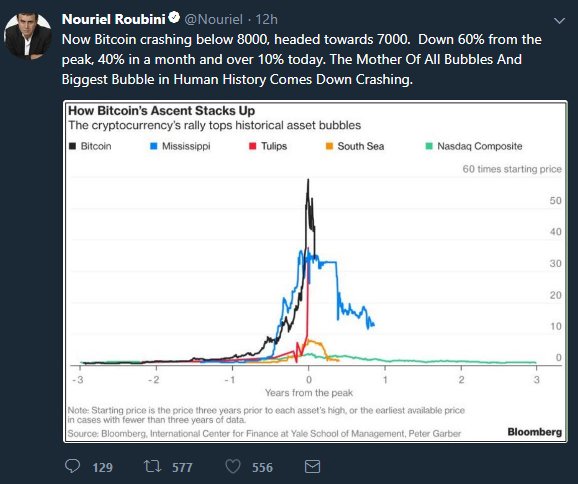 In an interview with Bloomberg Television, he said that it isn't only Bitcoin.
Roubini noted that of the 1,300 cryptocurrencies or initial coin offerings, "most of them are even worse" than Bitcoin and that they constitute a "a bubble to the power of two or three."
He added that blockchain has "been around for 10 years, and the only application is cryptocurrencies, which is a scam."
Video – All About Cryptocurrencies
Cryptocurrencies have been around for a few years now. We all read and hear about them in the news, but few of us fully understand what they are and how they are different from traditional currencies. This video by Market Business News explains using simple terms.