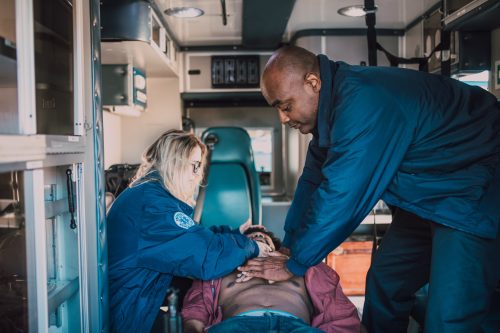 Let's get to the heart of the matter: cardiopulmonary resuscitation (CPR) saves lives. This vital technique can be used in emergencies — for example, when someone stops breathing or is having a heart attack — and can often mean the difference between life and death. Anyone, even those who are not medical professionals, can be trained in CPR, and most people would agree that knowing CPR is an excellent skill to have. But in today's busy world, many people struggle to find the time to attend an in-person course, much less carve out time to attend each week.
Fortunately, online CPR courses are an excellent alternative for getting your CPR certification. Online courses allow you to go through the course material on your own schedule, at a time and place that will work for you. Online CPR certification courses are accessible and flexible. The only things you need are internet access; a laptop, tablet, mobile phone, or other similar device; and a willingness to learn. Let's explore the top five reasons to get online CPR certification.
Save Lives
More than 350,000 people experience cardiac arrest outside of a hospital setting in the United States each year. Of those, approximately 70 to 90 percent will die before reaching the hospital. Performing CPR in these emergency situations ensures blood and oxygen circulates to the brain and other vital internal organs, helping stabilize the person's condition before emergency services arrive. By administering CPR, you can literally save someone's life. Learning CPR online is just as valuable and informative as learning in an in-person class. The course material is the same, and you have the added benefit of learning at your own pace at a time that works for you.
Growing Demand for CPR-Certified Individuals
Cardiac arrest or other medical emergencies can happen to anyone, at any time. For this reason, more and more employers are requiring their employees to be CPR-certified. And it's not just medical professionals who should be CPR-certified. No matter your job title or role, you can benefit from this important skill set. Even if your employer doesn't require CPR certification, adding this to your resume looks desirable to any employer. This demonstrates leadership potential, as it indicates your willingness to take initiative, be responsible, and continue learning and growing.
Gain Confidence and Skills
They say knowledge is power, and it's true. The more skills and knowledge you have, the more confident you feel about yourself, your value, and your place in the world. Acquiring lifesaving skills through online CPR certification is a great way to boost your confidence. Knowing how to act and what to do in emergency situations is invaluable, not only to the person's life you may be saving, but also for everybody involved. CPR training teaches you how to save a life, and also how to remain calm and steady in emergencies, which is of benefit to any stressful life situation, medical emergency or not.
Online CPR Certification is Affordable and Convenient
Between juggling your work, family, and life responsibilities, it can be difficult or nearly impossible to fit one more thing into your schedule. Online CPR certification courses are designed to help busy people access this lifesaving skill. The courses are relatively short, which means you can go through the entire course in one day, or break it up into smaller portions over days, weeks, or months, depending on your schedule. Online courses make it easy to register and access the course material at your convenience. Plus, online CPR courses are affordable (and in some cases, free!), making them more accessible to those on a tight budget. You don't need to worry about additional expenses, such as gas or bus fare, to get to class.
Get CPR Certified Quickly
Online CPR courses are designed to be completed efficiently. You may be able to complete your course material in as little as 60 to 90 minutes. Once you complete the course material, you can take the exam and have immediate access to your certificate. In comparison, if you were to take a CPR course in person, you would need to plan your schedule around the date and time of the course, which is far more time-consuming, and you will need to take the exam at a date and time that is pre-scheduled and may not suit your availability. The American Academy offers online CPR certification without the hassle and time-consuming aspects that in-person classes often require.
Register for Online CPR Certification
Learning CPR can make a difference in someone's life, and our online CPR course can take as little as 90 minutes to complete — all on your own schedule. Online courses work well for students, parents, and people in all types of careers. If you're ready to become CPR-certified and be prepared to save a life, the American Academy of CPR and First Aid offers affordable access to the course you need. Register today for our free online CPR training course to earn your CPR certification.
---
Interesting Related Article: "Medical emergencies in Space: What to do"