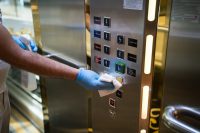 Your office is a place where you spend the majority of your time at, aside from your own home that is. That is why it is vital to keep it clean at all times. Unfortunately, not everyone has the time to do the cleaning for themselves as they may already have a lot on their plate. For this reason, many business owners turn to an office cleaning service for help. These professionals can come in and tidy up the place so that it remains a clean environment to work in for you and your employees.
You Will Have More Productive Workers
To say that your work environment impacts your well-being would be an understatement. An office that is dirty or in disarray is likely to cause your employees to feel stressed out and will not allow them to focus on the work to be done because they may be too distracted by the clutter. Having an office cleaning service come in and tidy up can reduce the amount of distractions your employees have thus making them more productive. You will find that a cleaner office space will motivate your employees to be that much more productive.
You Will Make a Great First Impression
If you work in an office where customers and clients are constantly coming in and out of the building, it's important that you are keeping it tidy for them. Otherwise, they may have no interest in coming back. First impressions mean everything and if your office isn't tidy or clean when a potential client comes in, they may not want to come back afterward. Aside from making a good first impression, you should want to keep a clean space for your customers, which is why hiring an office cleaning service is a good solution.
You Will Save Time
If your office is small, you may have convinced yourself at one point or another that you can do the cleaning on your own. But soon enough, you probably discovered that cleaning an entire office, no matter how big or small, is not exactly a walk in the park and can be incredibly time-consuming. Rather than take on the task yourself, be sure to hire a professional cleaning service to come in and get the job done so that you can get back to the things that matter most.
They Use Professional Equipment
One of the best things about a professional cleaning service is that they come equipped with everything they need to get the job done. They have their own professional grade cleaning supplies and materials that are more likely to give the office a thorough clean than any supplies you may have on hand. These are also professionals with plenty of experience who know what they are doing and will make sure to clean every corner of your office space no matter how big or small it may be.
You're Less Likely to Get Pests
There is nothing worse than a pest infestation, especially one in your office space. No one wants to come into work and spot a rat or a mouse scurrying about the break room or in their cubicle. Keeping your office space clean is a great way to prevent pests from entering your office and scaring off your employees. Having a cleaning service come in on a regular basis will keep the pests at bay and get rid of any that may already be lurking behind your break room fridge or behind a bathroom stall.
---
Interesting Related Article: "What is included in office cleaning?"