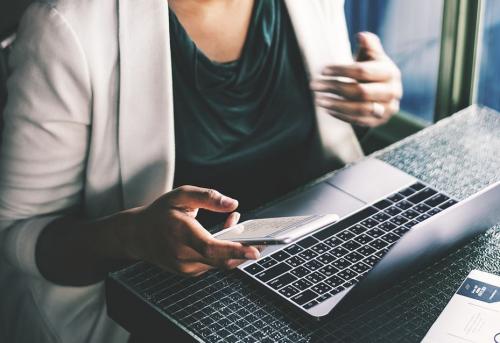 IoT (Internet of Things) is a new approach to quality of life. It is used to control and observe any mechanical device and electronic system. Thanks to IoT, automation continues to be introduced into every job sector, such as agriculture, energy supply, medicine, and many more. Since IoT devices are designed to be really easy to use, they have gained massive popularity and have found a place in our homes.
A GUI (Graphical User Interface) is used to interact with different electronic devices. Instead of using text, we use graphical expressions and audio indicators to give instructions to electronic devices. This allows faster and easier interactions with the computer, and everyone can use that same interface irrespective of the language they can read.
IoT and GUIs are two of the fastest-growing industries right now. Here, we have mentioned the top innovative companies in these two industries.
Top GUI Platforms
Crank Software
Crank Software, an AMETEK company, provides a UX-focused embedded GUI development tool called Storyboard for the various microcontroller (MCU) and microprocessor (MPU) hardware platforms. Founded in 2007, Crank focuses on overcoming barriers and issues that impact GUI design and development. Their GUI experts also specialize in front-end and back-end development, as well as UX design.
Storyboard allows designers to design without any limitations. To help developers focus more on business logic and optimizations, it provides an optimized runtime for low-power and resource-constrained hardware platforms, allowing faster release in the market and a reduction in costs.
Crank Software has quite a large list of clients, including Coca-Cola, John Deere, and Vorwerk. They partner with silicon vendors like NXP, STMicroelectronics, and Microchip, and consultants like Jabil, SDC Systems, and many more.
Instrument
Instrument is a UX and digital agency based in Portland. They design and build products for mobile apps, websites, and communication for the world's top brands.
They have a branch located in New York, which focuses exclusively on product design, UX, and UI. They are renowned for making modern and interactive marketing websites thanks to their ad agency background and expertise in UI UX designing. Combining their skills of business consultancy, creative agency, and engineering, they have created amazing results.
With a team size of 330 employees, Instrument has worked with major firms like Nike, Spotify, Airbnb, and Dropbox.
Clay
Clay is a UI design, branding, and development agency based in San Francisco. They mostly work with companies in Silicon Valley and Fortune 100 enterprises; however, most of their projects are confidential. They design UI/UX for mobile apps and provide brand identities to marketing websites.
They have also partnered up with some Bay Area and global startups and have worked with their founders to bring their vision into a user interface. With a team size of 55 employees, they have worked with companies like Slack, Facebook, Google, and Coca-Cola.
IDEO
IDEO is a design consultancy with offices spread all around the world. They focus on digital products, UI design, and corresponding services. They are one of the most influential GUI design firms in the industry.
Founded in 1991, IDEO has a great reputation for designing the first-ever Apple mouse and one of the Palm PDAs. As the importance of software grew in the market, IDEO expanded its services and focused on interaction design.
With decades of practice building websites, mobile apps, and enterprise software, they invented the design thinking approach. This made them famous throughout the world of design. At present, they have over 1300 employees spread across cities like San Francisco, NYC, Palo Alto, London, and many more. They have worked with companies like Verizon, Swarovski, Ford, and IKEA.
Top IoT Companies
GE Digital
General Electric's origins can be traced back to Thomas Edison. GE Digital is a subsidiary of the main company and aims to continue Edison's legacy as one of the most innovative scientists to ever step on Earth.
Launched in 2015, GE Digital focuses on combining IoT with different industries like manufacturing, telecommunications, and power generation. GE Digital has worked with a lot of major companies in its short life so far. Some of the notable ones are:
Chery Jaguar Land Rover
Shanghai Automobile Gear Works
WACKER Chemical Corporation
SoluLab
SoluLab is one of the largest blockchain development companies and has more than 50 million users. With a customer success score of 97%, SoluLab has worked with major companies like Walt Disney, Goldman Sachs, Mercedes Benz, Georgia Tech, and many more.
SoluLab provides full-spectrum services to startups and any enterprise, be it small or large, through technologies like Cloud, Chatbot, IoT, AI, and many more. There are more than 180 industry experts and have successfully completed projects across 15 countries. Its offices are located in India, the USA, and UAE and can work according to the time zones of clients.
Google Cloud IoT
A large cloud platform is required for large-scale IoT projects. Google Cloud IoT allows their customers to store, analyze, and fetch data from the cloud.
If you want to work with a reliable IoT company, Google Cloud IoT is the best choice. With their vast, high-performance, and reliable structure, customers can develop products at high speed and meet their growing demand.
Google Cloud IoT has worked with major companies like Ingersoll Rand. Last month they announced that they are going to work with Signify, who are the creators of Philips Hue smart bulbs. Google Cloud IoT is going to be used for powering millions of connected smart lighting devices.
Sigfox
Sigfox is a global network provider known for connecting millions of IoT devices all around the world while making sure the power consumption is minimal, which helps in saving both money and the planet.
Founded in 2010, Sigfox is known for building the first end-to-end IoT platform from device to API. Their IoT network spans over 5.8 million square km across 72 countries. They use the 868MHz band in Europe and 902MHz in the US, which makes their network signals penetrate through solid objects easily.
---
Interesting Related Article: "Internet of Things: What it brings to the table"