Europe is an idyllic destination of beauty, culture, and rich history. With a culturally diverse assortment of countries to choose from, it's no wonder why people decide to invest their money into this European paradise and even make the leap to live in one of its many gorgeous cities, completely immersing themselves in all that Europe has to offer. 
From unique public amenities like healthcare and education through government-funded organizations to other benefits like expanded expat opportunities and low taxes, there are plenty of great reasons why investing in Europe – both financially and personally – can be beneficial. This blog post will explore some of those advantages so that you can become informed about what life could look like if you take the plunge!
Enhance Your Quality of Life
When it comes to enhancing your quality of life, there are a few things that can make all the difference. For starters, you want to be surrounded by stunning scenery that takes your breath away every single day. And if you're looking for that kind of beauty, there are few places in the world that can rival what you'll find in countries like Italy or France. But it's not just about the natural beauty – you also want to be immersed in a rich culture that you can learn from and enjoy. 
Thankfully, the people in these countries are warm, welcoming, and always eager to share their customs and traditions with visitors. And let's not forget about the amazing food! From fresh seafood to pasta, there's something to satisfy every craving. And the best part? All of this comes at a fraction of the cost of living in the United States. So why not make the move and start living your best life?
Get Access to Better Health Care
Are you tired of being burdened with high medical costs in your home country? Look no further than Europe for access to top-notch health care at a fraction of the price. Europe boasts some of the finest medical facilities in the world, with highly trained physicians and modern technology. 
Whether you're in need of a simple check-up or a complex surgical procedure, you can trust that you'll receive excellent care. And the best part? You won't have to break the bank to access it. Many European countries offer affordable healthcare options, making it easier for everyone to prioritize their well-being. It's time to take advantage of what Europe has to offer and invest in a healthier future.
Take Advantage of Low Taxes
Are you tired of high taxes eating away at your hard-earned income? Europe, and in particular Portugal, offers a solution to your tax woes. With low taxes on income, capital gains, and corporate taxes, you can keep more of your money and invest it in your future. 
Portugal's non-habitual resident program allows expats to benefit from a 20% flat rate income tax for eligible professions. And, by applying for Portugal golden visa, you can gain permanent residency and free access to the European Union. It's a win-win situation, so why not take advantage of all that Portugal has to offer? 
Additionally, the country offers a generous tax exemption on foreign-sourced income for those who become tax residents. Don't miss out on the opportunity to take advantage of these low taxes and secure your financial future in Europe.
Increase Diversity
Europe is a melting pot of different cultures, languages, and ethnicities that have made it one of the most diverse continents in the world. From the beaches of Spain to the bustling streets of London, Europe is home to a range of diverse populations that have long been celebrated for their rich traditions and customs. 
Unlike the United States, which has a relatively homogenous population, Europe offers a unique opportunity to engage with people from all over the world. Whether it's exploring the vibrant food scene in Paris or taking in the stunning architecture of Istanbul, Europe's diverse population is sure to leave a lasting impression on anyone who visits. So if you're looking to broaden your horizons and experience new cultures, there's no better place to start than Europe.
Acquire Financial Security
Now this is a key goal for many people, but it can feel daunting without the right guidance. Thankfully, European banking and investment options offer a range of opportunities to help you reach your long-term financial targets. By working with experienced financial advisors and leveraging the latest tools and resources, European banks can help you create a customized investment plan that aligns with your specific needs and goals. 
From taking advantage of high-yield savings accounts to exploring the benefits of investing in stocks, bonds, and mutual funds, there are many paths to achieving financial security and building a more stable future for yourself and your loved ones. So why wait? Start exploring your options today and take the first step towards a brighter financial future.
Enjoy Unique Experiences
Europe is a treasure trove of unique experiences just waiting to be discovered. From the buzzing metropolis of London to the sun-soaked shores of the Mediterranean, there's something for everyone on this diverse continent. For history buffs, Europe's ancient ruins and medieval cities offer a glimpse into the past. Foodies will delight in the delectable cuisines of France and Italy, while beach lovers can unwind on Greece's idyllic islands. 
Whether you're exploring a new city or simply soaking up the sun, Europe offers endless opportunities for adventure and enjoyment. So why not pack your bags and embark on an unforgettable journey through this remarkable continent?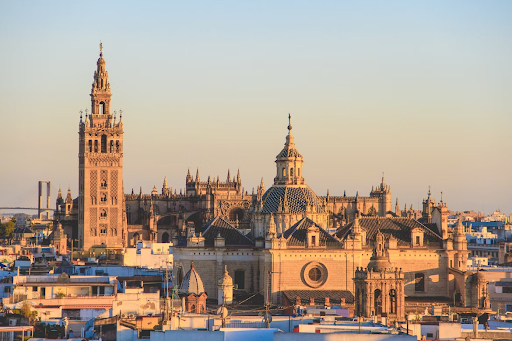 Moving abroad can be an exciting and fulfilling experience, where you can take advantage of helpful tax benefits and a lower cost of living. You'll be exposed to greater cultural diversity and access to medical care at much lower prices. And don't forget the potential for financial abundance beyond what you would typically find in the U.S. 
From beautiful beaches to historical sites, there is no shortage of things to explore and discover. European countries present an incredible opportunity for quality lifestyles with plenty of activity to keep you occupied. Taking the leap could very well be one of the best decisions of your life!