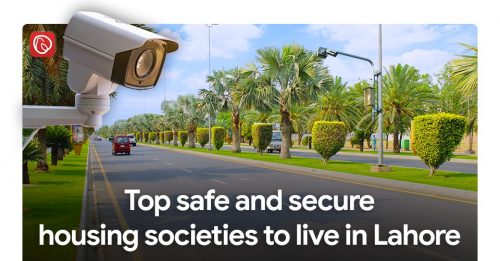 Pakistan's provincial capital, Lahore, is a cultural and economic hub. There are many opportunities for business in this city. It is common for people from all around the country to come here to take advantage of these opportunities.
Over time, Lahore's population has increased to the point that the existing housing societies cannot accommodate this considerable population. The decrease in residential properties also led to an increase in demand, leading to a spike in prices.
Housing societies have arisen around and in Lahore to fill the void created by the lack of housing. These societies provide easy investment and residence options to those living in Lahore while earning huge returns on their investments.
Defence Housing Authority (DHA)
This housing community is popular among Pakistanis and especially outsiders. Your mind and soul will be rejuvenated by the fresh air, wide boulevards, stores, markets, and parks. DHA is divided into distinct phases, the oldest being Phase I. Phase VI and VII are the most recent. With all the luxury facilities, this is one of Lahore's most expensive housing schemes.
Today, DHA is profitable and growing. In today's luxury lifestyle, it includes all the basic and social amenities necessary. One of DHA's most substantial assets is that it offers elite residential plots and houses at an affordable price. Outsiders and Pakistanis alike enjoy living in this community.
Wapda Town
As an investment opportunity, Wapda Town has been gaining prominence in recent years. With each passing day, the price is rising in this society, and it is now seen as a form of 'Mini Defence'.
This society is in a very convenient location. 'Link Road' is located opposite Wapda Town and only 5 minutes away. Those of you who live in Lahore are aware of the popularity of the 'link road' as a shopping destination.
A great feature of this community is centralized parks on every block and individual parks in front of each house. Most blocks of the community have shopping and grocery stores.
Central Park Housing Scheme
Well-maintained infrastructure and well-kept parks characterize this society. The Central Park Housing Scheme provides a high standard of living at affordable prices. Central Park Medical College is a distinctive feature of this society. This is an Urban Developers project. Main Ferozpur Road makes it easy to access, and there are various properties for sale here.
Lake City
A beautifully developed and populated housing society, Lake City Lahore lies on the banks of the river Lahore. The complex is designed to provide residents with an excellent quality of life. Commercial and residential properties are available. This project can be found along Raiwind Road. Buying a plot in Lake City is like buying a designer villa at the best price. In addition, society offers all the conveniences needed for a comfortable living environment in Lahore.
Bahria Town
There are many prominent housing societies in Lahore, but Bahria City is among the best choices, being an established one that offers residents the best in terms of facilities and luxuries. In addition to providing its residents with a wide range of homes, it has many open roads and large parks and shopping centres and mosques.
One of the most desirable characteristics of cities is the presence of boundary walls and guardhouses, well-designed plots, parks, recreation areas, cinemas, educational institutes, and zoos. Moreover, they have beautiful purely aesthetic structures, such as the mock pyramids of Egypt, the Eiffel Tower, or the Statue of Liberty. The qualities listed above make Bahria City Lahore's best housing project.
---
Interesting Related Article: "Commercial Real Estate Analytics 2021"