Extending your Shopify store's functionality is easy, thanks to thousands of apps available in the Shopify App Store. Whether you want to add a form, customer reviews, print-on-demand products, run Facebook ads, email marketing campaigns- there is an app for it all.
But with so many choices, it is easy to get overwhelmed and confused. Hence, to help you out, here's our pick of top Shopify Apps that will make your online business more efficient and comfortable.
Form- Builder
Whether you need a form on your website for lead generation, collecting payments, distributing surveys, track page views or even to allow customers to submit custom orders, or something else altogether, Form Builder is your go-to app. Form Builder helps you build unlimited forms with ease and hassle-free. The app also lets you set up automated thank-you or message confirmation responses. Embed just one snippet of code, and you'll be up and running in no time.
Features:
Get an email for each response.
Easily embed the form with your current theme.
Build your form in ANY language
Fully customise fields, look & feel as well as the layout
Store Form Submissions
Setup Multiple Recipients for form submissions
Set Custom thank you messages
Create mobile-responsive forms that work on any device
PrintFul
Printful is the #1 print-on-demand dropshipping app for your Shopify business. This app syncs with your Shopify store to let you sell print-on-demand products like t-shirts, mugs, posters, leggings, swimwear, and jewellery to posters, hats, and beanbags. When an order is placed on your Shopify store, it's directly sent to Printful, which will print and ship it to your customer on your behalf. There are no minimum order quantities, making Printful a great way to get started quickly and avoid holding your inventory.
Additionally, Printful also integrates with ShipStation, Zakeke, eBay, Etsy, Amazon, Zapier as well as Shopify. It's an excellent option for creative people who want to make selling clothing products online more accessible.
Key Features:
The catalogue includes products ranging from t-shirts, leggings, swimwear, and jewellery to posters, hats, and beanbags.
Printfuls free mockup generator lets you create your product showcase images.
Store your entire inventory at Printful's warehouses and allow them to assist you with all your fulfilment needs.
24/7 Customer Support-A dedicated customer support team always has your back.
Kit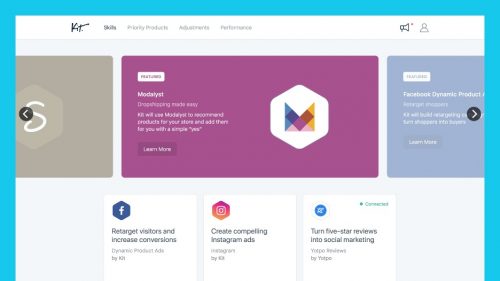 After you've launched your Shopify store, the next step is to drive targeted traffic to it. Kit can recommend you the marketing activities most likely to drive sales. It acts as a virtual employee, helping you run Facebook ads, email marketing campaigns, and get performance updates.
Backed by AI, Kit will help you find potential customers on social media and send them targeted messaging and offers at the right time. The best part? Kit even works while you sleep- 24/7!
This tool looks at your products, visitors, and customers to make informed recommendations for your next marketing move.
Features:

– Get help with marketing- Kit to help you find the right shoppers and drive more sales.
– Turn Facebook visits into sales- Easily create Facebook ads, including dynamic retargeting campaigns, that show ads to those most likely to buy.
– Find your Instagram audience- Get ahead of many Instagram users who are looking to discover new products.
Oberlo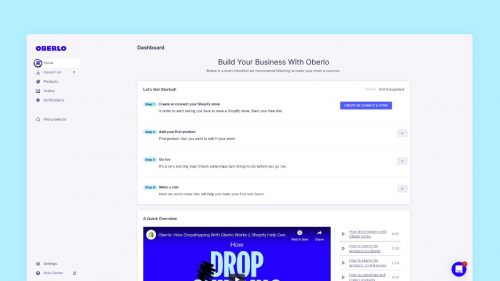 Oberlo acts as the keys to a virtual warehouse full of products from thousands of suppliers- Electronics, fashion, beauty, toys. Oberlo is a dropshipper's dream. Oberlo Supply marketplace available exclusively to Oberlo users, offers hand-picked suppliers, bulk ordering and faster shipping times.
If you're looking for a small business idea or in need of a product to sell, Oberlo can help you source a supplier, import dropshipped products and ship them to your customers. All that in just a few clicks. Moreover, there's no need to worry about packaging and you can sell them on websites such as Etsy.
By automating this process, Oberlo saves you significant time that you can spend on growing your business, rather than worrying about the logistics.
Key Features:
Edit your products before you list them: change titles, descriptions, images, and pricing.
Set up multiple users to log in and manage Oberlo.
Track store earnings, sales, and costs in a simple-to-use dashboard.
PushOwl
If your business is suffering from lots of traffic but short sales due to abandoned carts, you're not the only one. This app could be the answer you're looking for. Studies suggest that more than 68% of online shopping carts are abandoned.
Automated abandoned cart push notifications can assist you at increasing sales and re-engage visitors who have left your site.
Push notifications are incredibly engaging and do wonders for bringing users back to products. This app lets you create your timely push notifications for your Shopify store.
Key Features:
Automations like recovering abandoned carts, price drop alert, and back-in-stock updates.
Cart Abandonment Protector
Smart push marketing triggers
Reviews+Wishlist, Shopify Plus
Summing Up
The recipe for creating a successful Shopify store is a tricky process. What works for one business may not work for another. An E-commerce store is something that has to be carefully created as per the taste and requirements of each brand or company. This is where Shopify experts come in.
You can hire Shopify experts who understand the vocabulary of the eCommerce world, to help you set-up everything- from the e-commerce store to SEO. You can count on them to help you implement and execute the apps mentioned above for your Shopify store as well as multiple sales channels, integrate POS, add discount codes, manage payment gateways and generate financial reports.
Author Bio:
Sheryl Jones is a Senior Marketing Specialist at Uplers.com – An affordable SEO services company. The company specializes in white label services in web development, web designing, digital marketing & marketing automation. She enjoys sharing her insights and thoughts on web development and digital marketing best practices on the Uplers blog.
---
Interesting Related Article: "How to Start a Shopify Store"