Toyota Motor Corporation – Company Overview
Company
Toyota Motor Corporation
Headquarters
1 Toyota-Cho, Toyota City, Aichi Prefecture 471-8571, Japan
President
Akio Toyoda
Industry
Automotive
Type
Public
Founder
Kiichiro Toyoda
Founded
1937
Stock symbol
TYO:7203, LSE:TYT, NYSE:TM
Net revenue
¥27,234,521 million Yen (2015)
Operating income
¥2,750,564 million Yen (2015)
Net income
¥2,173,338 million Yen (2015)
Employees
344,209 (2015)
Website
http://www.toyota-global.com/
IR email address

[email protected]

.
---
Toyota Motor Corporation, based in Toyota, Aichi, Japan, is the world's largest automaker and employs more than 333,000 workers globally. It is the 14th largest company worldwide by revenue and the largest in Japan.
In 2012, Toyota became the first automaker to manufacture more than 10 million vehicles in one year.
History
Toyota's history dates back to the 19th century when Sakichi Toyoda (1867-1930), an inventor and industrialist from Kosai, Shizuoka, invented Japan's first power loom, launching the country's textile industry.
In 1918 Mr. Toyoda founded the Toyoda Spinning and Weaving Company, and together with Kiichiro Toyoda (1894-1952), his son, built an automatic loom in 1924. In 1926 they set up Toyoda Automatic Loom Works.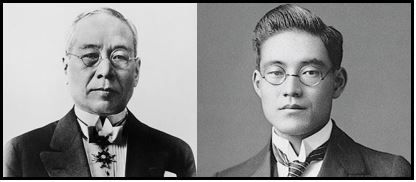 Toyota's origins date back to these two men – Sakichi Toyoda (left) and his son Kiichiro Toyoda.
In his trips to North America and Europe during the 1920s Mr. Toyoda became interested in the automotive industry. He sold the patent rights for his automatic loom for £100,000 to a British company, and used that money to set up the foundations for the Toyota Motor Corporation, which was formalized as a business entity in 1937.

In 1935, Toyota produced its first vehicles – the A1 passenger car (above) and the G1. (Photo: Toyota Motor Corp.)

Mr. K. Toyoda instilled a business philosophy which became an integral part of Toyota's business practice which still continues today – the "just-in-time" philosophy. It means producing specific quantities of already ordered items, thus making sure the amount of waste is kept to a minimum. The system has been adopted by virtually every vehicle-makers across the globe.
From 1947 onwards the company's smaller vehicles were sold under the name Toyopet, the first being the Toyopet SA, followed by the light truck Toyopet and Toyopet Stout light trucks, and then the Toyopet Crown, Toyopet Master and the Toyopet Corona.
When Toyota broke into the US market, Americans did not like the Toyo and Pet names. Linking a vehicle to 'toys' and 'pets' was definitely the wrong way to go in America. Soon the Toyopet name was dropped, i.e. the Toyopet Crown became simply the 'Crown'.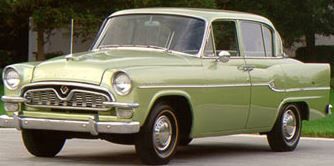 A 1957 Toyota Crown.
The Crown was launched in the US in 1957 and the Corolla plus some other models in 1965. They became very popular and started rivaling vehicles produced by US carmaker, such as Ford and General Motors.
US taxes encouraged Toyota to build factories abroad
In the 1960s the US started taxing imported vehicles. In 1964 a 25% tax was imposed on imported light trucks (so called 'chicken tax'). Japan's major carmakers, Honda and Toyota, responded in the early 1980s by opening factories in the US.
Toyota broke into the European market via Denmark in 1963. Over the next four decades the company grew rapidly within Europe, and delivered its ten millionth vehicle to a customer in Germany in 2000.
Following the 1973 oil crisis, US consumers began shifting from large gas-guzzling vehicles to smaller more fuel-efficient cars. This was great for Japanese manufacturers and bad for American carmakers.
In 1982, Toyota Motor Sales and the Toyota Motor Company merged into the Toyota Motor Corporation we know today.
In 1984, General Motors (GM) and Toyota entered a joint venture (New United Motor Manufacturing Inc.). GM's Fremont factory, which had been idle for two years, was reopened and Toyota started producing new brands. In 1989, the Lexus was launched.
From 1990 onwards, Toyota started adding several larger and more luxurious models to its portfolio, including full-sized pickup trucks. The 1990s saw the launch of the T100 (which eventually became the Tundra), several types of SUV's, the Camry Solara, and the Scion brand.
In 1997, the company started producing the Prius, the world's best-selling hybrid car.
At the end of the 1990s Toyota set up a base in the United Kingdom, as well as in Virginia, US, and Tianjin in northern China. In 1990 it became listed in both the New York and London stock exchanges.
In 2002, a Toyota Formula One works team was created. In the same year the company established joint ventures with Peugeot and Citroën after starting to manufacture vehicles in France.
The Tundra, a full-sized truck which was produced in two US factories (Texas and Indiana), was launched in 2007. In that year the Tundra was named the 'Truck of the Year' and the Camry the 'Car of the Year' in the US.
In 2007, it started building two factories in North America, one in Ontario, Canada to build the RAV4 and another in Mississippi to manufacture the Prius.
Natural disaster damaged production and sales
From 2005 to 2011 Toyota slid from 8th on Forbes 2000 list of leading companies in the world to 55th.
Toyota, together with much of the Japanese automotive industry suffered serious disruptions from natural disasters in 2011.
The Tohoku earthquake and tsunami severely undermined the company's domestic production and export numbers. Thailand, where Japanese automakers have major factories, had a particularly bad monsoon season in 2011.
According to Toyota, the tsunami reduced production by 240,000 units, and the monsoon by 150,000.
Today, Toyota has a huge range of vehicles (some featured above).
Recalls
Since 2009, Toyota has had to recall tens of millions of cars and trucks globally. Over a two year period, starting on November 2009, the company recalled over 9 million vehicles. For a short period it had to halt production and sales.
Nearly 7.5 million vehicles globally were recalled after faults were found in the power window switches. In 2014, it agreed to pay a $1.2 billion fine for not revealing unintended acceleration defects in many of its Lexus and Toyota vehicles.
In October 2014, a total of 1.75 million vehicles were recalled globally following the detection of faulty fuel components and brakes.
Group sales for Fiscal Year 2015 first quarter rose by 2% compared to Q1 to ¥6.39 trillion. Net profit increased to ¥587 billion.
---
Toyota Motor Corporation – Financial Results
| | | |
| --- | --- | --- |
| Key figures (in millions of Yen) | 2015* | 2014* |
| Net revenue | ¥27,234,521 | ¥25,691,911 |
| Costs and expenses | ¥24,483,957 | .¥23,399,799 |
| Operating income | ¥2,750,564 | ¥2,292,112 |
| Net earnings | ¥2,307,904 | ¥1,991,648 |
| Total assets | ¥47,729,830 | ¥41,437,473 |
| Cash and cash equivalents at beginning of period | ¥2,041,170 | ¥1,718,297 |
| Cash and cash equivalents at end of period | ¥2,284,557 | ¥2,041,170 |
*For the years ended March 31, 2015 and 2014