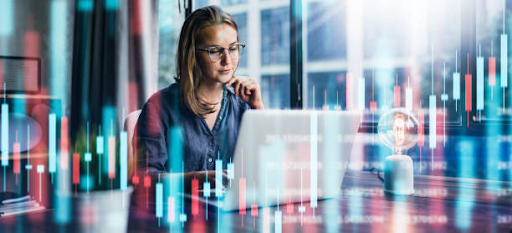 Trading journals are traders' most essential tools for tracking their progress and performance. 
A trading journal can help you identify your strengths and weaknesses and can also be used to spot trading opportunities. Trademetria is a popular trading journal that has been around for several years. 
In this Trademetria review, we'll look at what this journal offers and whether it's worth the price.
What Is Trademetria?
This all-in-one trading journal, portfolio tracker, and trade analyzer software offers everything you need to analyze your trades and take your trading to the next level.
The platform supports not only essential trade analysis features and tracks cash-related activities like platform fees, deposits, withdrawals, dividends, and more. This gives you a complete overview of every cent in and out of your trading business.
Trademetria uses trading data from multiple accounts to estimate key metrics and monitor, analyze, and measure your performance. By taking into account statistical evidence of what works and what doesn't, the platform helps traders make better decisions. According to its website, the journal is used by tens of thousands of users worldwide.
The platform was designed by Thiago Ghilardi, a computer science graduate and experienced trader. After realizing that analyzing his trades was the most critical factor for his success, he launched Trademetria to help other traders achieve the same results.
Trademetria Features
1. Keep track of your trading history
You'll have everything you need to keep track of your individual and daily trades, including the option to add image attachments to better represent the circumstances around each trade, as well as the ability to add trade remarks and descriptions.
But that's not all. The order import option allows you to transfer your trading history from most top brokers worldwide in either CSV or custom files. 
This way, you can have all your trading history in one place, making it easy to keep track of your progress and performance over time.
2. You can analyze past performance
With this feature, you'll be able to filter your trades by date, instruments, applied strategy, instrument rankings, and more. 
Plus, you'll be able to track your equity growth over time and generate advanced reports on intraday performance and trading results.
You'll also get a summarized analysis of the best times to trade, the most favorable market conditions, the most common trade duration, the best-performing instruments, and the most successful strategies.
3. Easy to monitor metrics on multiple accounts
The Trademetria journal provides more than 30 metrics that give an overview of your trading practices, goals, and how they affect your outcomes. 
If you need to monitor your open profits and losses or compute risk variables such as the profit factor or R-ratio of your portfolio. You won't have to log into the accounts of all the brokers you use. 
Trademetria consolidates all your trades into a single view and offers a collective analysis of your performance.
4. Robust risk management strategy
Trademetria's platform is designed to give you a clear picture of the potential risks associated with each trade with its built-in risk management tools. 
You can easily evaluate risk using Dr. Van Tharp's R-multiples, set and track stop and target points, and even plot it out for visual representation.
Additionally, Trademetria offers advanced backtesting features, which allow you to run simulations of your strategies and analyze the statistical evidence of what works and what doesn't. 
This helps you identify patterns in your performance and make more informed decisions to improve your overall trading results.
By the way, if you're a newbie looking for a platform to learn the ropes and get funds to kick off your trading journey? Earn2Trade might be the missing piece of your puzzle. 
How Much Does Trademetria Cost?
Trademetria offers a flexible pricing structure that caters to a wide range of traders. The platform has three plans – Free, Basic, and Pro – each with its features and pricing. 
The Basic plan is priced at $19.95 per month, and the Pro plan is priced at $29.95 per month. If you choose to pay annually, you can avail of a 30% discount on both plans, bringing the prices down to $169 and $249, respectively.
A Free plan is an excellent option for new traders and those on a budget, offering 30 order imports per month and 3 real-time quotes. 
The Basic and Pro plans offer a range of advanced features, such as a PnL simulator, instrument and strategy rankings, trade exports, and more.
Getting started on the platform is quick and easy. You don't need to add your credit card details; you can cancel your subscription and account anytime.
Looking for a more budget friendly solution? You may want to check out Tradervue and TraderSync and see how both compare with Trademetria. 
Who is Trademetria Best for?
Trademetria is a versatile trading platform that caters to a wide variety of traders. It is used by individual traders, investors, trading schools, brokers, and proprietary firms. It can also be used as a white-label solution.
The platform is suitable for various trading instruments, including stocks, Forex, CFDs, futures, options, and even cryptocurrencies. 
It integrates with multiple popular exchanges and brokers worldwide. You can find a complete list of supported instruments and trading service providers on the Trademetria website. Trademetria's platform is well suited for day traders, thanks to its features that allow tracking intraday performance. 
The platform offers flexible pricing options, including a free account option, making it an excellent choice for both advanced traders and those who are new to the trading world and want to test the platform without any cost.
Pros and Cons of Trademetria
PROs
Monitor and analyze your trading performance with ease

Access the platform from anywhere with web-based access

Utilize a wide range of analytics tools to improve your trading

Stay up-to-date with real-time quotes

Trade a variety of instruments, including equities, options, forex, futures, cryptos, and CFDs

Take advantage of the API and PnL Simulator to enhance your trading strategies
CONs
Lack of a mobile app

You'll have to settle for only manual import 
Is Trademetria Worth it?
I know the feeling of having to constantly switch between different platforms to track my trades, calculate my PnL, and analyze my performance. But with Trademetria, all of that is a thing of the past. 
The platform's user-friendly interface makes it easy to navigate and offers a comprehensive set of features, including real-time quotes, advanced analytics, and risk management tools.
Sign up for Trademetria with the free version or upgrade to the Basic or Pro options for even more features.