How confident are you in your sales funnel? Your marketers and sales team may be working as hard as they can, but the truth is that nearly 80% of leads never become sales. Traditional methods lead to leaky sales funnels, missed customers, and too often, an overworked team.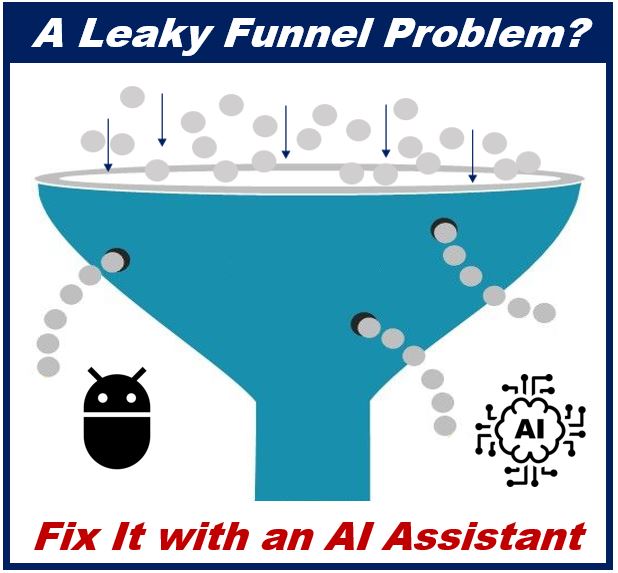 Thankfully, technology has progressed to a point where teams no longer need to rely on time-intensive lead qualification and lead nurturing methods. Thanks to recent innovations in machine learning and natural language processing, AI assistants like Exceed.ai are the future of successful marketing and sales. For a fraction of the cost of a new hire, services like Exceed.ai can help fix your leaky sales funnel by qualifying leads at scale and nurturing them through conversational marketing.
Why funnels often fail on lead qualification 
Even with the smartest, hardest-working teams, sales funnels usually fail to qualify leads at scale. In the digital era, it's not unusual to have thousands and thousands of leads, and with so many touchpoints and communication avenues it's impossible for humans to effectively and accurately qualify every lead that comes their way. 
This leads to huge inefficiencies—according to Gleanster Research, only around 25% of leads should really advance to sales, yet 61% of B2B marketers send all leads directly to Sales (MarketingSherpa). This is an enormous waste of time for sales reps who would be better off spending their time only with the most qualified prospects. With so many unqualified leads, there is tons of room for more valuable potential customers to slip through the cracks and never convert to sales.
To fully qualify a lead and avoid overloading your sales team with distractions, prospects need to have Lead Fit, meaning that the company firmographics and the person you're connected with fit your ideal customer profile. They also need to have Lead Intent, meaning that your company matches the lead's needs. Unfortunately, these two metrics can be hard to evaluate without actual conversations, which can be incredibly time-intensive.
That's where conversational lead qualification comes in. AI assistants can engage your leads in a real dialogue, thanks to natural language processing engines that are 97% accurate in understanding a lead's responses.
These assistants have full integrations to your CRM and can draw on and update lead data, and they can also handle objections like "This is too expensive" or "I'm not the right person to talk to," which means better lead qualification. With the same marketing efforts they were already doing, business saw up to 39.5% increase in qualified leads while using Exceed.ai.
Lead nurturing, the key to better funnel
While qualification is the key to keeping leads from slipping through your sales team's fingers, lead nurturing is the key to pushing leads through your funnel successfully. According to Forrester Research, Companies with solid lead nurturing plans in place end up with 50% more sales-ready leads while lowering costs by 33%. 
Moving leads through your funnel manually is no easy task. Most companies resort to impersonal email blasts or other one-way nurturing. In fact, less than 40% of marketers succeed in driving lead nurturing campaigns through intent data. Without a two way street, you're left guessing who your leads are and what they want.
AI assistants can meet your customers where they are and use conversational lead nurturing to gather data and build a relationship with each customer on a personal basis. These assistants can text, webchat, or email to immediately check in with leads and ask and answer questions.
The assistant can chat with thousands of potential customers, one-on-one, to make the right suggestions to them and help develop a dialogue. This means that you're treating customers the way they want to be treated and moving them through the funnel based on what's right for them, not just based on a one-size-fits-all campaign.
Putting the funnel together (the handoff)
While a funnel can be leaky in each section, one of the most important things to keep tight is the transition between different sections of the funnel. A potential customer can easily sour if kept waiting, and research shows that the company that responds first gets 35-50% of sales from customers (Source: InsideSales.com).
That's why the handoff is so important. The best AI assistants can determine exactly when a human needs to step in. Just like any other effective member of your team, they realize when they need to connect a lead with someone else. Plus, the AI learns from the responses and edits done by your marketers and sales reps, meaning that it can adapt to better handle a situation in the future.
This goes past a ping in a thread, because even importantly, assistants like Exceed.ai can auto-schedule meetings directly with the right members of your team. This means that if a lead is deemed qualified, the AI can put them in touch at the perfect moment that will optimize the possibility of a sale. Your sales teams will spend less time scheduling, and more time connecting one-on-one with qualified leads. 
The bottom line
According to Jeff Ernst of Forrester Research, Inc.,only about 5% of marketers use a full-featured marketing automation solution. Not only can you get better results with an AI marketing and sales assistant, but you can stand head and shoulders above your competition. With this new technology, you can fix your leaky funnel to not only get more sales, but also to make better use of your team members.
To learn more about how Exceed.ai can supercharge your sales funnel, visit Exceed.ai.
---
Interesting related article: "What is Artificial Intelligence?"