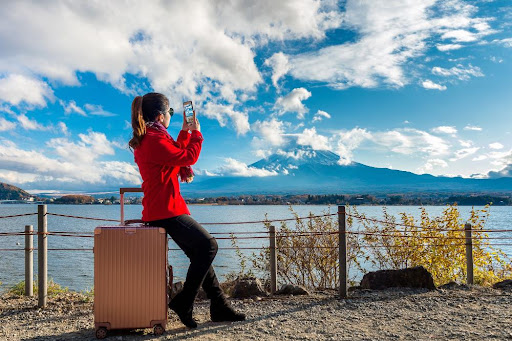 Traveling is a captivating endeavor, whether you seek adventure or seek inner peace. With so many stunning locales to choose from, the possibilities are endless. It's impossible to declare one destination the ultimate travel spot, as personal preference and individuality reign supreme. Yet, we can tantalize your wanderlust with some of the world's most awe-inspiring places. These destinations have been known to lure in visitors from around the globe, making them an enticing prospect for your next getaway.
The Most Popular Leisure Destinations Around the World
Let's explore the most popular destinations around the world:
Paris, France
Paris, also known as the City of Light, is widely famous for the Eiffel Tower, making it a top choice for tourists around the globe. It's not only a prime location for couples but also among the world's best tourist destinations, including iconic places such as the Arc de Triomphe, Louvre, city center, and River Seine.
You'll see most of the city's iconic views with a visit to the river. Besides, you can enjoy shopping for brand-name clothes, designer bags, and luxury accessories while strolling in the city. The best time to travel to Paris is between June and August.
Great Barrier Reef, Australia
The Great Barrier Reef is the most extensive and complex coral reef system globally, stretching over 1,400 miles. It's one of the top tourist destinations due to its natural beauty, hosting over 2,900 reefs, 900 islands, and thousands of diverse species.
This treasure lies off the east coast of Queensland, Australia, covering a vast expanse of golden beaches. Some on-land attractions include the Kuranda Scenic Railway and the Wildlife Habitat Port Douglas. While many prefer to visit during summer, winter temperatures are comfortable, especially for those accustomed to cold climates.
Cape Town, South Africa
Cape Town is one of South Africa's best travel destinations, famous for wild safaris, penguins, Table Mountain cable rides, and national parks. The city's ten international Blue Flag beaches with warm waters, such as Bikini Beach and Clifton, are perfect for sunsets.
Traveling with the family? No problem! There are numerous gorgeous beaches to visit. Pair your visit with history and souvenirs from the Robben Island and Apartheid-focused District Six Museum, respectively. Cape Town offers something for everyone, making it a must-visit place.
Bali, Indonesia
The beautiful island of Bali is an ideal tourist destination, renowned for its scenic beauty, cultural significance, and sandy beaches. While watching the sunset at Kuta Beach, Bali, offers an enriching experience, such as learning the rich history, enjoying world-class dining, or partying at one of many clubs.
A visit to Pura Ulun Danu Bratan temple reveals the fascinating background of the lake and river goddess Dewi Danu. Treetop Adventure Park, Ubud Monkey Forest, Padangbai, and Tanjung Benoa are other tourist attractions.
Hong Kong
Hong Kong is an incredible travel destination, with multiple islands offering art, luxurious resorts, unique shopping locations, and fantastic street food. A must-do in Hong Kong is to visit the Big Buddha or Tian Tan Buddha at the Po Lin Monastery, the biggest sitting Buddha.
You can also experience Hong Kong's skyline by taking the Star Ferry from Hong Kong to Kowloon to witness the beautiful views during the day and night. Disneyland is another tourist attraction jam-packed with fun activities and the Explorer's Lodge provides a fantastic experience.
Dubai, United Arab Emirates 
Dubai is a city of many faces, known for its lavish architecture, incredible skylines, and many tourist attractions that break records worldwide. It's the home to the tallest tower globally, the Burj Khalifa, with abundant opportunities for adventure activities such as Desert Safaris, Skydiving, Reef and wreck diving, Kite surfing, Wakeboarding, and many more. Travel to Dubai is a must-visit for tourists who love adventure, luxury, and a great view.
Budapest, Hungary
Budapest should be on your list of must-visit cities, as it is a major destination and one of Europe's most affordable places to explore. If you haven't had the chance to visit yet, it's high time you start planning a trip to this incredible city. With a history that dates back to the Stone Age, Budapest is a unique blend of Roman, neo-Gothic, and Ottoman architectural influences.
As the capital city of Hungary, Budapest is renowned for its deep cultural heritage and reputation as the world's spa capital. The city boasts iconic landmarks like Castle Hill, Fisherman's Bastion, and the beautiful Pearl of the Danube.
Rio De Janeiro, Brazil
This Brazilian city, Rio De Janeiro, another popular travel destination on this list, is located at the mouth of Guanabara Bay and is renowned for its beautiful beaches, rainforests, and mountains. It is also home to the iconic 125-foot-tall statue of Christ the Redeemer, which has become a symbol of Rio de Janeiro.
Rio has significantly contributed to popular culture, including Carnival, samba, and bossa nova. The city is also rich in museums like the National Museum of Brazil and the  Museum of Fine Arts. The BioPark of Rio offers animal lovers a chance to enjoy various species.
Additionally, football is a major part of Rio's culture. If you visit during the season, catch a game at Maracaña Stadium for the ultimate experience. Rio is a fantastic destination to visit anytime, as it is consistently one of the best places on Earth.
Plan Your Dream Trip with FlyToday 
Fly Today is a travel platform with various services for booking and planning trips. It offers features such as hotel bookings, flight bookings, and travel insurance. Users can easily search and book accommodations, flights, and insurance to ensure a stress-free travel experience.
Fly Today also provides car rental services, airport transfers, trip guides, and recommendations for popular destinations to enhance the overall journey experience. The platform strives to provide competitive prices, reliable service, and excellent customer support to meet users' adventure needs.
Conclusion
Traveling to the most popular leisure destinations worldwide offers a captivating and enriching experience. Whether you desire beach relaxation, exploring historic cities, or immersing yourself in amazing natural attractions, the possibilities are endless. To plan your dream trip, Fly Today offers a comprehensive travel platform with services like Flight ticket and hotel reservations. With competitive prices, reliable service, and outstanding customer support, Fly Today strives to guarantee a stress-free and delightful adventure.
---
You may be interested in: A Culinary Journey through Indian Food Hotspots in Central Hong Kong