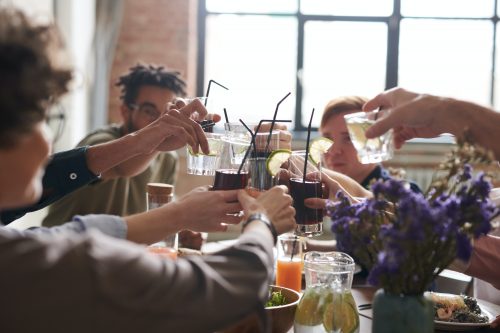 Not too much attention is paid to the art of mixology. But a well trained bartender knows more about the spirits that make our delightful cocktails than you can possibly imagine.
While some bartenders take mixology classes and get certified as a mixologist, some of the best in the business learn on the job from seasoned professionals. And if there's one thing that's for certain, you can learn a lot about bar elements in a classroom, but a classroom can never prepare you for tending bar.
Some of the best kept secrets behind the bar are those simple little tricks that often go unnoticed when you're mixing a guest's drink. And often it comes down to just one small measurement of a particular spirit or mixer that can make all the difference in the world.
If you want to step your bar game up and wow your guests, the following tips will prove not only helpful but also as some of the best-kept secrets to starting a stellar restaurant business and giving the ultimate customer experience.
Whipped Toppings
Ask any bartender and they'll likely tell you, some of the most cumbersome drinks to make are either frozen drinks, or a multi-layer cocktail that comes with a thousand garnishes. But this doesn't mean that they can't be fun to make.
Infused whipped toppings are becoming a trend in most bars around the country. And infusing a whipped topping with alcohol can make the flavors of a drink stand out, while adding a sweetness that most guests won't be able to resist.
Infused whipped toppings can be made in a variety of ways. Most popular are by hand, which requires whipping the alcohol into the topping as you prepare the cream.
Or you can use flavored cream chargers, which come in a variety of blends. And these can compliment even the most ordinary cocktails in a bar.
Smoky Flavors
Smoke is in when it comes to classic cocktails. And perhaps the most popular variety of these is the smoky Old Fashioned.
An Old Fashioned is a classic cocktail that's been around for over a century, and it's the one drink that you have to literally make backward. But adding a smoky twist will not only impart a wonderful aroma, but it will also give an otherwise traditional drink a new taste and feel.
The secret is in the herbs that you use for the smoky filler. Now, you can use traditional wood barrel chips, but this gives more of a charcoal flavor. So it's best to use a blend of dried herbs and chips together under your smoking dome.
Smoke also goes well with margaritas and can add just the right amount of flavor to a peaty Scotch or a fine cognac.
New Loves
Some of the most creative bartenders in the world have come up with their own varieties of classic and contemporary cocktails. And the truth is that they're not changing much, they're just making the right tweak with the right ingredients.
One of the more popular drinks that have been a favorite for both younger and older crowds is the Moscow Mule. But with the resurgence in the popularity of Gin in recent years, making a Gin Mule can be a great way to bring new life into a fan favorite.
Gin and mint go well together also, so combining a julep motif with your copper Mule cup and adding crushed lime with ginger beer can offer your guest something both refreshing and delightfully new. And this is the perfect recipe for a Gin drinker if they're looking for something a little different to try.
Mixology has often been compared to a culinary art with a dash of chemistry. And rightfully so because without a working knowledge of alcohol weight and viscosity, and an understanding of how certain flavors blend together, you'd be the worst mixologist on the block.
If you want to dazzle your guests without flipping bottles, flip through a book of classic cocktails and come up with your own varieties and enjoy watching the smiles build on the faces of your guests.
---
Interesting Related Article: "Drinking cocktails in space now possible, says Californian company"