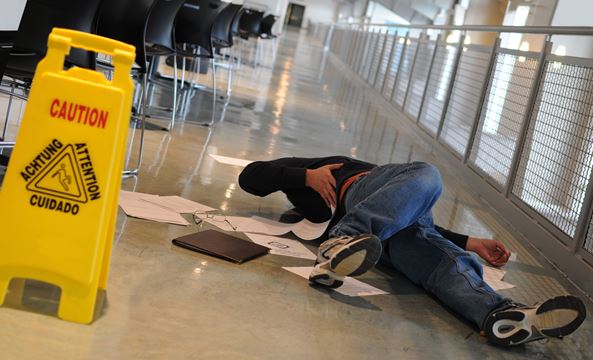 Every year, trip and fall accidents at work result in over one million trips to the emergency room, and falls are the most common cause of missed workdays. Not only can these accidents cause injury, but they can also result in lost money for employees and employers.
Many of these accidents are preventable as well, so if you do trip and fall at work, you might want to consider consulting an attorney who specializes in workplace injuries. If you've experienced a trip and fall at work, here are five steps you should take as soon as possible.
Seek Medical Treatment
After a fall, your health and addressing any injuries should be your main priority. What seems like a minor slip and fall injury might turn into something more serious later. Concussions, for example, might not be readily apparent to you but can be detected by a medical provider.
You might have to go to a certain doctor or hospital, so check with your employer to see who you need to visit. Get the medical records and make sure everything is documented for any provider you see as a result of the fall.
File an Incident Report at Work
After any slip and fall at work accident, whether there was a serious injury or not, you should file an incident report.
There are strict rules on how soon any injuries need to be reported so make sure you contact HR or your supervisor as you don't want to miss out on workers' comp benefits if you don't report on time.
Document Everything
Everything about the fall should be documented. If you accidentally slip at work, you'll want to document everything about the situation. The day and time, the location, the conditions at the time (was the floor slippery, was it raining, etc.), and name and contact information for any eyewitnesses.
Take pictures of exactly where the accident occurred and make a note of any other circumstances that will be relevant to your case. Make sure you get copies of all of your medical documents and the incident report from your employer for your files as well.
If you hire an attorney, they will want all of this information.
Follow Medical Advice
You should follow any medical advice given by your doctor and only return to work once they clear you. If you return before your doctor clears you or fail to follow their treatment plan, you could become ineligible for any sort of benefits.
Speak To an Attorney
You might need to hire an attorney if your workplace is trying to deny responsibility for the accident or to deny your claims. Experienced workplace injury attorneys, like this firm, often work with slip and fall cases and can advise you of your rights and if you have a case.
Protect Yourself After Trip and Fall Accidents
After trip and fall accidents, you should take steps to protect yourself and make sure that any injuries you sustain are treated properly. Document everything that happens following the injury and the circumstances surrounding the fall in case it is needed later.
If you found this information useful, explore some of our other articles, and come back often for new content.
---
Interesting related article: "What is an Occupational Injury?"