UK astronaut, Major Tim Peake, is to spend an extra month in space – extending his stay on board the International Space Station to 173 days until June 5th, 2016, ESA (European Space Agency) announced. He will blast off from the Baikonur Cosmodrome in Kazakhstan on December 15th, alongside Russian cosmonaut Yuri Malenchenko and NASA astronaut Tim Kopra.
Peake's mission will be the sixth longest undertaken by a European Space Agency astronaut.
The three astronauts arrived at the Baikonur Cosmodrome yesterday. Today they are scheduled to visit the small Soyuz TMA-19M spacecraft, operated by Roscosmos (Russian Federal Space Agency), which will transport them into orbit.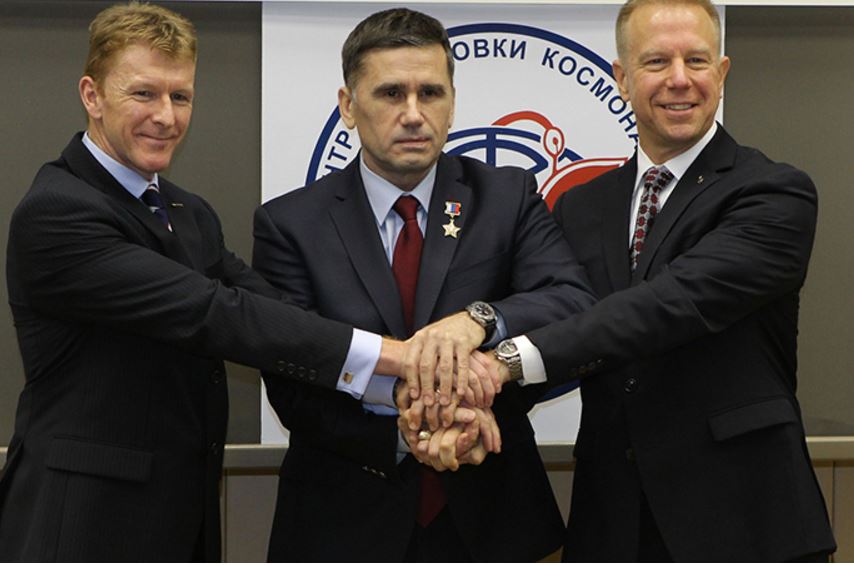 Timothy Peake (left), Yuri Malenchenko (middle) and Timothy Kopra posing at the Gagarin Cosmonaut Training Center in Star City, Russia. (Image: blogs.nasa.gov. Credit: NASA/Seth Marcantel)
Much still to do before launch
Before the launch, the spacemen will have to undergo medical check-ups, physical training, prepare experiments, and review the plans for the six-hour journey to the International Space Station (ISS).
From now until December 15th they will have as little physical contact as possible with other people to avoid becoming ill or passing on any nasty bugs or infections to their colleagues on board ISS.
---
---
Major Peake's mission – called Principia after Sir Isaac Newton's text outlining the laws of motion and gravity – will involve carrying out several experiments. He will be growing blood vessel cells, rocket leaves, and protein crystals in a microgravity environment, as well as performing tests to learn more about the property of metals. The mission will have a special emphasis on education.
According to NASA, advanced space science continued today as the crew explored blood circulation, radiation, and microbes living on crew members. They hope to use the results from several experiments on the space station to benefit future crews and people on Earth.
The mission (Principia) logo was designed by the winner of a competition held by a British children's television show. (Image: principia.org.uk)
NASA wrote on its website:
"Finally, the crew is packing the Soyuz TMA-17M spacecraft before its undocking Dec. 11. The Soyuz will bring home Expedition 45-46 crew members Lindgren, Soyuz Commander Oleg Kononenko and Japanese astronaut Kimiya Yui."
Video – Three astronauts depart for Kazakh launch site
This NASA Johnson video shows the Expedition 46-47 crew participating in the traditional ceremonies at the Gagarin Cosmonaut Training Center in Star City, Russia, on November 30th. Afterwards, they departed for the Baikonur Cosmodrome in Kazakhstan.