There is a lot of buzz about the UK Housing Market this year. According to the Office of National Statistics House Price Index, the average UK house prices have increased 10.2% since last March. This is the highest annual growth rate in house prices the UK has seen since 2007 but, despite this, the number of properties sold has also reached a record high as of March 2021. What has fueled this boom in the market, and can it continue?
There was some belief that the boom in the market has been ignited by the stamp duty holiday introduced in 2020 and which has been extended until the 21st June 2021. Stamp Duty is tax paid on property or land purchased in the UK. Ordinarily, stamp duty is paid on any property sold for more than £125,000, but this has been temporarily increased to £500,000.
For buyers of a sole property, it would mean savings of £5,000 if they were to purchase a £300,000 house. These savings inspired confidence in both buyers and sellers, which has continued as the stamp duty holiday has been extended. However, there is much speculation about how the housing market will be affected when it comes to an end.
There is some argument that short-term Government incentives such as the stamp duty holiday will exacerbate highs and lows in the market, rather than creating long–term equilibrium. On the other hand, Nationwide's chief economist argues that it has not been the key motivating factor in the increasing numbers of people looking to buy homes.
Other factors include the increased numbers of people who have unexpected savings and also changing lifestyle choices. More people in the UK have been reassessing their domestic setups, wanting to move out of urban areas and into the suburbs or countryside. This has increased demand significantly which in turn has increased house prices as demand exceeds the supply of homes on the market.
How is this Affecting First-Time Buyers?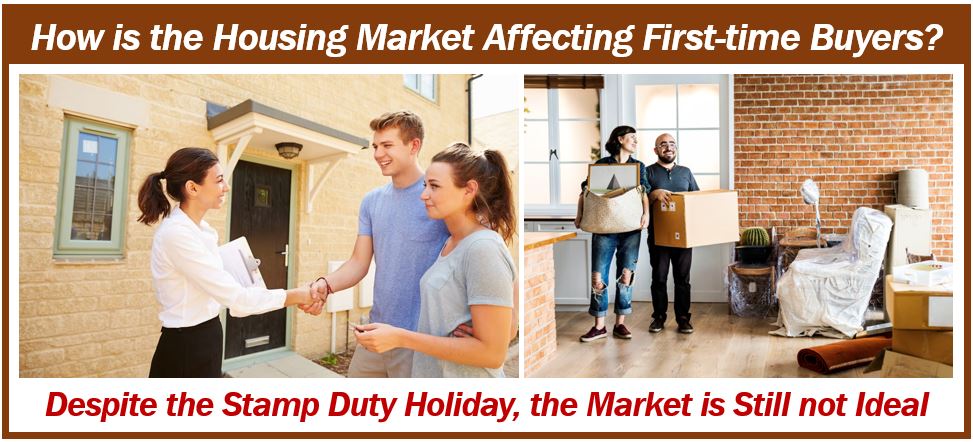 Despite the stamp duty holiday inspiring confidence in hopeful home buyers, the housing market boom isn't ideal for first-time buyers as house prices are at their highest levels.
However, as with many other industries today, more incentives and schemes are being implemented to the benefit of its consumers. For example, top names in the clothing industry are offering "try now, buy later" schemes, giving shoppers the opportunity to try clothes at home.
Furthermore, if you read this article from Bonusfinders, there are also incentives such as no deposit bonuses being offered to help consumers enjoy leisure activities such as online gambling, and plenty of detailed information on what these bonuses are and how to claim them. In such a way, detailed information can be found online about schemes that can benefit those looking to get on the property ladder for the first time.
Nationwide Building Society is the latest lender to offer 95% mortgages with its lowest ever interest rate for first-time buyers. In fact, borrowers with a 5% deposit have a choice of over 100 mortgages to choose from.
Whether the UK housing industry will continue to boom, only time will tell, but at least there are schemes in place to help potential first-time buyers navigate the market.
---
Interesting related article: "What does Market mean?"