The world today has seen an exponential rise in the utilization of cloud computing, with more than 90% of organizations worldwide being hosted on the cloud. Apart from this, being connected to the Internet 24×7 is the new norm. Binge-watching series and movies on streaming platforms is the new television. This usage of cloud computing and the Internet require extraordinary amounts of storage space and infrastructure, which is handled by data centers.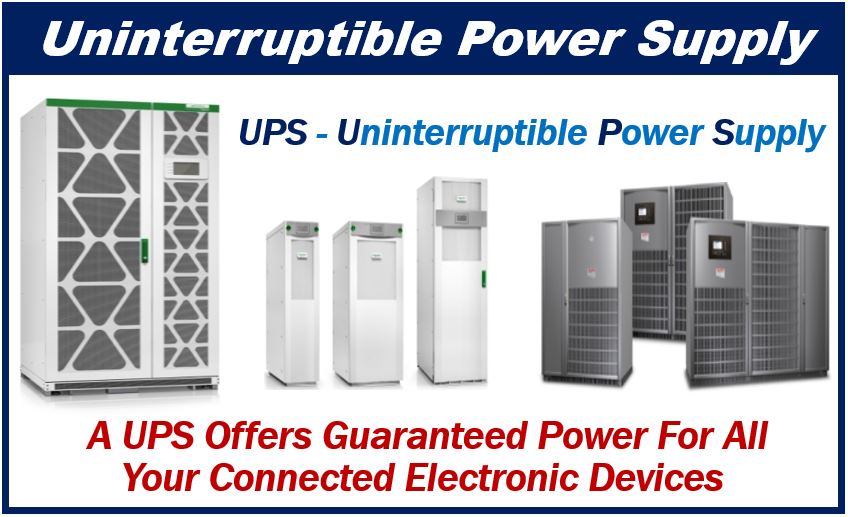 A data center is a centralized facility that comprises networked computers and storage that individuals and organizations use to process, store, and disseminate large quantities of data.  One of the critical purposes of data centers is to ensure maximum uptime is provided on all their equipment. This is carried out with the help of optimum temperature levels, redundant communications circuits, and stable power.
Power companies can't provide a 100% guarantee on their services, so data centers carry on with their operations with the help of a UPS (uninterruptible power supply).
A UPS is a battery backup that supplies power to equipment and infrastructure when the primary electrical power fails, or the voltage drops to an unacceptable level. A UPS is required for a data center, even if the facility possesses a generator. This allows both the devices to operate in partnership to keep the data center running in the event of extended power outages. Installing a UPS offers several advantages, which include:
Prevents power surges from occurring
Provides consistent and filtered power supply
Prevents uncertain data loss
Maintains battery life
Avoid power lapses, thus protecting critical equipment
Allows data centers to remain 'online' during outages
Now, let's take discuss the different types of UPS that are used by data center facilities.
Types of UPS for Data Center Facilities
Offline Standby UPS
This type of UPS only offers basic features. The UPS output socket to which the equipment is plugged into is physically connected to the line charging the battery. Offline Standby UPS systems are usually used to protect computers, VoIP equipment, modems, and other hardware.
The advantages of using an offline standby UPS is that it is reasonably priced, provides efficiency, and operates silently. On the other hand, its disadvantages include negligible power protection, absence of a failsafe, and poor output voltage regulation.
Line-Interactive UPS
This operates similarly to the standby UPS but with better output voltage regulation and filtering. The line-interactive UPS also reduces the impact of sags, surges, and spikes by boosting power or converting to battery backup. In the event of an outage, a UPS converts battery power to AC flow for device functioning.
During blackouts and brownouts, line-interactive UPS systems offer protection to the sensitive equipment present in data centers. The line-interactive UPS systems also ensure the performance of the equipment is not affected during short-term power cuts. If a lengthy power outage is expected, the battery of the UPS assists in shutting down the devices safely.
Online UPS
The online UPS employs double conversion technology to operate, which is the highest level of power protection available. In the double conversion technology, the equipment does not receive electricity directly from the AC outlet. Instead, the power travels to a rectifier, where it becomes DC power. Then it travels to a battery followed by an inverter, where the power is finally provided to the equipment.
Online UPS is the most popular UPS system for data centers because it offers immense protection to sensitive equipment. Online UPS also have failsafe techniques and provide total power conditioning.
Safeguard Your Data Centers with Power Management Solutions
Reliable UPS systems help in ensuring that electrical power to equipment in data centers is never affected or interrupted. When purchasing a UPS for your data center facility, it is important to keep in mind that the volt-ampere (VA) rating of the device must be compatible with the total load that has to be protected. This load comprises all the network accessories and equipment.
If you are unable to understand which UPS to purchase, approach experts who will understand your requirements and suggest a suitable UPS system for you to purchase.
---
Interesting related article: "Mistakes to avoid during data center migration."