A blockchain-based protocol, Universal Reward Protocol (URP), announced the addition of Samuel Baroukh to its advisory board. Baroukj is Head of Nestlé's eBusiness Division in France. URP lets retailers reward consumers for virtually every type of shopping behavior.
Lead Engineer at Stratis Platform, Jeremy Bokobza, and Head of Innovation at Auchan Retail, François Poupard, also joined the board.
Universal Reward Protocol rewards shoppers for, for example, just visiting a store. Shoppers earn Universal Reward Protocol tokens by accepting to share their data. Specifically, sharing their shopping behavior data.
Universal Reward Protocol potential
Regarding the potential that Universal Reward Protocol brings for brands, Baroukh said:
"Universal Reward Protocol has the potential to be a game-changer for brands. B2B2C Brands are having real trouble getting to know and touch their consumers since they have limited means of interaction with them."
"URP is offering a viable solution to that long-standing problem. URP will reshuffle the cards between retailers and brands."
Baroukh will bring his knowledge of multinational brands to Universal Reward Protocol. URP says that he will play a key role in the understanding of shoppers' and brands' needs.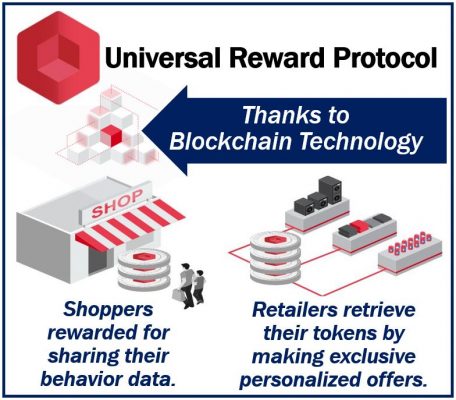 What is a blockchain?
A blockchain is a list of records that never stops growing. We refer to the records as 'blocks.' The blocks are secured and linked using cryptography, i.e., sophisticated codes.
In the world of cryptocurrencies, for example, blockchains provide the validity to a cryptocurrency's chain.
Put simply; imagine a block as a ledger and a blockchain as the whole ledger book. Each block has data on the block that came before it, except, that is, the first block chain, which we call the 'Genesis Block.'
We can write the term as one or two words, i.e., either 'blockchain' or 'block chain.'
According to URP's website:
"We are building Universal Reward Protocol, a blockchain-based protocol where retailers reward shoppers for interacting with them and sharing their behavioral data."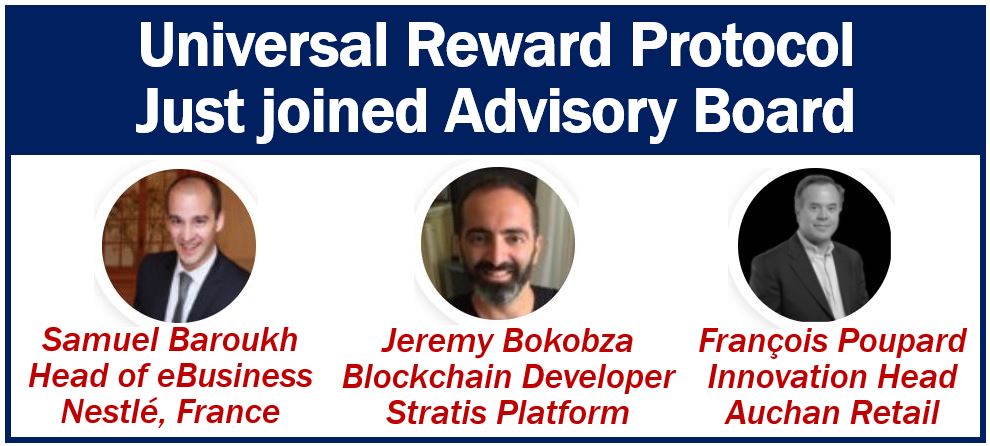 Consumers' wants and needs
Bokobza, a professional software developer, made the following comment regarding retail technology space:
"The retail technology space is ready for disruption, as brands need to understand and serve their consumer now more than ever before."
"The blockchain technology that URP is creating will help brands to better understand the wants and needs of the consumer, personalize rewards programs for shoppers in a more efficient way, and improve the overall retail experience."
"I'm excited to be part of such an innovative team, and look forward to working with URP to revolutionize reward programs in a way that's never been done before."
Personalizing shoppers' experience
Poupard added:
"Thanks to Universal Reward Protocol, we will be able to truly personalize shoppers' experience to meet their expectations. We will be able to reward consumers for sharing their data which we will use to make them offers that suit them perfectly."
"I have been collaborating with the founders of URP for three years and I'm convinced of their ability to build such a protocol technically and commercially, and deploy it worldwide."
Universal Reward Protocol co-founder, Yves Benchimol, said he is excited about the makeup of the company's advisory team. Benchimol is also URP's CEO. CEO stands for Chief Executive Officer.
Benchimol said:
"By adding seasoned experts in the retail and blockchain industries to our advisory board, URP is preparing for further success and growth as we continue to work toward our goal of creating a new kind of reward program that benefits consumers and brands."
Universal Reward Protocol recently announced the launch of its initial coin offering or ICO. Purchasers can acquire the cryptocurrency with Fiat or ETH.
URP's Head Office address is: 49 Avenue d'Iéna, 75116 Paris, France.
Video – Universal Reward Protocol
This Universal Reward Protocol video explains how its technology works. The firm focuses on the retail sector.