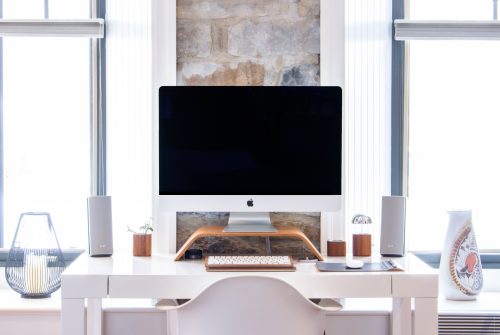 In today's busy digital world, many of us spend loads of time at our desks. Whether in an office setting for work or at home, we use our computers for business and leisure. Many of us work from home and use the desk for our professional and personal needs. That's why it's important to keep the desk well-organized to avoid mixing up the household's paperwork with your work documents.
But it's not easy to keep everything in place when you're spending so much time behind one piece of furniture and you don't have all the storage options needed to work efficiently. A messy desk can throw your productivity off. You'll spend unnecessary time looking for papers you need for a conference call instead of using the time to prepare properly for the meeting. You then stumble through the meeting as managers notice how unprepared you are. It's a snowball effect that could end in disciplinary action if you're not careful.
The same can happen if you're looking to resolve a medical bill but can't find the information the insurance company sent you while you're on the phone with the hospital. It can lead to a series of calls and emails that take up valuable time that should be spent enjoying your family.
Although these situations are hypothetical, they aren't uncommon. That's why you want a hutch with desk combination to help tidy up your space. The hutch will help you establish a system where clutter doesn't exist. It's an instant way to increase storage as you will now have available space to house your supplies.
There are several designs that will meet your storage needs. If you have small mounds of paper sitting on your desk, a hutch with paper slots will provide a place for those documents. Are there too many electronics crowding your desktop? Then a hutch with well-spaced shelving for a printer, scanner, and other items is the storage solution you need.
Photos and other knickknacks can be used to personalize and decorate the area. After all, you also want your workspace to be visually appealing. A hutch with various compartment sizes will allow you to add items that make the space more attractive.
Another great characteristic of the desk hutch is that it saves floor space. You may not have the extra room for adding file cabinets and bookshelves to the work area. These are bulky pieces of furniture that will restrict free movement. But because a hutch sits on top of the desk, it will best use the area's vertical space.
Books and supplies will be easier to organize using shelves and cubbies. If you have large volume books or binders, you need to ensure the shelves' depth is appropriate. You may want to keep an eye out for other special features such as locks on the cabinets and drawers or built-in lighting. The right hutch can give your desk a new look while adding storage to the space.
---
Interesting Related Article: "Choose a Desk for Study"