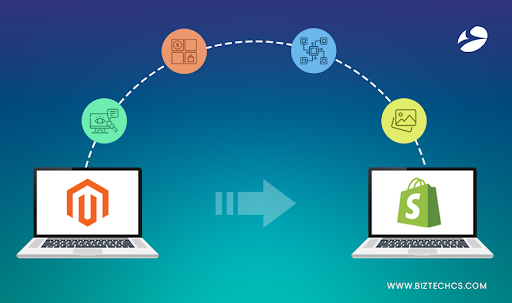 Similar to moving your home, moving your e-commerce store from Magento to Shopify requires proper planning in order to transport all of its contents without damage. If you think the potential migration from Magento to Shopify is exciting, it certainly is. Shopify offers flexible capabilities and a user-friendly design that has all the necessary features. Businesses are considering making the significant leap from Magento, which has long been the de facto standard for ecommerce business.
The procedures needed to move your online store from Magento to Shopify are outlined in the steps that follow. To reduce manual errors, it often proves to be a good idea to hire professionals to oversee the entire migration process. Having a Magento to Shopify migration Checklist will help you to carry out the ecommerce store migration process easily. 
Following these procedures will allow you to transfer your Magento store to Shopify.
Create a backup of your Magento store
The most important step in your Magento to Shopify migration Checklist should be creating a backup of your Magento store in order to securely save all of the data. Back up is useful if the migration is unsuccessful and prevents loss of all client, payment, or product-related data. Make a backup in order to prevent such issues. 
To build a backup of your Magento store, follow these instructions:
In the Admin sidebar, select the 'System' button. Then select 'Tools' > 'Backups'. Choose a backup type from the options here. There are three options available. Select one among them. 
System backup

Database and Media Backup

Database Backup
Set up your Shopify account
Setting up your Shopify account without any extra charges or modules and activating it is a crucial next step in moving your Magento e-commerce business to Shopify. When you initially visit Shopify, you can start by clicking the "Start free trial" button to use the first 14 days for free research and testing. 
Before making any substantial commitments, this trial period gives you a chance to get acquainted with Shopify and its features. However, if you want to keep using the services after the trial period has ended, you must subscribe to the premium plan. Here are the three main options from which you can select in accordance with your needs.
Basic Shopify

Shopify

Advanced Shopify
Download the store import app
Shopify users can make use of many exciting applications that enable store import. Ecommerce stores can easily migrate from other platforms to Shopify with these apps. 
By using these apps, you can easily transfer the information about your clients, their purchases, and other facts from Magento to Shopify.
Increase your growth by hiring a magento development company for your ecommerce store website. 
Export data from Magento to Shopify
Your data has now been prepared for transfer to your new platform. Start packing your boxes by simply following the below procedures.
Go to System > Data Transfer > Export to export data from the Admin sidebar.
Select one of the following Entity Types when you get to the Export Settings section.
Customers' Primary File 

Customers' Addresses 

Customers' Product
XML or CSV export file formats should be set as the default if you're using migration apps. 
The Fields Enclosure checkbox should be selected if you want to enclose any character in the data.
By scrolling down and tapping the continue button, you can proceed.All data files that have been exported will now show up in the /var/export folder.
You can hire magento development professionals at an affordable price to build and optimize high quality ecommerce business websites for your business. 
Import the data to Shopify
This is the step that gets all of your data ready for Shopify import. The steps listed below should be used to complete the procedure:
Go to the administrative section of Shopify and choose Apps > Import Store.

Since Magento is not among the options, choose Other as your platform type.

Click on Add Files in the uploaded files, followed by Export Files.

Click the CVS file you exported from your Magento store twice.

Click Import then Continue import to finish the procedure.
Review import data
To make sure the whole data set is imported, everything must be checked after data import. In this method, the following problems are frequent:
Import of data including a few small errors: Hand-edit all imported data by reviewing the import summary to fix errors.
Certain customer or product data may not be imported correctly. If certain customer or product data did not load correctly, manually add them using the import customers or products option.
Use Shopify's product bundling application or manually add any bundled products that did not import.
Another issue is being successfully imported but unpublished in Shopify. Change the product availability in Shopify if the products are successfully imported but unpublished in Shopify.
If the records that have been imported are tagged, the Store Importer adds the tags as import__.
If product variants like weight, colour, and size are not imported, manually add them if they are needed.If Dimensions are absent from imported products, manually add dimensions to product descriptions to fix this.
Install a Shopify app made specifically for selling products online if products are imported in their entirety but are not published. 
Revamp your new Shopify store
After you have done the previous steps, now is the time to enjoy your new online store. It's time to create and set up your Shopify store after transferring and checking all of the data. You can make each landing on your page aesthetically appealing by using one of the many visual cues and pre-made themes that are accessible.
Final thoughts 
It is not necessary for your Magento to Shopify migration to be challenging or hard, but it does involve professional expertise and procedures to complete the process. Hire shopify development companies to help you to meet the ecommerce market requirements without making mistakes that could cost you your ecommerce website. You've undoubtedly already been through the process of moving your Magento e-commerce site to Shopify. The actions listed above are straightforward and fundamental, so you can follow them exactly. Experts promise that your migration from Magento to Shopify will go very smoothly.
You should move to a better platform if you want to dramatically grow your small-scale e-commerce business. Work with Shopify professionals if you want to grow your e-commerce business without compromising your mental health. Professionals work hard to offer reliable content on your website that is both data-driven and helpful to their visitors. 
---
Author Bio: Maulik Shah is the CEO of BiztechCS, a development company. He often takes the front seat in the company's development projects, because he enjoys solving problems through technology. When it comes to writing for any blog, his contribution is priceless. Maulik ensures that his interaction with development is frequent enough, and his industry knowledge is ever-evolving so that he can share it. Despite his packed days, Maulik's door is always open and he is generous with sharing this knowledge and experience.