One valuable tool that benefits many forex traders is a demo account. It's a valuable tool that can benefit all traders, whether you're a professional trader or a beginner.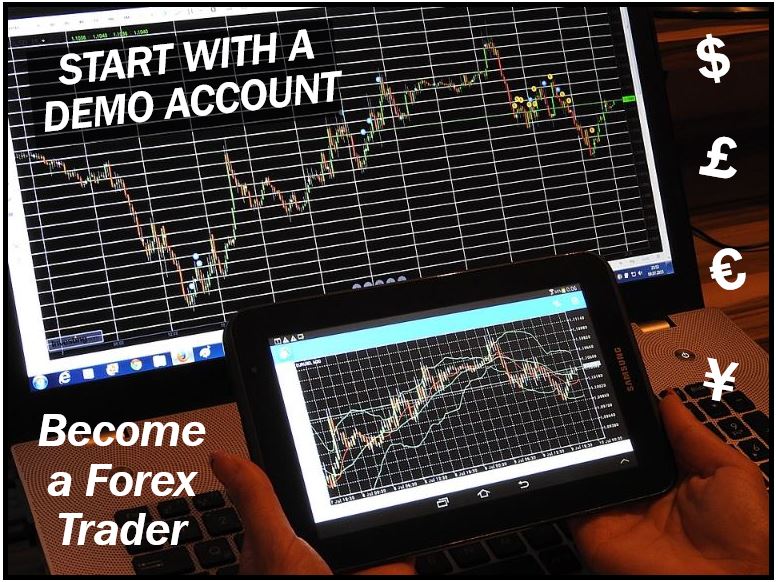 Forex demo accounts are normally offered for free by most forex brokers, and they are a great way to test a broker's platform. This is because most of the practice accounts will have the same features and layout as the live trading account, so it's a good way to see if the platform is the right one for you before trading for real with actual funds.
The term Forex is short for the Foreign Exchange market, i.e., the international market for buying and selling (trading) currencies.
Get some practice before the real thing
It's important to know how a platform's functions work including the creation of setting up stop-loss orders as well as getting to know the various technical indicators. With the foreign exchange market being so changeable, it's vital that an investor feels comfortable and confident when trading on an online platform.
However, there is another reason why a demo account is useful for traders, and that's because it's a perfect way to practice new trading strategies without risking real money.
It's possible to try out new techniques and to grow comfortable with your trading style. There are many trading styles available from longer-term positions to day trading, so it's important you find the best fit for you.
Forex demo account simulates live trading conditions
A good demo account will help to educate you about the forex market as well as simulate live trading conditions. The fact that it's all virtual money being used also removes the risk of losing real funds, this also means that any 'profits' made whilst using the demo account aren't real funds either.
Most brokers offer an unlimited amount of virtual funds which are replenished either automatically by the system or via a top up request to the customer support team.  The virtual fund amount offered varies by broker, but it normally ranges from $10,000 up to $100,000.
For example IQ Option is a regulated broker that offers a very good free demo account to practice forex trading with. Besides forex, the practice account also comes with other financial instruments that are available to practice trading with as CFD's. This includes instruments like Shares, Options, Commodities and Cryptocurrencies.
Use virtual funds – not real money
The IQ Option demo account also comes with $10,000 of virtual funds that can be renewed anytime. The broker also provides useful video tutorials for beginners including how to start trading forex. More importantly, it's also possible to sign up for the free demo account without needing to sign up for a real account which requires a deposit.
All good regulated forex brokers normally offer this, as it removes the pressure of having to remain with a broker that you may not really like after testing the platform. Of course there are many other brokers available besides IQ Option, so it's important that you test each platform's practice account to find the best broker for you.
Just always make sure that a broker is regulated and licenced to operate to protect yourself against illegal brokers who wish to carry out fraudulent activity.
It's vital to remember though that forex trading is not a game, and you must treat the demo account with the same respect as if it were a real account. Tips to prevent this include keeping to a fixed trading budget as well as making a trade based on analysis instead of emotional reasons.
After forex demo – start with small trades
That's why it may be a good idea that if you decide to switch to the live trading account from the demo version, that you start with small trades first. This will help you to realise your financial abilities and see which forex strategies work for you without risking too much capital.
It's also possible to test a forex strategy in the demo version first, and if you see it doing well there, then you can switch to the real trading account to place it. Most of the practice accounts will have a switch button on the page that lets users easily switch between the two accounts.
Overall it's a gradual learning process that takes time, but finding the best forex demo account for you is  a great first step to becoming a confident trader.
Video – Definition of a Trader
This video, by MBN (Market Business News), explains in simple English what a trader is.