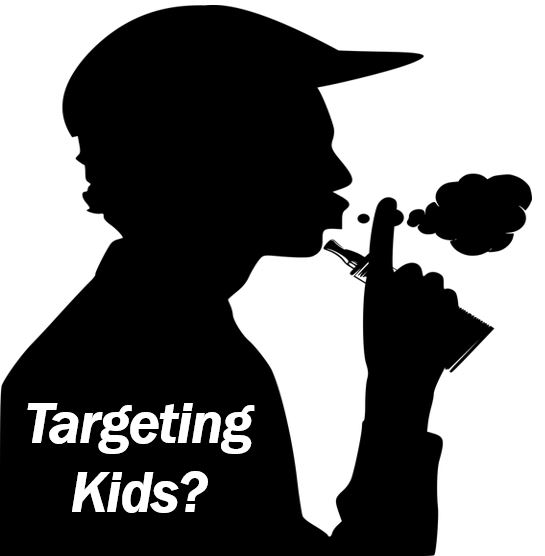 Vaping or electronic cigarette use is very dangerous for kids, adolescents, and young adults. This is because they often comprise of nicotine as well as other harmful substances. Nicotine has addictive properties, and it can limit adolescent brain development, which might even continue into young adulthood. Even though the chief electronic cigarette companies claim that it isn't targeting kids as customers, researchers have been monitoring the marketing material from tobacco companies, such as the posts from electronic cigarette companies to Twitter, Instagram and YouTube. These platforms are all frequently used by youngsters.
In fact, recently, it had been studied that electronic cigarette companies are making use of cartoons as a marketing approach, and many have logos that are cartoons. This tells us that cartoons are significant to the identity of their brand.  Even the neighborhood vape store sometimes has cartoonish ads from their vape suppliers.
How do the Vape Companies use Cartoons to Target Kids? – A Study
Previous studies impeached the part played by the cartoon character Joe Camel, established by R J Reynolds as a brand mascot, in growing charm of traditional cigarettes and product awareness in the target group. "Joe" further assisted in establishing the habitual and initial cigarette use in this target group. In fact, according to a surprising study in 1991 which was also published in the JAMA journal, it was revealed that among the preschool kids, Joe Camel was as promptly familiar as Mickey Mouse!
Other than that, the earlier studies by researchers also showed that e-cig vendors used the famous cartoon-based virtual reality game called Pokemon Go so as to increase their online sales on Twitter. In fact, they found that more than one-fifth of Instagram images that were shared by vendors and manufacturers of e-liquids comprised of a cartoon.
A recent study also confirmed again that the cartoon-based advertising strategy helps present and begin the use of different products for tobacco habit among youngsters.
This matches with the US surgeon-general report in 2015 of an appalling 900% rise in vaping among the high-school students, out of which 40% of these youthful e-cig users had never actually smoked normal tobacco.
The use of cartoons for selling flammable cigarettes is firmly regulated. But that of e-cig marketing isn't. This has obviously led to the usage of different cartoon characters in two main ways: firstly, as a company logo and as a part of the items developed for the promotion of e-liquid and e-cigarettes sale online, including on different social media platforms like Facebook and Twitter. Even though cartoon characters aren't the only factor which is important in the user's decision for purchasing the product, they play a key role in assisting to make up his mind. This is quite similar to the already apparent marketing trends as in the case of junk food and other items that use cartoon characters.
Conclusion:
So basically, the studies teach us that cartoon characters are indeed being purposely used by various e-cig vendors and manufacturers to target the younger populations that are at risk.  Other than that, these likely users are also more prone to accept the item for initial use with great expectations when they do identify the different cartoon characters. And lastly, such recognition influences these users to think positively of the vaping habit.