Waste management is a crucial part of day-to-day sanitation in a thriving society. Like any business, a waste management company, like Cleanaway, has to walk the line between responsibility and profitability. In order to get Cleanaway to a successful place, Vik Bansal had to create change that was in line with the industry-wide changes happening all over the globe.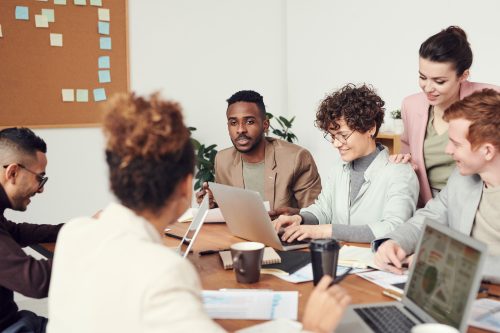 In a time of considerable change, leadership is especially challenging. Right now, people are concerned about the environment and climate change. There has been a massive interruption in value chains with a global pandemic. The downturned economy has also caused strains on a number of businesses. These challenges require businesses to be disciplined, says Vik Bansal.
5 Key Points of Running a Disciplined Business
Reflecting on when he joined Cleanaway five and a half years ago, Vik helped the organisation become a more structured and effective waste management company with a number of major changes.
These are five key points Vik used to successfully shift Cleanaway's direction.
Being Honest as a Leader
Vik notes that it often takes a leader to see the problems in the first place. "It was clear something needed to be done," he said. "But no one was willing to do it at that point." Changing Cleanaway was going to require some difficult decisions and major commitments to a new direction.
It was clear to Vik that the first task would be to provide clarity for the organization. There were multiple brands operating within the business and they were not working together. He didn't want to make the decision on his own because it was a big choice that was going to impact the entire company.
So, he started having meetings to understand where different departments were coming from and what was essential to the company. Vik recalls: "In one of the meetings a lady asked, 'Are you going to take costs down? Are you going to remove people?' And I said, 'Yes.' And they started clapping… And, I asked them why they were clapping and they said, 'You're the first CEO that's come to make them and is honest about it. We all know you need to do it, but at least you are being honest about it.'"
Honesty about change and direction is a crucial part of getting a team on board. When leadership hides intent or direction, employees tend to feel lost and out of control. In every company, it is the lower tiers of employees that are doing most of the heavy lifting. While the hard decisions are often left to the top-tier c-suite leaders, the choices made impact everyone. 
Clarifying Companywide Vision
Vik wanted the vision of the company to be "deep and widespread, to stand the test of time." The overarching brand and values of the company needed to align with the shifting position of the industry.
In order for a company to be truly disciplined in its approach, there has to be clarity regarding the vision. Discipline requires that the defined vision permeates throughout every part of the company.
And, it requires understanding the industry, the employees, the stakeholders, and the leadership. "You have to be very clear on the practical challenges you face, the strategy, and how the leadership team engages with each other," says Vik. A leader can't just choose an ideal vision and force the company into that mold. Vik notes that understanding his team and the industry as a whole was just the first step to defining that vision. "It had to be genuine, authentic and relevant to all stakeholders, and the idea that the waste industry would become about sustainability made perfect sense. 
Building Team Cohesion
When it came to Cleanaway, Vik notes there was tension overvalues and a lack of cohesion across the board. Part of the process for change was to demonstrate improved performance while embedding the operating model. "We had to build the clock while telling the time. We didn't have the luxury of stopping everything while we developed our mission statement. We had to keep moving forward while communicating Our Cleanaway Way, the strategy on a page, that provided the connective thread that brought the company together. The entire process for defining direction was done in a way that built the team to a place of unity and provided a toolkit for how to work together.
"In 2019 when Our Cleanaway Way was relaunched to reflect our new, integrated values and strategic pillars of People, Earth, Markets, Assets, Finance (PEMAF) it felt like we had closed the loop. I'm very proud of that legacy to leave the organization with." 
Setting a Beneficial Operating Cadence
Operating cadence is a standardized and consistent approach that gives management and leadership teams time to think. "Discipline is about operating cadence—discipline is not about being hard," says Vik. Leadership is about guiding from the top down in a way everyone is able to succeed, not creating a threatening environment.
Operating cadence occurs when a company starts to establish how much of the practice is structured and how much is left for the employees to determine on their own. Bansal notes that there is a lot of freedom in the Cleanaway structure. Once the initial meetings are done, a lot of employees are free to operate their branch within their own leadership—but the underlying values remain in place.
"Methodology of operations can change from leader to leader, but the core of routine should be based on the operating cadence which makes it successful," says Vik. By keeping the values and vision at the center of the brand, there is room for individual leaders and employees to explore their roles.
The operating cadence will revolve around highly specific goals that provide a clear understanding of success. These KPIs (key performance indicators) help turn the overarching values into measurable goals. Ultimately, employees should absolutely know if they are in-line with the company direction or not meeting expectations.
A company needs transparency and objective measurements to successfully establish a stable operating cadence.
Defining the Overarching Structure
Authentic leaders are able to find stability in their own morals and hold on to the established core values of the company. To get to this established place, the key stakeholders—namely the employees and leadership—should be involved in the process. Ultimately, the leader needs to choose the right values, direction, and structure that will bring cohesion without overbearing hyper-management.
"With this structure comes line of sight," says Vik. "With structure also comes accountability." Once the structure is in place, leadership has a much clearer path towards accountability within the company. Without clarity, it is unfair to hold employees to a standard.
Setting the structure allows leadership to clarify expectations. This empowers leadership and it also supports staff and employees.
The structure will be the foundation for the company. It includes the leadership honesty, vision, cohesive direction, and operating cadence. Discipline means holding to that structure—not moving in ways that might be convenient for leaders or individual employees. There is an understanding that the structure is there for the good of all.
About Vik Bansal and Cleanaway
Vik Bansal became CEO of Cleanaway in 2015. He has more than 25 years of experience as a top executive in Australia, the US, and Asia. With a clear understanding of managing growth, transition, and improvement, Vik Bansal successfully shifted the vision of Cleanaway to drive resource recovery in Australia and rethink waste management.
Cleanaway entered phase two of the Footprint 2025 during 2020, focusing on on-shore solutions to shorten the value chain. "As Australia's leading integrated waste management company, which owns and operates a substantial portfolio of prized infrastructure, we want to make a positive impact on the environment, society, and the economy," says Vik. "'Making a sustainable future possible' is a mission that unites more than 6,000 people who come to work each day and make Cleanaway the company that it is. We are, and always will be, stronger together."
Connect with Vik Bansal on Twitter.
---
Interesting Related Article: "6 Strategies For Keeping Your Small Business Organized While Remote Working"