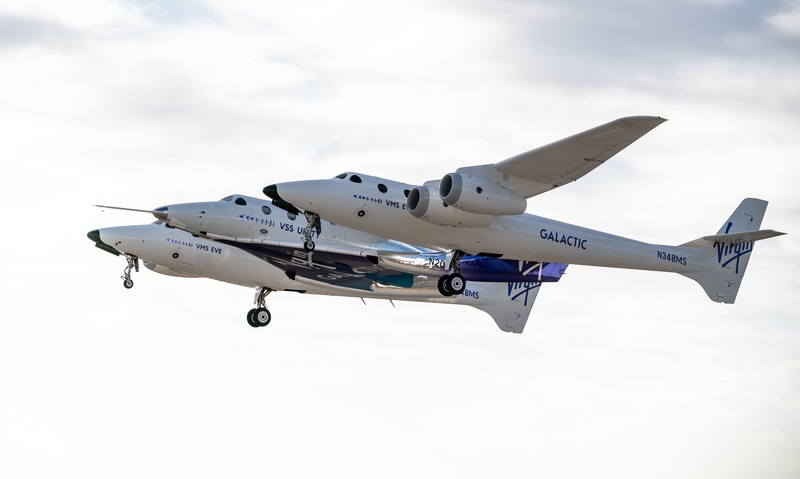 Virgin Galactic, the company that's been pioneering commercial space travel, is pressing pause on spaceflights next year. This isn't a full stop but a strategic shift to focus on their new project: the Delta-class spacecraft. These new ships are set to be the next big step in space tourism, and Virgin Galactic wants to shift its focus on getting them right.
The company has been sending astronauts and researchers to the edge of space aboard its air-launched VSS Unity spaceplane on a monthly basis since spring. But they're scaling this back to a fraction of the current rate and then halting these missions in mid-2024. This temporary halt will help Virgin Galactic concentrate on perfecting the Delta-class ships, ensuring they're up to the task of future space adventures.
The company says that Delta flight tests are planned for mid-2025 from Spaceport America, located in New Mexico.
Delta vs Unity
According to Virgin Galactic, its Delta ships are expected to significantly outperform Unity ships in terms of revenue generation:
Revenue Per Flight (RpF): The Unity spacecraft, which has 4 seats, can generate $1.8 million to $2.4 million per flight. In contrast, the Delta Class spacecraft, with 6 seats, is expected to generate $2.7 million to $3.6 million per flight, assuming current pricing of $450,000 per seat or $600,000 per seat for research flights.
Flights Per Month (FpM): The comparison assumes a single flight per month for Unity, generating revenue of $1.8 million to $2.4 million. For the Delta Class, the estimate is based on eight flights per month, which would result in a revenue of $21.6 million to $28.8 million per month, per ship.
Revenue Improvement: The Delta Class is projected to offer a 12-fold improvement in revenue over the Unity spacecraft when the FpM estimate is considered on a per ship basis.
Layoffs
Adjusting to this new focus has meant Virgin Galactic needed to streamline its operations, which led to laying off about 185 of its employees. That's a significant cut—18% of their workforce—which brings the company's total number of employees down to 840, according to CNBC. It's a move expected to save about $25 million annually.
Virgin Galactic CEO, Michael Colglazier, said in a news release:
"To profitably scale our business, we must first invest upfront capital to create a fleet of ships based on a standardized production model — the Delta Class ships. At the same time, it has been imperative for us to demonstrate the value and potential of our product by bringing our initial ships, Unity and Eve, into commercial service. Both of these initiatives consume substantial resources, and both have been critical to our company. We have successfully advanced both of these important efforts in parallel, and we have been able to support our funding needs along the way with access to capital markets.
"Recently, however, uncertainty has grown in the capital markets. Interest rates remain high, which adds pressure to companies who are investing today for profits that will come in the future. Geopolitical unrest continues to expand, and the combination of these factors makes near-term access to capital much less favorable. We are going to succeed in this environment by focusing our full company efforts on the safe, efficient, and successful completion of our Delta program that will allow us to create positive cash flow.
"The Delta ships are powerful economic engines. To bring them into service, we need to extend our strong financial position and reduce our reliance on unpredictable capital markets. We will accomplish this, but it requires us to redirect our resources toward the Delta ships while streamlining and reducing our work outside of the Delta program."
Financial performance in Q3 
Michael Colglazier expressed confidence in the company's future, citing a series of successful spaceflights and a solid financial foundation.
"Virgin Galactic is on a fast track with six spaceflights completed in less than six months. We've not only proven the reliability of our spaceflight system but also the unforgettable experiences we're offering our Astronauts," Colglazier said. He also highlighted the company's strong cash reserves, which are expected to fund the introduction of the first two Delta ships and reach positive cash flow by 2026.
Virgin Galactic's cash reserves, including cash equivalents and marketable securities, stood at approximately $1.1 billion. This marks an increase of $108 million from the second quarter of 2023.
The company's revenue rose to $1.7 million, up from $0.8 million in the same quarter last year, bolstered by commercial spaceflight operations and membership fees from future astronauts.
The net loss for the company narrowed to $105 million from a $146 million loss last year, mainly due to reduced operating expenses and higher interest income.
Looking Ahead: Business and Financial Outlook
Virgin Galactic has exciting plans on the horizon, with the 'Galactic 06' spaceflight mission scheduled for January 2024 and the opening of a new spaceship factory in Phoenix, Arizona, expected in mid-2024.
The production of the Delta Class spaceships is progressing as planned, with the goal of beginning revenue service in 2026.
For the fourth quarter of 2023, the company projects revenue of about $3 million and anticipates free cash flow to be in the range of $125 million to $135 million.