Volkswagen Group – Company Overview
Company
Volkswagen Group (Volkswagen Aktiengesellschaft)
Headquarters
Volkswagen Aktiengesellschaft, P.O. Box 1849, D-38436, Wolfsburg, Germany
Chairman of the Board
Matthias Müller
Industry
Automotive
Type
Public
Founder
German Labour Front
Founded
1937
FWB stock symbol
VOW
Revenue
€202,458 million EUR (2014)
Operating profit
€12,697 million EUR (2014)
Profit after tax
€11,068 million EUR (2014)
Employees
592,500 (2014)
Website
http://www.volkswagenag.com
IR contact number
+49 (0) 5361 9-49840
IR email address

[email protected]
---
The Volkswagen Group (Volkswagen Aktiengesellschaft) focuses on producing automobiles, commercial vehicles, engines, motorcycles, and turbo-machinery.
The company, which is publicly listed on the Frankfurt Stock Exchange (under the stock ticker symbol 'VOW'), is based in Wolfsburg, Germany.
It is one of the world's leading producers of motor vehicles (along with General Motors and Toyota). It is currently the second largest automaker in the world, after Toyota. In July 2014, it pushed GM into third place. Analysts believe the company will take the number 1 spot within the next 18 months.
The group sells its vehicles in 153 countries and has a total of 106 production plants across Europe, the Americas, Asia and Africa.
Volkswagen claims that its team of 572,800 employees produces approximately 39,350 vehicles on a regular weekday.
The company was founded in 1937 as the Gesellschaft zur Vorbereitung des Deutschen Volkswagens mbH, which translates into the "Society for the preparation of the German People's Car".
Its original purpose was to manufacture the iconic Volkswagen Type 1 car, commonly known as "The Beetle".
During the 1960's the company experienced significant growth and acquired Auto Union (which produced the Audi models).
A decade later Volkswagen launched three new vehicle models: the Polo, the Passat, and the Golf – which to do this day are still sold.
In 1986 Volkswagen acquired its first foreign marque, SEAT. This trend of acquiring non-German marques continued, with the company acquiring Skoda (1994), Bentley, Lamborghini (1998), Bugatti (1998), and Porsche (2012).
The Volkswagen Group now has an extensive portfolio of brands: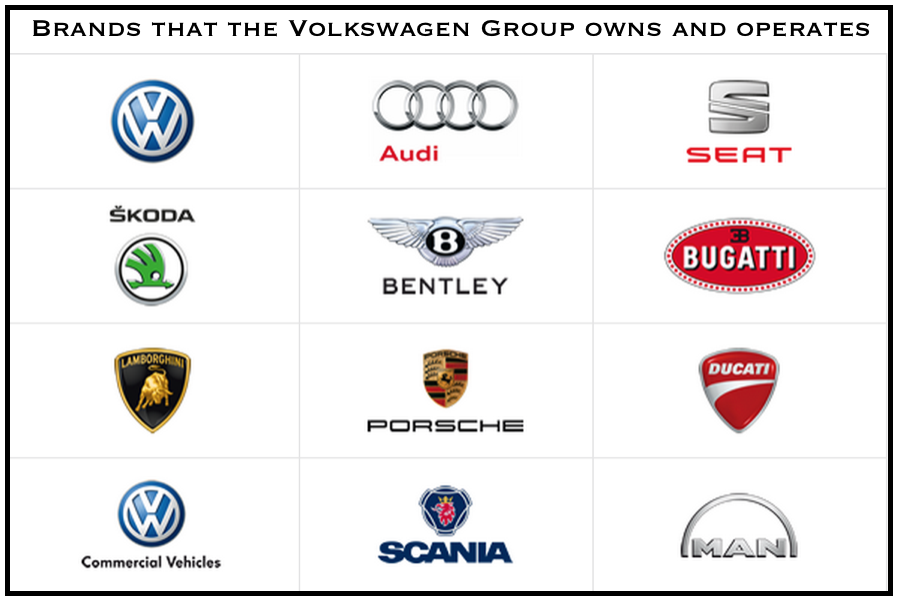 The company's goal is "to offer individual mobility, tailored precisely to meet the differing requirements of people everywhere – safe, environmentally friendly and with lots of motoring enjoyment."
The Volkswagen "Group Strategy 2018"
Volkswagen has four goals to make the company "the most successful and fascinating automaker in the world by 2018", which are:
To focus on deploying intelligent innovations and technologies and become a leader in customer satisfaction and quality.
Increase unit sales to more than 10 million vehicles a year.
A long-term return on sales before tax of at least 8%.
To be the most attractive employer in the automotive industry.
Company subsidiaries:
AUDI AG, Automobili Lamborghini S.p.A., Bentley, Bugatti Automobiles S.A.S., Dr. Ing. h.c. F. Porsche AG, Ducati Motor Holding S.p.A., MAN SE, Scania AB, SEAT, S.A., ŠKODA AUTO a.s., Volkswagen Commercial Vehicles, Volkswagen Passenger Cars, Volkswagen Marine, Volkswagen Financial Services AG, Volkswagen Leasing GmbH
---
Volkswagen Group – Financial Results
| | | |
| --- | --- | --- |
| Key figures (in millions of EUR) | 2014* | 2013* |
| Sales revenue | €202,458 | €197,007 |
| Gross profit | €36,524 | €35,600 |
| Operating profit | €12,697 | €11,671 |
| Profit after tax | €11,068 | €9,145 |
| Profit attributable to Volkswagen AG shareholders | €10,847 | €9,066 |
| Total assets | €351,209 | €324,333 |
| Cash and cash equivalents at beginning of period | €22,009 | €17,794 |
| Cash and cash equivalents at end of period | €18,634 | €22,009 |
*Years ended December 31, 2014 and 2015
Source: "Volkswagen Group Annual Report 2013"
---
News about Volkswagen Group reported by our Market Business News team
January 5, 2016: Volkswagen sued by US justice department over emissions scandal
December 9, 2015: Volkswagen emissions scandal not as severe as previously expected
---