It takes time to start your own eCommerce company and make it successful. Therefore, many sellers think of operating their business as third-party sellers on already established and well-known eCommerce platforms.
Walmart marketplace is one such eCommerce platform that helps sellers to list their products, manage sales, and take care of the shipment at their own convenience. Once you launch your eCommerce page on Walmart, your products appear in the search results alongside Walmart products.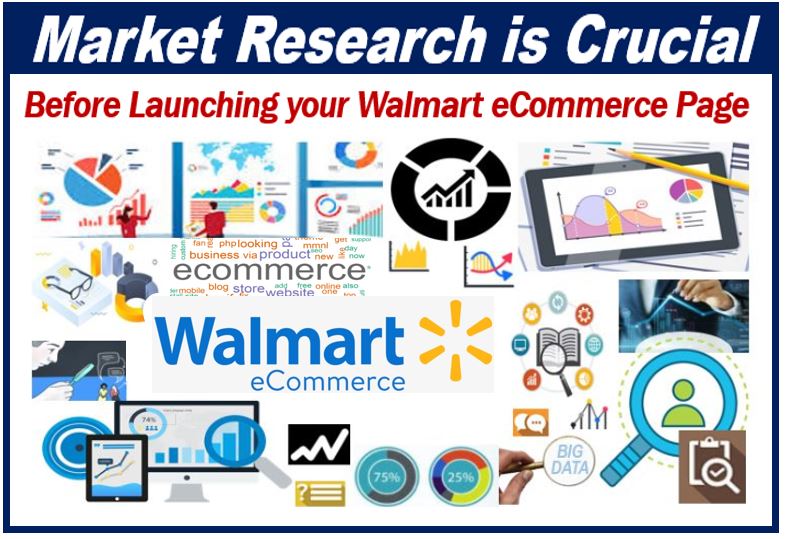 However, it isn't as simple as it appears to be. Many third-party sellers and organizations fail to gain visibility on eCommerce platforms. Increasing your ranking and views plays an important role in using such media. Therefore, proper market research becomes crucial before launching your business on Walmart.
To help you with hassle-free business, we have handpicked the four most useful market research tips to sell on the Walmart marketplace. But before that, let us see why market research for eCommerce is essential.
Why Is Market Research for eCommerce Essential?
No business can grow without market research. Market research plays a crucial role in making better business decisions by knowing your customers better. Through market research, you can gain actionable consumer insights to learn about consumer behavior trends and the eCommerce market.
The data collected through market research can be used for sentiment analysis and strategizing by running it through text analytics tools. Moreover, market research helps you reach the right audience and also takes care of audience segmentation.
Market research is also essential if you plan to launch a new product or think of selling on Walmart or other popular marketplaces. Nonetheless, performing proper research is the key to optimize your sales on marketplaces. With some market research tips and tricks, you can successfully launch and run your business on the Walmart marketplace.
Below are Four Market Research Tips to Start with Walmart Marketplace
Walmart is a popular eCommerce marketplace. Because of its fame and large customer base, many third-party vendors start selling on Walmart. However, only a few become successful. You should keep some market research tips in mind before launching your Walmart eCommerce page to become a successful seller on Walmart.
Below are the four market research tips that you can follow before starting your Walmart eCommerce page.
Conduct Product Page Research
Before launching your Walmart eCommerce page, it is advisable to get familiar with the kind of products in demand or the best-selling products on Walmart. Market research for eCommerce can be used to conduct product page research. Revuze is one of the tremendous AI-driven market research platforms that help you to perform product page research.
Product page research helps you to make better product decisions. Moreover, it also helps you identify your competitors and their pricing for their products. You can use this information to provide competitive prices to your customers.
Take Care of Product Description
Product description helps customers to decide whether the product offers what they want or not. You should ensure that your product description contains all the key attributes and features of your product. A good product description is usually not more than 200-300 words.
To write better product descriptions, you can conduct market research to determine how product description of best-selling products is written on eCommerce platforms. Also, avoid using duplicate content. In some cases, people list their products at more than one place with the same product description. However, it is not a good idea as it can lower your ranking in search results. You can also partner with a digital marketing agency to take care of your SEO requirements.
Maintain Positive Customer Reviews
Customer reviews are critical to boosting sales of your product. A product with positive reviews sells faster than the one with negative thoughts and feedback. Therefore, it's crucial to central positive customer reviews and ratings.
You can ensure positive reviews by taking care of customers' needs, responding to their queries instantly, delivering products on time, besides many other tactics.
Provide Good Customer Care Service
You should have a reliable and experienced customer care team before launching your Walmart eCommerce page. Conduct market research to find out what customers expect from customer service and incorporate those things in your service. Providing your customers with a better customer service team strengthens the bond you share with your customers.
Conclusion
Walmart marketplace is an excellent eCommerce platform to kickstart your online business. Its good reputation and large customer base increase the chances of you becoming a successful seller. However, listing and selling your products as a third-party seller should be backed with proper market research.
It is advisable to use the best market research tools and platforms to find out more about Walmart, its customers, the kinds of products that sell more on Walmart, etc. Before launching your Walmart eCommerce page, it's crucial to follow some critical market research tips.
To help you become a successful seller on Walmart, we have presented you with four of the most useful market research tips, including conducting product page research, providing better customer support, maintaining positive reviews, and putting up accurate product descriptions. With these market research tips, you can undoubtedly ace your online business on Walmart.