It can be legally challenging for employees to gather evidence that is required to report for misconduct or suspected lawbreaking. This is because some ways of evidence gathering are not allowed and are considered protected activity.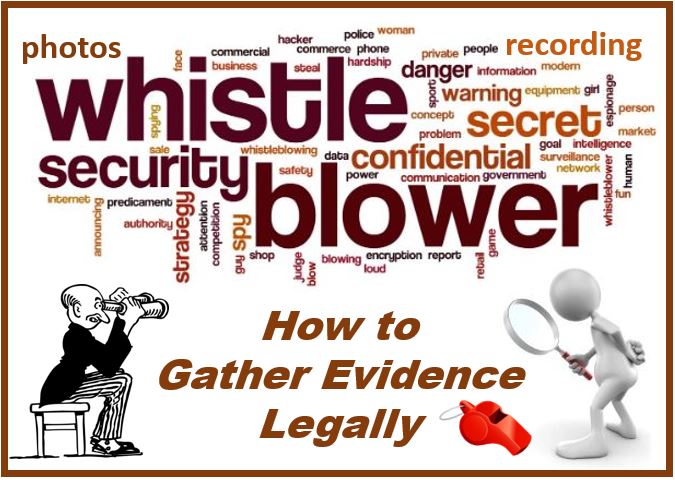 This means an employer cannot punish an employee by taking actions, such as suspension, demotion, or termination. On the other hand, some forms of evidence gathering can leave you exposed to legal liability. This page discusses the best ways for whistleblowers to gather evidence.
Documentary evidence
Documentary evidence is perhaps one of the most important forms of gathering evidence for whistleblowers. You see, such documentary evidence can collaborate what you report to the relevant authority, like a government agency or internal compliance. The trick is to make sure that you properly make the report because your employer can take a legitimate legal action against you for improper reporting.
For this reason, you should ensure that you take the right documents and use a proper method to gain access to the documents. In other words, you can only get hold of the documents if you access the information in the normal course of your job.
This is why you should familiarize yourself with your employer's policies concerning confidentiality and other key issues that can leave your employer vulnerable to legal action.
Videos or photos
If you see something that is unsafe at work, such as at a construction site, you may want to take a video or a photo that you can use as evidence in your report. However, before you take a video or a photo, make sure that you understand the company's policy on taking videos or photos.
Remember that even though there can be a policy against taking videos or photos at work, the law can still be on your side as a whistleblower. Ideally, you want to do anything possible to avoid your employer having a legitimate reason to terminate your employment.
Recording conversations
Whistleblowers recording conversations can be quite tricky. It's important to know the state law on recording conversations that you intend to use as evidence or not. This is because, in some states, you can record a conversation without taking permission from the other participants while other states don't allow it.
Mind you, the same law applies to record conversations for telephone calls. Because different states have their law regarding recording conversations, it can be legally tricky. For example, legal issues can arise for a conversation recording that people had on a call while they were in different states.
The good news is that you can have a conversation recording with your supervisor and use it as evidence in a whistleblowing case. However, many employers refrain from putting anything in writing that may suggest their involvement in illegal activities.
No wonder, recording conversations has become popular with many whistleblowers as it provides crucial evidence. If you intend to use conversation recording, make sure that it's done within the bounds of the law so that this key evidence doesn't become your word against the employer about exactly what transpired.
---
Interesting related article: "What is Fraud?"