It requires far more than merely registering for a domain and uploading photographs of products and services to create a brand's online identity. Therefore, a commanding web design is a game-changer for a reliable online presence. In this post, you'll learn about the process of website designing to help your web pages rank higher in search engine results.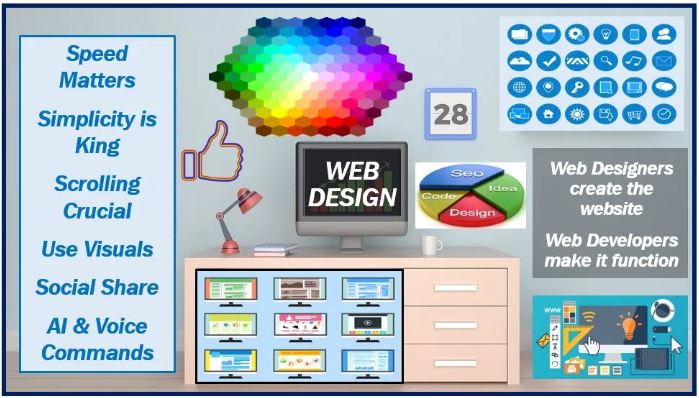 What Is Website Design?
Design is the practice of inventing new ideas and then applying them for an apparent reason. Website design implies developing interactive sites to deliver content to end-users via the internet through a web browser.
Essential Elements of Website Design
Creating professional-looking websites is the key to success online. But sometimes, designing a website or a webpage can be daunting. Keeping in mind a few pivotal factors can help create a decent web design that brings more conversions, too. Check them out below:
Visual Elements
Visual elements like shapes, textures, and icons are crucial to reinforce communications in a website. Remember, your website is no longer a simplistic information system. Instead, it is now a part of your company's design and brand image with a strong online presence. Geometric and irregular shapes in the navigation bar make it more user-friendly.
Photography for the Web
Photographs are a vital visual resource in the website designing process. The images you use on your web pages should not pixelate. Try to keep the size of the image 800 KB or less. The product and services must get enough visual or text space.
Effective Web Color Palette
If your logo is pink and you use green or gray throughout the web content, the user will feel instinctively out of position, slightly irritated, and the first thing they would do is quit the site as there is something that does not "block." Hence, be selective about picking the right colors for your pages.
Responsiveness
Responsive sites are as important as anything else during the web designing phase. Responsive areas quickly adapt to the device on which it's accessed. For example, every time a user switches to a mobile device, the website should not deform.
Website Design Process
Planning and creating every web page entails requiring great attention and diligence for the project to succeed. The advice is to determine your return on investment and market results. For this, there must be a lot of attention to what's being done.
Describe the Purpose of Your Website
Does the website try to market a product or service? Do you want to build authority in any sector? Regardless of the cause, a purpose must be there. Creating a web design isn't easy. Time is of the essence in the process, and you want to be sure it pays off. After all, it takes a lot of time to make icons, create content, and add plugins. Take a sheet of paper and mention how the website can represent the customer.
Information Architecture
Several designers miss this critical phase and go directly to graphic design or merge data architecture with visual design to save time. Ultimately, it will have a detrimental impact on the website. The information architecture process comprises page by page structuring and arranging content so that users can readily interpret it. If users can grasp your navigation and interface, they should have no trouble surfing your site.
Integrate the Marketing Strategy
If posting your content on multiple social networking sites is your digital marketing plan to get more exposure, adding social media buttons to your web blog is vital. Or if you want prospective customers to read the company's feedback, then a review plugin that interacts with online market directories should be there. Hence, align the website design with your overall marketing strategy.
Clean and Captivating Design
Sites appear to overwhelm individuals with information overload at times. No one needs to see many flash images or sparkling GIFs when the button's position to order is what they're searching for. The objective is to make your website as clean as practical, where only the most relevant elements are visible. There should be a reason for every button, content, and icon, so be mindful of their style.
Browser Compatibility
While most browsers conform to standard norms, some information escapes and varies between them. Under the numerous browsers that exist, you should check the site page to see if everything is right with your web design.
If these checks remain undone, it could risk anything crashing and have a terrible effect on the visitor's website experience and their opinion about the brand or site. It is time to check all the links, buttons, and typography. You can say that the project has ended after you examine everything "with a magnifying glass."
---
Interesting related article: "Becoming a successful web designer."