Wedding flower bouquets are a critical component of any perfect wedding, as they have the power to set the tone for any event. From classic roses to exotic orchids, flowers come in a wide range of colours and blooms that reflect the overall theme of your celebration. However, choosing the right flowers for your special day can be a daunting task, but with careful consideration and creative inspiration, you can create a stunning bouquet that adds romance and beauty to your wedding.
There are various types of premium wedding flower bouquets available, such as round bouquets, cascading bouquets, and much more. The type of bouquet you choose can have a significant impact on the event, so make sure to pick the perfect one for the occasion. For instance, round bouquets are ideal for elegant events such as weddings, anniversaries, and birthday parties, while cascading bouquets are perfect for more formal events like proms and dances.
Finding the right florist is essential to ensure that your wedding flowers are perfect. Start by researching local florists in your area and checking their style and offerings through their websites and social media pages. Look at customer reviews and images of bouquets they have created in the past to understand their style and see if it suits your needs.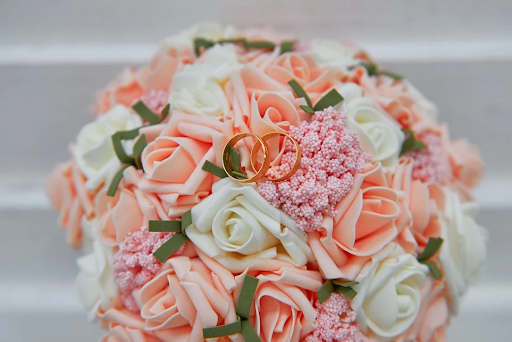 When it comes to design and colour considerations, they are two key components of any successful project. The design focuses on arranging the content in a way that makes it easier to navigate while still maintaining visual interest, while colour helps communicate emotions and convey certain messages. Choosing colours that work well together and create a cohesive look is essential.
While wedding bouquets add colour, texture, and beauty to your special day, they can also be expensive. The cost of wedding bouquets depends on several factors, such as the type of flowers used, size, and complexity of the bouquet. Fresh-cut flowers are usually more expensive than artificial or silk options, and popular blooms like roses and calla lilies tend to be more costly than other varieties like daisies or carnations.
Once you have chosen your wedding bouquet, it is essential to preserve and maintain it to make it last longer. You can store it in a cool and dry place, use a flower preservative, and avoid exposing it to direct sunlight and extreme temperatures. This will help to keep your wedding bouquet fresh and beautiful for a long time.
Conclusion:
Choosing the perfect wedding bouquet requires careful consideration and preparation. From selecting the right florist to understanding the cost of wedding bouquets, and maintaining them, every detail counts in creating a memorable and beautiful wedding.
---
You may be interested in: Flowers That Can Boost Your Mood