This year, the gaming industry has confidently entered the category of businesses that not only did not suffer from the pandemic, but also won. The work of the gaming companies continued and became more intense. Employees did not lose their jobs, but, on the contrary, received even more tasks and projects. Therefore, the position of a game artist has become much more attractive even for those who have not previously thought about entering the game industry.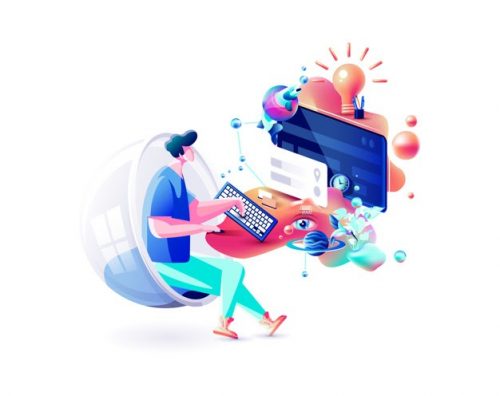 The game artist creates art for games. This is all that most people know without going into details. Many people think this is a dream job. All you need to do is catch inspiration and draw beautiful illustrations. But it's not that simple. To understand what a game designer really does and whether everything is really as rosy as it looks from the outside, let's take a closer look at this position.
Who is a Game Artist?
This is a person who is engaged in the creation of 2D or 3D art for the game. It can be anything: characters, environments, objects, textures, and so on. All of these visual elements make up the overall look of the game that it will have at the end. The game artists of AAAgameartstudio are experienced in making bestselling games, full art-style development, characters creation, hidden object scenes, concept design and arts, Illustrations, environments, sketches, animation, UI/UX, 2D art, 3D high and low poly modeling, texturing, and much more.
Modern game art artists work in digital mode using special software such as Photoshop, Maya or 3ds Max. Some people prefer freehand drawings in the early stages. But later they all go digital anyway.
Functions and Responsibilities of the Game Artist
How the game looks will largely determine its success. The modern market offers a huge assortment of different visual options for different tastes. Some publishers prefer to go the road of maximum realism, bringing graphics to the level of films. Others prefer different styles, such as comic strip.
It is the artist's responsibility to create visuals in the chosen and approved style. Since there will be a huge amount of such materials, one artist cannot cope with this. Therefore, there is a division into different categories, which we will discuss below.
All artists are supervised by a lead artist. These professionals usually handle the most complex projects, as well as assigning responsibilities to other artists and overseeing tasks. The lead artist should be mindful of the technical limitations of the project and notify their team of this so that there is no need to redo the work later. This is especially important when it comes to art outsource tasks. The manager should initially receive all the information about the restrictions and requirements. Otherwise, the work may be delayed, and the number of edits will negate the effectiveness of cooperation.
As for the categorization of artists, the following can be distinguished.
Concept Artists
We call them the first, because it is their job that is the first stage in the development of art for the game. These specialists collect references, study different styles, approaches, already created games and interfaces, and create unique concepts according to the specified requirements. In the future, based on their concepts, other artists do their work. Usually, the concept masters do not participate in further stages. But if some concepts need revision, then their re-involvement in the project is quite possible.
2D Artists
These specialists are responsible for 2D visual content. If the game is planned in 2D, then they will perform all the main work on creating characters, objects and elements of the environment. If the game is 3D, then 2D artists are often involved in textures. This is a very challenging task as it requires experts to have knowledge of perspective, lighting, materials, and more to ensure the surfaces are as realistic as possible.
3D Artists
Also known as modelers, these people create 3D models of characters and objects. It can be anything: houses, trees, vehicles, weapons, and more. It is especially important for them to strike a balance between artistic aesthetics and technical constraints since models are usually very heavy in terms of polygons and need special attention to be optimized for each specific project.
Conclusion
A good game art artist will not be found lying around. The huge number of people who want to enter the gaming sphere has now made it much more difficult to find good specialists. But there is a way out. These are experienced outsourcing companies that have been on the market even before it became mainstream. One of these is the game art studio Kevuru Games. The specialists of the highest level work here, who have cooperated with world-famous publishers. Their experience and sense of style will help you realize your idea, no matter how complex it is.
---
Interesting Related Article: "Game Art Vs Game Design: Differences, Roles and Ways to Find Experts in Each Area"