A trade show is an event at which firms in a particular sector promote their industry, products, and services. It follows a tradition that European merchants established centuries ago of showing their goods at town fairs.
Businesses use trade shows to sell, launch, and demonstrate new products. They may also participate in order to share expertise, network, and discuss new ideas.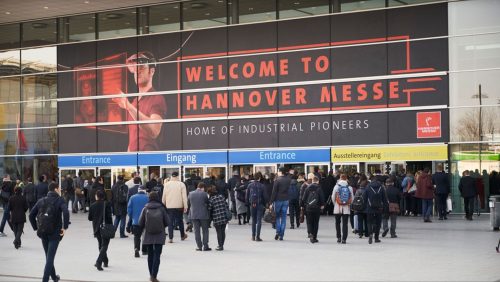 The entrance to the Hannover trade fair. Image Hannover Messe
Other organizations – such as industry and training bodies – may also take part in trade shows. Their interests will range from promoting safety and professional standards to encouraging firms to adopt apprenticeship schemes.
Other names for trade show include trade or business fair, exhibition, and exposition or expo.
A trade show can be a large, international event with participants from several industries or sectors from around the world. An example of this is the Hannover Messe in Germany. This trade show is one of the world's largest. It typically hosts 6,000 exhibitors and welcomes more than 200,000 visitors.
A trade show can also be a smaller occasion, such as one that promotes diverse local enterprises in a town or locality. Exhibitors of local trade shows will range from small businesses, crafts, and artisans, to schools, colleges, and charities.
An example of a local trade show is the annual Cornwall Business Fair in the United Kingdom.
This photo features the Cornwall Air Ambulance stand at the 2019 Cornwall Business Fair. Image: #CornwallBizFair
Some trade shows are purely business to business events, while others also sell tickets to the general public. Some do half and half. Book fairs, for example, often restrict attendance to publishers and booksellers for the first day or two and then open to the public.
The layout of a trade fair will be a large central area with booths or exhibition stands. And there is often a suite of seminar rooms to the side for presentations and education sessions.
There may also be lunches and dinners with keynote speakers and an opening ceremony with a speech by an important guest such as an industry leader or politician.
Top 20 trade show tips
Businesses see trade fairs as an important part of their marketing mix.
Here are 20 tips for getting the most out of your trade show participation:
Set goals
Do your research
Book your space early
Plan and stick to your budget
Advertise your attendance
Issue a press release
Use social media before, during, and after
Remember the trade show hashtag and your hashtag
Update and test your booth, equipment, samples, demos
Brief and debrief all staff and spread the learning
Take samples of all your products
Decide your giveaways, ice-breakers
Practise demonstrations
Record your visitors and follow them up
Be courteous and cheerful at all times
Take a generous supply of brochures, leaflets
Check out the competition
Network, make new contacts
Have a clear brand and marketing message
Review the event against your goals
The following video from the International Make-Up Artists Trade Show (IMATS) sums up the main elements of a successful trade show in a most colourful and entertaining way.