Do you intend to invest in the digital currency market in 2021 but don't understand how the industry will look like? If your answer is yes, you may wish to understand the forecast trends and factual analysis to enable you to make an educated investment decision.
We offer high-quality predictions based on past trends and what the industry leaders and influencers say.  Based on these predictions, you can make informed investment decisions, especially when you want to invest in digital currency. For juicy predictions on the digital currency, please keep reading.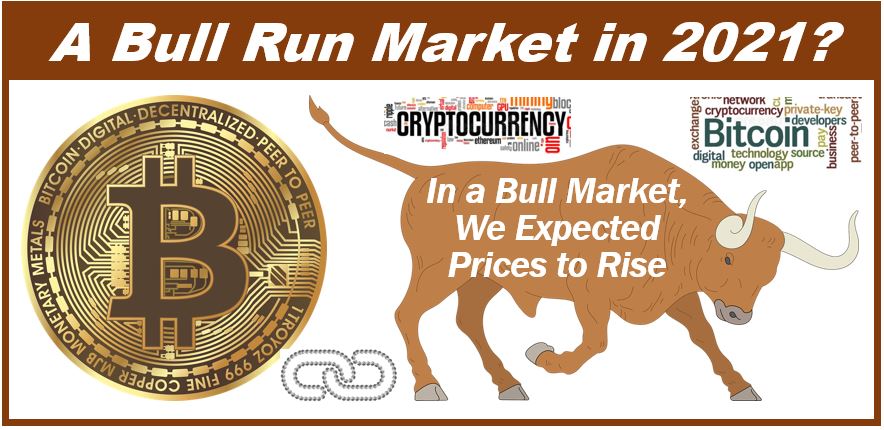 Bull Run Market in 2021
Based on 2020 performance, there is hope that the Bitcoin market will continue with its upward trend in most of 2021.  As per the late December 2020, Bitcoin's value was over $26,000 and this figure keeps going up. Although the digital currency is highly volatile, various indications show that its price will continue growing further.
According to research by Finder.com, 58% of respondents indicate that most of the 2021 period will experience a bullish BTC market. The Finder.com survey forecast that the value of BTC will be more than twice when the year ends. Panellists of the survey also predicted an average price of BTC to be $51,951.
Besides the Finder.com study, many digital currency industry experts have predicted a bullish market for this year. In November 2020, billionaire investor, Mike Novogratz predicted that BTC could hit 65k in 2021.
Bloomberg analyst Mike McGlon predicted the spike as a BTC standard. The analyst said that by 2022, BTC could hit $170k.
According to Tom Fitzpatrick from Citibank, the value of BTC will hit a high of $318,000 in 2021. He indicated that BTC would experience unimaginable rallies followed by mind-boggling corrections. According to him, BTC is the current gold with minimal restriction.
According to Simon Dedic from Blockfire, the value of BTC will continue to rise and touch the $ 150k mark.
Global acceptance as a payment current
The acceptance of Bitcoin by global ewallet leader, PayPal, is a clear indication that soon, many payment systems in the world will approve it. At the moment, PayPal users can purchase, hold, and sell cryptocurrencies on its system. To overcome the issue of unpredictability, clients will immediately transform their digital currency balances into fiat. So, we anticipate that in 2021, Bitcoin will gain acknowledgement as a global payment solution.
The impact of vaccine
In 2021, the bullish Bitcoin market was mainly attributable to COVID-19. Some people may argue that the discovery of the vaccine may reverse the trend. However, this may not be the case because institutional investors' demand for Bitcoin trading is still high.
Many smart investors may consider using BTC as an alternative investment vehicle that helps in asset diversification. And even if the vaccine against COVID-19 is discovered, many countries' economies will still be struggling. This means that BTC will remain as the best investment option.
Because of the inflationary pressures at the stock markets, many shrewd investors will use the digital currency to hedge their investments. Many investors in the stock market can convert large amounts of their assets into gold and bitcoin. And because BTC is gaining popularity, many analysts believe that soon it may overtake gold. As the demand keeps soaring, BTC price will also spike.
Many institutions will invest in BTC
Investment institutions like Square Inc. and Microstrategy have invested in the digital currency.  Later in 2021, Square Inc., a payment processing firm, bought 4,709 BTC at $50 million. Microstrategy Inc.'s investment in BTC is worth $732 million. These signals indicate a high demand for BTC by institutional investors. And we anticipate seeing many firms this year joining the queue of BTC investors.
BTC will eat into gold market share
Many economies are struggling as a result of COVID-19. Stock markets in many countries have almost come to a standstill. As inflation eats into investments, institutions look for an alternative hedge against it because gold is no longer sustainable.
For far too long, has been the only option hedge asset available. Whereas gold EFT investments have remained the same, Grayscale Bitcoin Trust (GBTC) investment flows are increasing massively. Furthermore, we encounter a situation where there is a considerable inflow into digital currencies away from gold. This situation will continue throughout 2021.
While fiat will keep nursing the pandemic's effects, Bitcoin uses superior technology that hedges against inflation.
Expect tight regulations
What makes digital currency unique is that it lacks a centralized authority. While this is the reason many people prefer this method of payment, some have abused the anonymity and privacy loopholes to launder money or use it for illegal activities. In 2021, many regulators may have a keen interest in BTC and even create protocols to control how the industry operates.
To control the digital currency exchanges, the EU has created stringent AML and KYC policies.  Many countries are also coming with rules on how the industry should operate. While many may think that these rules may harm the sector's growth, they may create conducive conditions to attract more investors.
Central Banks may start issuing digital tokens
Some countries are experimenting with the possibility of issuing alternative digital tokens. China is leading from the front in this aspect. These gestures signal a situation where digital currencies will be internationalized to speed up faster cross-boundary payments and enhance financial inclusion.
These trends will continue in 2021 as we expect many central banks to start issuing their digital currencies. It's apparent that many banks realize the potential of the crypto and want to tap into it.
Naysayers will continue issuing warnings
Different analysts give various views about the BTC field. While many see positive trends in 2021, some are indicating that the currency may hit nought. Yet, there are bears in the market that have never taken the emergency of BTC as a serious issue worth anybody's attention. An example of a naysayer in the crypto is Anton Wahman. He indicates that BTC is an absurd idea that doesn't require any attention.
In 2021, we shall continue witnessing messages from the likes of Anton Wahlman. However, the passage of time will prove them wrong.
Taxation
Because the price of BTC continues to increase, many countries are looking for ways of taxing it. Therefore, it's essential to keep your tax information well organized to avoid any conflicts with authorities.
People living in the US and UK should, mostly, be ready for crypto taxation anytime in 2021. Internal Revenue Service (IRS) in the US and UK's Her Majesty's Revenue and Customs may soon punish crypto holders who don't declare digital currency holdings. This means that selling BTC higher than the amount you bought it is a taxable matter.
Giant Banks
Besides attracting the attention of central banks and other financial institutions, big banks are embracing BTC. Wall Street and Citibank have shown interest in the digital currency. An assessment at Citibank indicated that BTC might grow massively this year to surpass the $318,315 mark.
More Auxiliary Technologies
Investors should brace for multiple BTC technologies that help in fast trading. Because of its volatility, many investors want to trade with bitcoin-profit.org that removes the anxiety that comes with the volatile crypto. The industry will also witness the emergence of highly complex BTC exchanges this year.
Increase of scams
The decentralized finance (Defi) systems aren't scam-proof. Because the industry is young, its system hasn't undergone thorough vetting to check its safety. Malicious elements might want to take advantage of this loophole to scam unsuspecting individuals.
As many people create a renewed interest in the industry, you should anticipate increased security breaches. Aware of this, many BTC technologies may upgrade to improve their level of security. However, the client will still have an immense responsibility in guarding their digital assets.
Massive Adoption
Institutions and individuals are gradually accepting BTC as an alternative way of investing. In 2020, many individuals and corporations began investing in the BTC because of the pandemic. This moment will continue in 2021 as many realize that BTC offers a viable option to diversify their investments.
Ban on BTC holds no water
While many are expecting a ban on BTC, it may not happen because governments and institutions are now slowly embracing the sector. Central banks in many countries are entertaining the idea of having a similar digital currency that may rival BTC. For example, China, which has been so harsh on BTC, is now experimenting with the concept of crypto tokens. All these moves are indicative of a digital currency which will not be banned soon.
Final Thoughts
Within the financial sector, the digital currency has come to occupy a unique position. Last year saw a surge in the price of BTC because many institutions and individuals invested in it as an alternative to stock market shares. Although this happened due to COVID-19, the currency demand will continue growing as many people are now accepting it. The predictions covered here offer you a clear picture of what to expect this year.