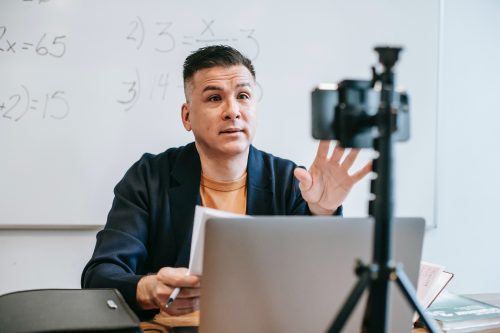 Face-to-face discussions seem to be already passé nowadays. What businesses chase today are automated webinars. It appears that like the concept of the autopilot, or enabling the airplane to fly without a pilot maneuvering the flight, anything that is automated, say for one, the automated webinar is offering a digital marketer more reach to its target audience, thus improving their conversion rate and increasing their potential customers.
It is why we decided to present to you this piece, which will tackle everything you need to know to get you started learning about automated webinars to provide you with a clear idea, answering the question, "What is a live automated webinar?" plus helping you jumpstart your business success by teaching how you can start creating your automated webinars. Are you ready?
Welcome To The Automated World: The Automation Trend Nowadays With The Live Webinar
Webinars combine the concepts of the web, the Internet, or the World Wide Web, and the seminar or a live event. A webinar is an Internet-based event hosted by businesses, companies, and organizations via a webinar platform and broadcast to a pre-determined audience, attendees, or viewers through their computers and other devices with the use of the Internet.
This presentation, whether it is about the aim to present a product, answer questions about a discussion or offering a business opportunity, is very popular nowadays because of the impact of the webinar upon the audience. Live webinars are less stressful to attend to, are known to reach a wider group of viewers since the live webinar can happen in North America with the audience in Asia, and are also cost-effective. There are also live webinars that offer viewers a discount code, for quicker revenue for the business, compared with the traditional way to build credibility for the host.
Hosting Live Webinars
Hosting live webinars are also seamless with the recording, now that there are various software available to create and host these presentations in real-time.
With these automated webinars hosted on various webinar software, the power of automation is emphasized, similar to using a landing page or chatbots when answering questions from your viewers.
When things are automated, such as with your automated webinar, the host incurs lower operation costs, they save time and schedule, they garner a faster Return on investment, they are more competitive, and there is a smaller environmental footprint with this automated live version.
A live webinar, in itself, is very effective when reaching your desired audience. These automated live webinars are ideal whether you are onboarding people, training your staff, marketing your business, or selling your products, and so much more.
However, in order for your webinar recording to start generating the revenue you aim for, it requires a host, which offers the challenge of it being unscalable. Is there a solution? Yes, there is.
This is when automated webinars will do their work. Anything automated means you actually do not have to be there in order to run these live webinars. Sounds impossible? Well, read on.
When you need a more efficient way to deliver information to your attendees to watch, you must be able to record and create your automated and live webinars.
Your Business And The Live Webinar
The automated webinar can scale up your webinars to a larger scale without adding more resources into the live webinars or adding more workforce to host the live webinar. Since the automated webinar helps you automate content that is repetitive with the webinar software, you can gain more time you can allot in other projects that require attention, such as customer calls, email follow-ups, managing your landing pages, and other activities that cannot get automated.
Before heading over to how you can create your automated webinar, let us take a look in-depth at what a live automated webinar is.
What Is A Live Automated Webinar And Why Your Business Should Invest In This Right Now?
The live automated webinar pertains to a pre-recorded webinar designed without the host present. These recorded live events are delivered in a similar way in real-time like the traditional webinar live, giving the feel for the audience attending live events. The only difference being, they link to a pre-recorded webinar rather than a live stream.
The pre-recorded video from the live webinar is scheduled in such a way as recurring events are, so attendees can choose a date and time that are convenient for them, rather than gathering them together at one time. This advantage makes it ideal for groups in different time zones.
With this being said, the live webinar can increase attendance, as well as engagement rates. They can attend at a time when they are ready to see the live webinar.
The live automated webinar also makes it easier for hosts to interact with the attendees and the audience without any interruption. It answers the problem of conducting the event multiple times.
Creating Your Automated Webinars
When you are ready to create the pre-recorded video, it is important to carefully plan and lay down your engagement strategies for the success of your live webinars. Beyond the registration pages and recorded content, it has been said that organizing this requires more planning upfront compared to the traditional video, but this investment will provide substantial returns over time.
Here are the steps to maximize the viewing experience for your automated webinar to benefit your business.
1. Select The Webinar Platform
Several webinar platforms will provide you with the option of hosting your live automated webinar. You will need the webinar platform that has the features to let you achieve your goals.
The best platform for your live webinar recording is one that can scale up your business, free up your time, and generate more leads anytime. You should also be able to choose a platform that matches your branding.
2. Prepare Your Live Automated Webinar Content
Like hosting live webinars, you will need to decide on the content you want to show and how your automated webinars will appear. Finalize your slides, clips, links, and other parts of the live webinars you plan to hose. It is best to create a script.
What is great about automated webinars is that they do not have to be produced like television shows. They can be edited or re-recorded at a later time, so you can get started anytime you want. Think of the needs of your audience.
3. Record Your Video And Live Webinars
At this time, you are more than prepared to record your automated webinars. In your live webinar, you may use your natural lighting with your device's webcam and microphone, as well as your webinar software.
4. Customize The Viewer Experience With This New Webinar By Setting It On Recurring Date And Time
After you are done preparing your presentation, you may upload it to the chosen webinar recording platform. The best ones are those with a variety of engagements and interactions you can customize. In this way, you can create an interactive experience for your audience. You may include polls, offers, tips, chat messages, and so much more.
You must be able to customize your registration pages with your branding, like creating your landing pages. The more attractive and informative they are, the higher your registration rates will be.
Attending your automated webinars should also be hassle-free with your viewers. They must be able to pace their learning according to the date and time that is more convenient for them.
5. Set The Automated Webinars Accessible From Various Places
Aside from the time and schedule, your automated webinar and presentations should also be accessible to as many places as possible. This step includes ensuring links are in place in their onboarding emails, visible from your website, and there is a knowledge base that lists the information they need to know.
What are live automated webinars? A live automated webinar combines live speaking with pre-recorded videos. It is live in that it can be interactive, live broadcasting using live video, live slides and live Q&A sessions. A live webinar is "live" in the sense that it seems to be a traditional conference presentation but without the need for a host to operate things live.
Now you know everything about how to scale up your strategy when it comes to the pre-recorded webinar with the automated webinar, what they are and why they are important, plus how you can create your pre-recorded webinars. With the right webinar platforms for your on-demand webinar, you are at the beginning of gaining more success for your endeavors.
---
Interesting Related Article: "5 of the Best Virtual Meeting Platforms"