When a business chooses an enterprise resource planning (ERP) software solution, a key requirement for making the right choice is to find software that aligns with the business's profit model. Although all kinds of businesses can benefit from industry-specific ERP solutions, it's an especially important consideration for project-based businesses due to the unique structure of project-based business models.
What makes the ERP comparison process different for project-based businesses, and how can it be helpful to choose a project-based ERP solution? With an increasing number of these ERP solutions on the market today, it's crucial to understand what separates these ERP suites from more traditional product-based ERP solutions.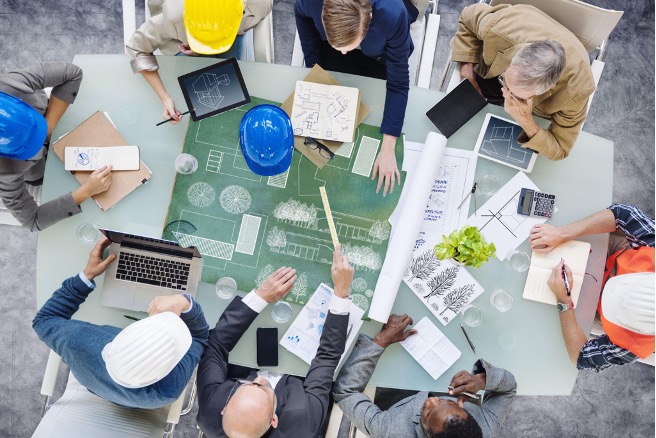 Which Types of Businesses Get the Most Out of Project-Based ERP?
To understand a project-based ERP, it's important to first define a project-based business. While definitions can vary, the core features of most project-based businesses include these characteristics:
Offers services to clients on a contract basis to complete work within a specific scope
Works on projects within a designated time frame rather than an ongoing basis
Achieves profitability based on the margin from its projects
Construction is typically the go-to example of a project-based industry. A construction company sells its services to clients who need a construction project built, usually bidding against competitors for a project. The company charges for the labor of its employees, plus a markup on project materials, as well as any other charges that are appropriate. However, there are many examples of project-based industries besides residential and commercial construction, including:
Architecture
Shipbuilding
Engineering
Aerospace
Heavy manufacturing
Custom software development
Consulting
Not all project-based companies are exclusively project based. A heavy manufacturing company, for example, might have made-to-order projects as one source of income while also creating stock models available for purchase. Sometimes, this means a business will be best served by an ERP solution that combines features of manufacturing ERP software with project-based structures.
Why Project-Based Businesses Need Different ERP Solutions
There are significant and deep-rooted differences between project-based and product-based business models. Project-based businesses:
Have to track the costs and margin of individual projects over their lifespan in addition to normal business accounting practices.
Often use cross-functional teams, which require different strategies for labor allocation and scheduling.
Need to empower project managers to coordinate work between multiple teams and departments.
Frequently have longer and less predictable payment cycles than product-based businesses.
May have less ability to implement uniform, repeatable solutions and structures due to the unique challenges inherent in every project.
Often work with numerous contractors, subcontractors and suppliers, all of which must act in coordination.
Need to continually monitor and manage change orders, cost overruns and other challenges that can negatively affect time budgets and profit margins.
With these unique challenges, it's easy to see why using the right ERP solutions can be so critical for a project-based business's success. Next, it's time to look at the factors that make an ERP solution a good fit for a project-based business.
What to Look For in a Project-Based ERP System
An enormous variety of ERP systems are now available, and a considerable number of them offer options geared toward project-based businesses. For businesses searching for a project-based ERP solution, here are a number of factors to examine especially closely:
Invoice Management: Accounts payable and receivable can be more complex and unpredictable in a project-based business, which is why these businesses need invoice management software that offers more sophisticated invoicing tools.
Client Relations: A project-based ERP system needs a CRM module suitable for the extensive client collaboration and relationship-building that characterizes project-based industries.
Labor Management: Many project-based ERP suites offer expanded labor management tools for common tasks like hiring subcontractors, allocating skilled workers' time, forecasting labor needs and handling HR procedures.
Risk Management: Project-based business models require careful assessment and mitigation of risk on every potential project from the proposal stage onward. A well-designed project ERP system can bring multiple data streams together to calculate risk, including historical project data, demand forecasting and multiple scenario projections.
Bid and Estimate Management: Calculating and managing project bids and estimates is a huge element of project-based industries like construction. Thus, it's important for a project-based ERP solution to include robust data tools for creating accurate bids and estimates and for tracking and mitigating cost overruns.
Change Order Management: To minimize the disruption from change orders, businesses need powerful tools for tracking and managing these customer requests. Project-based ERP software should have the ability to automatically coordinate multiple elements of a change order, including labor allocation and supply orders.
Mobile Functionality: In many project-based industries, workers need access to a wide range of data and functions through mobile devices like phones and tablets. Project-based ERP solutions thus often feature robust mobile apps that give workers the tools to succeed on their projects.
Flexible Implementation: Due to their diverse range of business models, project-based businesses often seek out ERP software that offers a variety of options for deployment. These typically include cloud-based and on-premises options, or even hybrid ERP deployments that combine elements of both.
Project-based ERP can be a transformative investment for a project-based business. Of course, as with any purchase of ERP software, careful analysis and testing are crucial for finding the right software solution. For a business that commits to sound selection and implementation of a project-based ERP solution, however, the resulting gains in efficiency and coordination are well worth the effort.
---
Interesting Related Article: "Top Signs that You Need to Upgrade Your ERP"