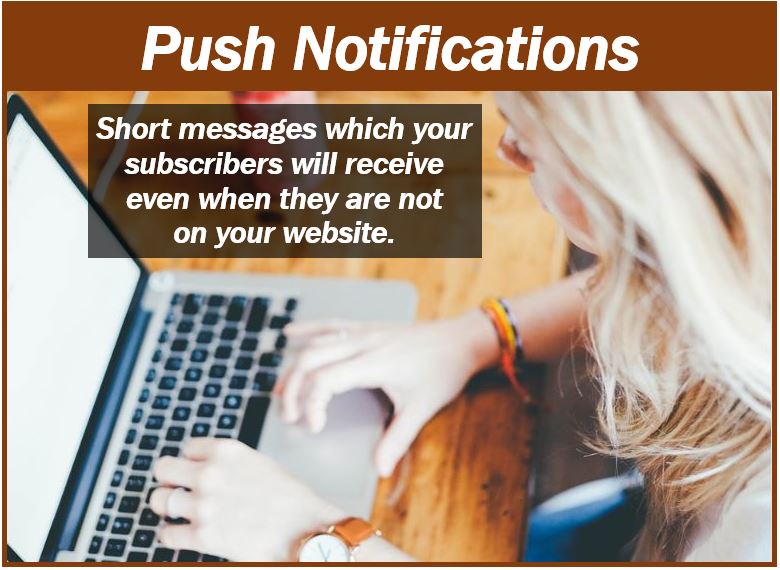 Mobile phones and the internet changed the world around us. Smartphones brought these two technologies together, and our lives were never the same again! Not only did we find a new way to explore the world, but we also opened up a highly effective communication channel.
Brands realized the great opportunity websites provided for connecting with the audience on a device they hold dear. Web push notifications feature from Appy Pie is the perfect way to send out relevant information about the business and engage better with their audiences.
What is a web push notification?
If you have ever subscribed to the web push notifications for any brand, you must be familiar with those little messages or alerts that pop up on the bottom right corner of your screen.
These messages are called web push notifications or browser push notifications. They are actionable messages sent from a website through a browser directly to a user's device.
The unique thing about these messages is that they are personalized, relevant, perfectly timed, and go a long way in helping you engage, re-engage, and retain customers.
Most users feel comfortable with push notifications because they do not have to furnish any personal information like name, email address, or any other contact information.
Browser or web push notifications have become a preferred communication channel for marketers and business owners to engage with the customers or subscribers who opt-in for the service.
The medium has gained much popularity due to high subscription, delivery, and open rates. Hence, most website makers have actually started including push notifications as a part of their subscription packages for website owners.
Advantages of using web push notifications
Let's move on to the next topic, advantages you get from using web push notifications for your business website.
Communicate with your site visitors even if they're not online
Once your site visitors have opted-in for your browser notifications, they will receive all your future messages, even if they are not on your website. If they are connected to the internet, they will receive all your messages!
Browser push notifications are different from any other marketing channel, as they offer a seamless opt-in experience, where website visitors only need to click on the 'Allow' button. There is no need to provide personal information like name, email address, or other contact details.
There is absolutely no delay in transmission for push notifications. These notifications are sent instantly and received in real-time. Hence, timed or contextual notifications do very well as a part of marketing campaigns and efforts.
Push notifications are received by the visitors in real-time. Hence, the engagement rates are much higher than any other marketing channel. Businesses can send out contextual, well-timed offers to encourage more site visitors to return and interact with the website.
Sending out targeted and personalized push notifications can enhance the overall user experience and increase conversion rates. Your users will see the web push notifications pop up on their desktop or mobile device, even if they are not on your website at that moment!
How do web push notifications work?
To start sending web push notifications from your website, you need to install a code – typically a web SDK (Software Development Kit), from a web push service on your website. You don't really need to get or install any special application to start sending these notifications out.
To make matters simpler, most reputable website makers offer push notifications as a part of their plans. All you need to do is enable them with a single click, no need to install any SDK or subscribe to a separate service. It is all-inclusive.
From the user's end, however, matters remain the same. All they need to do is click or tap on the notification that pops up on their screen to be taken to the particular website URL as determined by the marketer or the website owner.
Best practices for sending out web push notifications
This point is of particular significance if you also have a mobile app through which you are sending out push notifications. In such cases, take care not to send out web push notifications, no matter how lucrative your offer or how loyal your customers are. Receiving the same push message through two channels can get very annoying very fast. You don't want your site visitors to unsubscribe from all channels, do you?
Welcome or greet your users 
Much like you would treat a customer walking into a physical store, you must greet your new subscribers with a welcome web push. This welcome message is a great way to confirm to the visitor that they have signed up for your web push messages. Additionally, since this service is a relatively novel experience for most users, receiving a welcome notification that specifies their subscription to web push notifications separates it from push notifications for mobile apps.
Take some time before you ask them to opt-in
Asking your users to opt-in as soon as they land on your website will increase the chances of them denying the permission. Instead, take it slow and let them explore the site. Time your opt-in alerts so that they realize the value they can get by allowing you to send in the messages to their devices.
Send out targeted notifications
Why send generic push notifications and bore your site visitors? Segment your site visitors and make sure that they receive messages relevant to their needs and experience on your site! Pay attention to attributes like age, gender, location, device, OS, browsing history, buying behavior, and more.
One of the most effective ways to measure the performance of your web push notifications is through click-through rates or CTRs. If your CTR is low, the entire campaign is doomed. One of the best ways to increase your CTR is adding a clear Call-to-Action (CTA) in your message. Sometimes all it takes is telling the customers what steps to take next, and they oblige!
Conclusion
Push notifications have proven to be one of the most effective marketing channels for marketers and business owners. Though it might seem like a complicated process to begin with, but the no-code website makers have made it simple.
Employ this powerful tool for your next marketing campaign and enjoy the incredible benefits of push notifications for your business!
---
Interesting Related Article: "Why Use Push Notifications for Your Business?"