In very basic terms, Business Intelligence or BI today is more about the technology used in business to assist operational strategies. Business intelligence is all about the technological processes that are in place to analyse data and create actionable information to help a business run more efficiently and effectively.

Having a system that can efficiently collect important data from external sources is far quicker and more accurate when an BI system is used. IT systems can quickly gather, compare and prepare data in a usable format that would not have been possible by human data analysts alone.
Using data collected from internal IT systems along with the external data sources, BI can run queries and create visual data reports to assist strategic decision making within an organisation. The ultimate aim is to increase revenue with the use of these reports by improving operational efficiency and meeting the customers needs more effectively.
So how does BI achieve its goal?
1. Data Collection
The data collected through a BI system can be both real-time and historical which will enable the BI tools to support both strategic and tactical decision making. In order to do this the raw data that has been collected from various source systems needs to be consolidated and integrated with the use of data quality management tools. This ensures that your business is given constant and accurate information to analyse.
According to leading analytics company SAS "A BI program will usually incorporate a wide variety of data collection and analytics including, but not exclusively, big data analytics, statistical analysis and predictive analysis."
2. Visual Data Exploration
Business intelligence tools allow you to explore the data gathered and find new trends and patterns along with existing ones. You can quickly spot any hidden relationships in these trends and gain insight into the market with automated analysis backed by machine learning.
The beauty of this is that with the visuals produced, it is easy to see and understand the data that has been gathered. It wouldn't be much help to have a bunch of statistics without an explanation of what they all mean to your specific organisation.
BI helps you to understand where your customers are predominantly coming from, what they want and how to tap into other niches. Basically it cuts out all the non-leads and will give you a clear view of what is and isn't working.
3. Analytics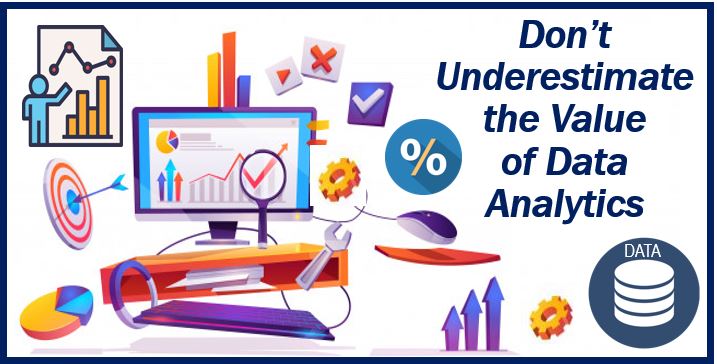 Business intelligence helps your organisation to not only find correlations but also to see the exceptions. It will discover the metrics that are most important to your business. You receive forecast trends and are able to predict outcomes quickly which helps to achieve a competitive edge without the slog.
The BI analytics help everyone to understand why something is happening (or not) and what they need to do next as a result of the analysis.
Why is Business Intelligence Important?
The purpose of business intelligence is to improve your organisation's business performance by using data that is most relevant to you.
A company that has effectively employed BI techniques and utilised the tools efficiently is able to translate massive amounts of data into usable insights about their business. These insights enable a business to increase and improve productivity, revenue, customer services and accelerate the growth of the business. All this ultimately leads to an increase in profits.
With a BI system in place the potential for errors, missed opportunities and wrong turns is significantly reduced. There is less chance of human error causing a poor decision. Although gut instinct and accumulated knowledge may be working for the most part, these things are not totally reliable.
In Summary
The overall benefits of a BI system are significant at speeding up existing decision making. Your business will dramatically improve its productivity and operational efficiency. Any problems are quickly identified enabling you to address them and optimise your business processes. Identifying emerging market trends not only produce an increase in revenue, but will also help to give you a competitive edge over rival organisations.
---
Interesting related article: "What is Business Intelligence?"