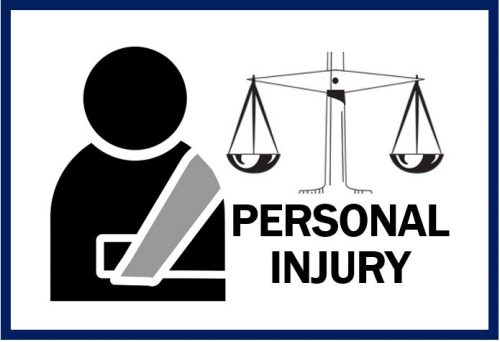 Accidents and injuries happen and they happen frequently. It isn't uncommon for people to suffer injuries in the car, their home, while on the job and even doing their grocery shopping. Unfortunately, some injuries are more serious than others, and they may happen as a result of someone else's negligence.  If you have been injured as a result of someone else's negligence, you may be able to file a personal injury claim with the help of Montoya Hinckley Law Firm to receive compensation for your injuries.
What is Considered a Personal Injury?
Personal injury is a term that refers to an area of the law that allows injured persons to get a legal remedy for the losses sustained due to an accident that was caused by someone else's intentional conduct or carelessness. Personal injury cases are civil action, which means that when a business or another person is found to be at fault (legally responsible) for causing your injuries. The remedy is compensation that is paid by the party responsible for your injuries. The majority of personal injury cases are governed by the law of negligence, which means that each person is owed a reasonable level of care from another party.
Negligence and Duty of Care
A personal injury case is based on two primary principles; negligence and duty of care. Negligence happens when a third party does not adequately meet their duty of care, and you get injured as a result of negligence. In order for a personal injury claim to be successful, you must be able to prove that the liable party had a duty of care towards you, the liable party didn't meet the expectation of duty of care, not meeting the expectations of the duty of care is the cause of your injuries, and you have suffered damages as a result of the injuries.
Regardless of whether they are permanent or temporary, a personal injury can be devastating. Whether it's for physical help, a loss of income, or for psychological needs, the compensation you may be eligible for can significantly help to improve your life and assist you with the pain and suffering you have experienced. If you have been in an accident and suffered an injury, you should consult with a personal injury attorney to determine if your injuries were the result of someone else's negligence and if you may be eligible for compensation for your damages.
Common Types of Personal Injury Claims
There is a large variety of different types of personal injury cases. Although almost any type of injury may be considered a personal injury, there are some cases that are more common than others, including:
Automobile Accidents-Automobile accidents are the majority of personal injury cases. An automobile accident generally occurs when one or more drivers aren't following the rules of the road, such as speeding, driving while intoxicated, or not paying attention. Vehicle accidents may include cars, trucks, bikes, public transportation, and even pedestrians.
Slip and Falls-Another common type of personal injury case is slip and falls, which tend to happen when the property owner is negligent in providing a safe environment. For instance, slip and falls may happen due to uneven steps, wet floors, icy walkways, or even a dark stairwell. Premise liability injuries occur due to dangerous property conditions, such as structural problems or falling objects. When injuries occur as a result of dangerous property conditions, the property owner may be found liable for your injuries.
Medical Malpractice-When a medical provider, such as a doctor, nurse, or other healthcare professional doesn't provide the competent or necessary care that their patient needs, the result is often injuries, pain and suffering, and possibly death. Medical malpractice cases are generally more complex because they involve a vast array of unique situations. Medical malpractice cases often include situations such as misdiagnosing or not diagnosing a patient, prescribing inappropriate medications, or doing inappropriate surgeries.
Product Liability-Product liability cases may include injury or side effects from the use of defective products, such as medications or recalled food products. Products that are made available for consumer use should be safe. If you have been injured from a defective product, it's important to contact your personal injury attorney as soon as you become aware of the problem.
Dog Bites-Although the details of the law vary from state to state, in the majority of situations, dog owners are generally financially responsible for bites and injuries that occur to someone from the dog, even if the dog never showed aggression in the past.
It is important to note that personal injury lawsuits must be filed within a given time period, which is known as the statute of limitations. The statute of limitations varies from state to state as well as case by case.  For this reason, it is essential that you contact your personal injury attorney as soon as possible after the injury occurs.
---
Interesting Related Article: "What Qualifies As A Personal Injury Case?"