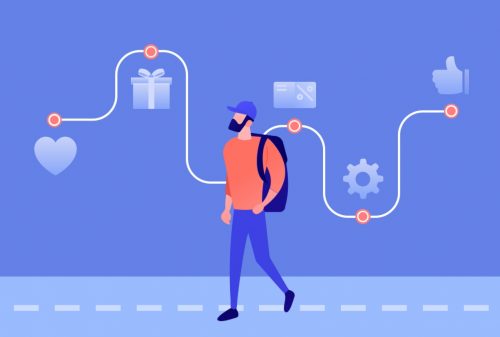 If a company wants to gain new customers and keep them, it needs to plan its customer journey. The way to do so, is to map it. This might just be the most important process that a company has to go through, and too many still ignore it. In the new world, where customers can come into contact with brands through so many channels, costly mistakes can happen unknowingly, for those that did not take the time to prepare their customer journey mapping.
From encountering a Brand to acquiring its Products/Services
If you wander what is customer journey mapping, it is the journey that takes place from the moment a potential customer comes in contact with a brand. That could be anywhere from a Google search to an article they read. From that moment on, they will enter into a journey that will either lead them to acquire the given product, or not. The mapping of this journey is the one element that the company controls. Therefore, it is of the outmost importance that it is built perfectly, so that it retains a maximum of prospects, all the way to the end and beyond. In fact, journey mapping also includes the retention of customers over a long period, as well as the opinions they leave along the way (at customer service, on distribution platforms, etc.).
The mapping will identify the various touch points where customers come in contact with the brand. It positions, on a graphic, the different communication and distribution channels on which they can be found. The aim of mapping is to identify the various emotions the customers will feel at each of these points. Questions will also arise in their mind, and they'll need to be answer promptly. Throughout the course, actions will be needed in order to lead them forward, and all of these movements will have to be analyzed in order to make sure that the experience they are living is optimal.
Meeting customer expectations and demands
The whole objective of journey mapping is to make sure that the process that takes place, from the initial meeting between the brand and the potential customers, goes exactly as planned. If the product or service you offer helps customers in one way or another, there should be no reasons for them not to acquire it. Through journey mapping you ensure that the company meets customers expectations and demands, or goes beyond them. The relationship between the two parties is the element that will guarantee that it keeps going forward, or not. And that is what customer journey mapping does for a company.
Omnichannel Marketing and Journey Mapping
The biggest issue that companies face today is the fact that they are being seen through many different channels. Of course, in terms of marketing, this is great news. However, it can be difficult to manage. That is why journey mapping is so important. Once again, through planning the course of customers, companies can make sure that no one will fall inside a crack and get lost, never to return. All stones are unturned in journey mapping, which enables the brand to optimize their omnichannel marketing.
---
Interesting Related Article: "How Obtaining Customer Data Can Help Improve Customer Experience"