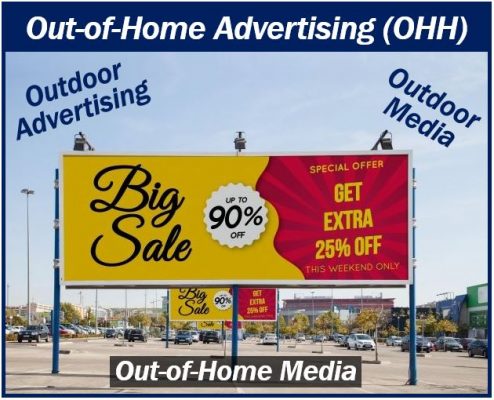 Outdoor advertising, also known as out-of-home advertising, is one of the most common offline advertising methods. Outdoor advertisement, as the name implies, is any form of advertising that reaches the target market while they are not at home. Billboards, transit advertising, tables, signs, and signage may all be used to promote a company's goods and/or services.
Outdoor advertisement takes many types, all of which have the potential to reach hundreds of thousands of people who commute by bus, car, subway, or foot on a daily basis.
Many businesses and companies are increasingly opting for high-traffic zones, spaces, and places for outdoor advertisements. It's because out-of-home (OOH) advertisements aids in brand awareness and growth. According to a new poll, 98 percent of people see outdoor billboard advertisements every day or a week. Outdoor advertisements affect their purchasing choices, according to half of them.
Learning what outdoor advertising is and why it is essential for your company will help you develop your marketing and sales activities, whether you are a startup or a well-established business.
Although bus benches, banners, and transit ads are useful for startups and small businesses, all good outdoor campaigns start with your location's signage
The outside sign is often the first thing that new consumers notice. That is why businesses make their signs visible and bright enough to draw consumers' attention. They want to make things as informative as possible so that future consumers are aware of the resources and goods available.
Every day, people expend a significant amount of time outside of their homes for different reasons. Commuting to work, taking kids to kindergarten, visiting relatives or friends, and shopping are only a few examples. In this respect, outdoor ads is an ideal way to engage people who are constantly on the move.
When it comes to marketing programs or goods in particular geographic areas, outdoor advertisements may be successful. It effectively delivers the message to the intended audience and maximizes their attention. OOH, promotions include things like billboard ads and digital outdoor advertising in the form of LED Screens.
LED Screens are an excellent choice for a campaign that needs to adjust its displays often. When you have a wireless billboard, you can make changes to the ads in real-time. The corporation will use the versatility to run an out-of-home promotion that counts down the days before a major event.
Hundreds of different ads are shown on digital billboards or LED Screens over a set period of time. You can make a highly successful statement with your ads thanks to the innovative boost provided to the medium by digital. Brands compete for a spot in iconic places as the popularity of digital billboards grows. As a result, they are one of the most common outdoor advertising options.
LED Screens Outdoor display advertising that is well-designed and well-targeted can assist you in the following ways:
Increase market recognition by presenting the company's facts in a visually appealing and innovative manner. It aids in the retention of the company's identity, contact information, logo, and, most notably, facilities. It is an excellent complement to any market awareness campaign.
Target unique places depending on your niche and industry; for example, if you operate a collision service, you might place a billboard on the major highway in your city. On their everyday commute, customers will be reminded of your offer.
One of the greatest aspects of outdoor ads is that it attracts interest. Shopping malls, bus stops, gas stations, bridges, and office buildings are all places where businesses and firms can place advertisements. In particular, businesses should choose any location with a lot of pedestrian traffic.
Know the entertaining artwork that is both artistic and strategic draws interest. People are easily drawn to the high-quality show and engaging style.
Almost everything that people find outside their homes can be used as a canvas for outdoor ads. To make a point, this marketing strategy makes use of the environment. To make this strategy effective, you must first understand your business locations and foot traffic. Companies may use outdoor ads to reach out to potential buyers, build brand credibility, and provide important information about their goods and services.
Outdoor advertising allows you to easily and efficiently build and distribute a powerful message to a large audience. When it comes to brand awareness and recognition, it also provides continuity and stability. While most outdoor advertising is subtle, it is still very successful. People are constantly exposed to your brand, whether consciously or subconsciously, so they can remember your company's message for a long time.
Outdoor advertising's widespread use demonstrates its ability to draw customers and persuade them to make a purchase decision over time. As a result, it is a powerful advertisement option for any business.
If you need help with your outdoor advertising and more specifically led displays. Contact Dynamo LED for any projects in Dubai and the UAE.
---
Interesting Related Articles: "5 Ways to Improve Email Marketing ROI"