You might have heard the terms abaya and hijab used interchangeably, however, these are not the same and there is quite a difference between the two. For starters, an abaya is a long robe that can be worn over all kinds of clothes. It comes in open and closed fronts and in many styles, fabrics, and colors. The most commonly available is the black abaya. 
A hijab, on the other hand, is a head covering, more like a scarf. This too comes in several shades and fabrics. Moreover, the hijab and abaya can be worn together and give a very modest look. Most Muslim women around the world wear both hijaab and abaya to cover themselves properly.
However, if an abaya is stitched in such a way that it has an attached hijab with a face covering, then it becomes a burqa. A burqa only shows the eyes and covers the rest of the body. So, apart from those discussed above, what are some other differences between an abaya and a hijab? Let's find out!
What Is An Abaya
An abaya is a loose garment that covers the whole body and ends just below the ankles. These are stitched in a way that gives them a flowing look and does not accentuate bodily features. However, an abaya covers the body properly and gives a good shape but it is not so tight so as to enhance the features of one's body.
The versatility of the abaya cannot be overstated as it can be worn over any kind of dress. Whether you are wearing jeans and a t-shirt, a long frock, or even just a shalwar kameez, your abaya will complement your dress.
Today, the abaya is not only worn by Muslim women, but influencers around the world are also taking abaya styling to another level. Therefore, these are available in a number of styles. From overcoat abaya to A-line abaya and even frock style abaya, you have a multitude of options to choose from. 
When it comes to abaya fabric, these are also versatile. The most commonly used abaya fabrics include georgette, crepe, cotton, silk, and net. When choosing the abaya fabric, it is advisable to consider the climate of your country. If you live in a country with a hot climate, then it is good that you wear a light fabric abaya. On the contrary, if you reside in a country with a rather cold climate, then you should try an abaya with more warm fabric. An overcoat abaya is a very suitable option for women living in cold countries. 
As for the colors, you will also not be disappointed here. From pastel hues to dark shades, you can choose the abaya color as per your preference. For instance, a light solid colored abaya is perfect for attending a work meeting or a formal event. On the contrary, you can try a dark color abaya for a hangout with friends or a family dinner.
If you wear an abaya regularly, then what will you do at a wedding? Well, this problem is resolved too by fancy abayas. These are embroidered and have stonework on them. Some also come with ruffled sleeves while others have pleats on them. Hence, all in all, you can wear an abaya to a wedding, and pair it with appropriate accessories and you are good to go. In case, you want to flaunt your dress a bit but also want to wear an abaya, then you can go with the open front one. It gives a chic yet modest look.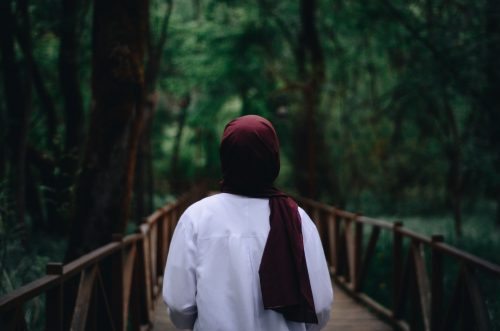 What Is A Hijab?
A hijab or Khimar is a veil that covers the head. It can be worn as a scarf or with a head cap too. The head cap is usually added to completely cover the hair. As per Islamic rules, a hijab is an essential part of a woman's clothing and should be worn especially when she steps out of the house.
The hijab also comes in several kinds of fabrics, colors, and patterns. Here again, you have the freedom of choice and can go all simple or all funky. Moreover, choosing the right fabric for your hijab is also essential. Lastly, it can be styled in a number of ways to give a more trendy look.
Can Abaya And Hijab Worn Together?
For a proper modest look, an abaya and hijab should be worn together. Many abayas come with a hood which eliminates the purpose of the hijab, however, if your abaya lacks a hood, then it is good that you pair it with a hijab.
For a different look, you can style your hijab as per the event and add some accessories for a modern look.
To Wrap Up
Abaya and hijaab are essential parts of Muslim women's clothing. However, in recent years, it has been seen that many influencers are inclined toward the idea of an abaya without a head covering. This way they style it like a robe and pair it with shoes, bags, and jewelry giving a very modern look. 
---
Interesting Related Article: "Top Winter/Autumn Trending Fashion for Women"