As we celebrate a century of Optical Character Recognition (OCR) technology, it's important to look back at its roots, the problems it's solved and how it can evolve to remain relevant in the digitised and always connected to the 21st century.
OCR was the brainchild of physician Emanuel Goldberg. Mr Goldberg devised a machine that was capable of digesting characters and converting them into code for telegraphing. These machines proved invaluable during the First World War. A few years later, Goldberg went further to develop the world's first document retrieval machine powered electronically.
Around the time of Goldberg's invention, microfilming was par for the course for hard-working businesses. It was a necessary but inefficient form of bookkeeping, with microfilming difficult to recall individual accounting records from a film spool. Goldberg cleverly sidestepped this problem with a photoelectric cell solution. The cell would operate and conduct pattern recognition with the aid of a projector – the type used to show movies. It was considered the first form of automated record keeping.
It was little surprise to see tech giant IBM later purchase the US-based patent for Goldberg's "Statistical Machine". It's not just IBM that's realised the potential use cases for OCR technology either. Industries of all shapes and sizes have been reliant on OCR technology to limit overheads and improve efficiencies when interpreting real-life data into digital formats.
The British Library is the UK's national library and the biggest on the planet in terms of catalogued archives. It's said to contain over 200 million items, including documents and books from all four corners of the globe. The British Library has long since used OCR technology to digitise historic collections and data, including complex preservation projects. In Germany, Stadtwerke München adopted OCR for number plate scanning, improving the efficiency of parking inspections in the city of Munich by replacing cumbersome manual processes. The burgeoning live dealer casino industry is also embracing its power too. Site like Betway use OCR when streaming real table games and real dealers to the screens of players at home on their desktops and mobiles. The data of every card dealt and every spin of a roulette wheel is converted in real-time and overlaid digitally on-screen for players to digest.
In the years to come, many believe that OCR technology will still play a vital role in our increasingly connected world. While a paperless commercial world may not be so far away, OCR technology will still be necessary to bridge the gap between those who prefer conventional and digital methods in business.
A reboot for OCR technology is needed to remain relevant
Engineers are working hard to find new ways to incorporate the essence of OCR into next-generation technologies. The answer lies in artificial intelligence (AI). AI-powered machine learning technology is a step-change from conventional OCR technology as it can operate without restrictions on rules-based characters. This new form of machine learning-led OCR can digest, learn and understand huge swathes of data, enabling the technology to think for itself.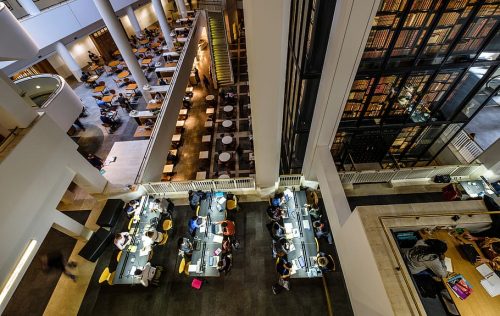 Tech giants Google embraced decades-old OCR software and have since spent several years developing its own in-house OCR technology that was futureproofed. Its all-new Tesseract software is designed to digitise text in 248 languages, as well as languages that read right-to-left like Hebrew and Arabic. Tesseract is capable of extracting data from imagery, printed text, as well as handwritten content such as manuscripts or historic books and documents.
It's fair to say that OCR technology is evolving from being a software that not only views and matches text, to one which recognises and learns from the data. The OCR software which can deliver the most effective and valuable data extraction and insight will win the day in the years to come. There's plenty of gaps in the market too. Given that all manner of industries has their own frameworks and data types, there's room for many developers and engineers to design and build next-generation OCR technology solutions – not least in the healthcare industry where digitised data capture can help improve bedside care.
Machine learning OCR could be a major boon for historic organisations like the British Library too. AI-driven OCR technologies could not only help to digitise full texts but it could digest and understand the context of such texts to save precious resources for organisation in the same way that the latest process documentation software achieves high levels of ROI
---
Interesting Related Article: "Importance of Technology in Business"