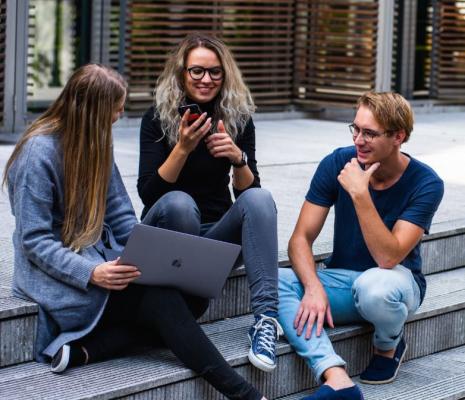 There's no denying that student life can be challenging. Many students are required to leave their homes and discover the hardships of having to organize their accommodations and finances and take care of all of their other everyday needs. 
All these hardships seem like a massive challenge for students during the first semester, when they are most under pressure, feeling overwhelmed, and under-prepared. Since it is so easy to miss the most important things you need to do as a student on campus, students need a personalized solution that could help them organize their time and budget according to their specific needs. 
That is where a campus mobile app comes into play. Most students are mobile today, so it is only logical to provide them with a campus mobile app to make students' lives easier and more organized. Let's talk about the core features of the app and what unique benefits it offers to students.
Campus mobile app core features
A campus mobile app is designed to provide the user with instant access to information and the most important campus events they need to attend. Aside from presenting information at a glance, this mobile app is also a scheduler that allows the user to see what their next class is, whether they have any assignments pending, and pretty much everything else they need to know. 
More importantly, the app allows students to create their own campus system according to their own schedules and needs. We live in the modern age of the internet and digital technologies where students expect deep personalization, hyper-connected systems, intuitive student experience, and blended learning. 
A campus mobile app is designed to help students organize their university time in the best way possible and increase their engagement on campus. The app provides students with top features that allow them to manage their time and obligations in a personalized manner.
A hyper-connected app allows students to tap into the modern community, use one app to manage communication, and increase their retention through one single solution. You can use it to manage your assignments and all other student affairs on time.  
According to GradeScout, the best student mobile app is the one that allows students to harness the power of assignment help services. It provides them with expert tutors who can provide all the information students need with a few taps on their touch screen.
Students can use a single mobile app to track their attendance, discover flexible learning opportunities via a campus student portal, browse academic initiatives, and use the campus sandbox for their academic needs.
The app gives students the option to use the university mobile portal that is reliable, stable, functional, optimized for multiple devices, and secure. This feature is an excellent campus management solution that provides useful insights and allows students to manage vital information.
A campus mobile app also helps tutors and students get through the online registration process and become members of the university community. They can create meaningful relationships with other prospects and get all the assistance they need with their university plan for enrollment.
Students can use a campus mobile app to engage with other users, use instant messaging and chat options, create and post content, exchange experiences, and more.
The benefits of using a campus mobile app
Let's see how a campus mobile app can benefit both students and tutors.
1. Find all the information you need with a few taps
Since every student has a smartphone these days, having a campus app is an excellent way to stay on top of your schedule and find out all the vital information you need in mere seconds. A campus mobile app gives every student access to a student portal where they can organize their duties according to their unique needs.
2. Streamline your communication
Since all students are mobile, the easiest way to keep them up-to-date with everything they need to know is to push content right to their mobile app. Tutors can monitor and track student engagement while students get customized content on-demand.
3. Automated administration
Following up on the registration process, scheduling events, and setting up appointments can be chaotic. Thankfully, things can easily get organized with a user-friendly mobile solution. 
4. Online helpdesk and knowledge base
Tutors can rely on a campus mobile app to automate the entire student inquiry process, while students get the option to create service tickets regarding their inquiries that they can send via a mobile app anytime, anywhere. They can also access links to all vital information, FAQs, and knowledge base.
Conclusion
A campus mobile app is an excellent tool for students to develop a centralized system for all their needs and keep their entire communication, student directories, staff, and content in one, easily accessible place. Whether you need some information or want to find out about your next assignment, a mobile app allows you to do it with a push of a button.
---
Interesting Related Article: "The Influence of Mobile Apps on Our Day-to-Day Lives"