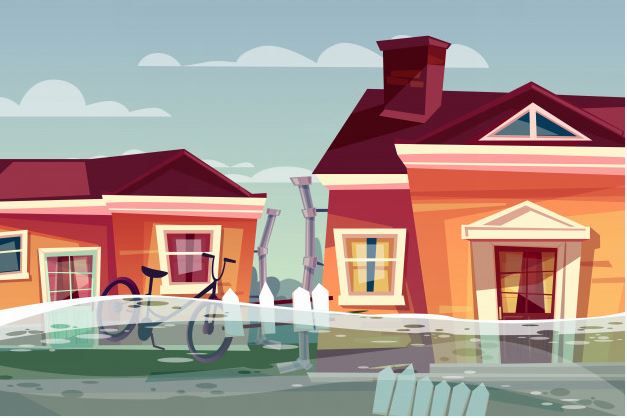 Water damage is a severe issue. Water damage in your area might occur due to a pipe leak, an internal pipe bursting, or a flood. Water damage can also affect a house's structure if it remains undiscovered for a lengthy period, as may be the case.
Furthermore, if the problem is not handled within the first 24-48 hours, it can potentially inflict substantial damage to both interior and exterior components. The circumstance may drive you to panic, and you may be unsure what to do. But don't worry, we've considered everything.
Restoration must be done to address the issue, cure the problem, and return the property to its original condition. This blog explains the water restoration process.
1) Locating the source of water
Stopping water from entering sites is one of the first things to do when it begins to enter your property. If a leak causes flooding, turn off the water supply immediately to stop the water flow.
Automated cutoff valves are now used to avoid water damage by ensuring water does not spread throughout the premises and stays restricted. You may also put them there.
2) Draining the water
The primary source of worry is standing water, which can cause damage until it is exhausted. It is essential to eliminate the water during the first 24-48 hours. The next step should be to drain the water from the premises.
If the water level is low, manually remove it using a bucket. 
Removing water with the help of a bucket is a difficult task. It is exhausting and time-consuming at the same time. If the water is considerable, you should remove it using a wet, gas, or electric pump. A gadget of this type is capable of sucking the smallest amount of water from any area.
The quicker the water is removed; the less harm will be done. You may also hire a professional water damage restoration company to handle the work for you.
3) Drying the place
Now, you need to dry out the place completely. Otherwise, moisture and dampness will harm everything present in your house. Thus, proper ventilation in your home is essential. Keeping in mind that you should open the ceiling fans and windows so that sunlight and air can enter your house. 
Sunlight will kill all the microbes, and fresh air will reduce the odor in the place. If your house has a centralized heating or cooling system, then you should switch it will increase the speed of the process many times.
In the absence of such a system, you may even rent some dehumidifiers. They absorb water vapor from the surrounding. We all know that mold grows in areas full of moisture, and a dehumidifier reduces the damage. 
Anything which remains wet for more than 48 hours has a higher risk of mold growth. You must remove the carpeting, insulation, furniture, drywall, and other things to remove the water from there. 
If you witness mold growth, you should hire an expert water damage company that will remove the moldy area and restore it to its original condition.
4) Cleaning the place
After removing the water, you'll need to decide which items should be kept and which should be destroyed. All furniture, carpets, rugs, clothing, shoes, kitchenware, and other items should be cleaned and dried in the sun. They must be cleaned after drying to prevent mold formation.
Things that have been immersed in water for more than 48 hours are no longer usable. Please throw away the food goods since they may cause sickness. 
Last few words!
Water damage may be an upsetting event because it destroys places and items that have emotional and personal meaning for you.
Such incidents have a profound impact on our mind at this extra stress and tension may decorate your health, and thus you should call a water damage company as soon as possible as they can assist you in the best possible manner. From restoring your house to getting your claim, they will be there at every step for you.
---
You may be interested in: Estimating the Cost of Injection Molding