Learning management system software programs have evolved dramatically since the 1990s. In fact, the best learning management system software has streamlined how businesses of all sizes train their employees to thrive in their respective roles. After decades of advancements and with dozens of brands on the market, how do you pick the right one for your business?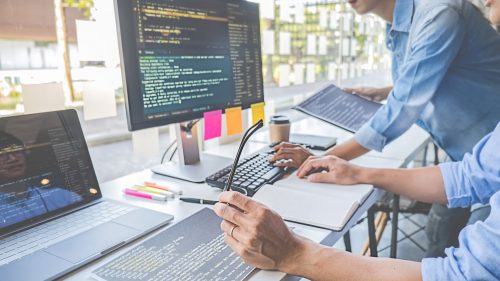 The best strategy of course is to shop around. However, a corporation should not only consider basic functions but also cutting-edge features that can make training a seamless process. Here are some specific features to shop for:
Primary Content Delivery
If you are training employees for generalized projects, you may want a platform that comes with a large library of pre-programmed coursework. These basic programs are often professionally developed and can be modified to meet your company's specific needs.
While you should also seek out PowerPoint and document-sharing capabilities, employees are 75% more likely to engage with a video. With that in mind, solid video connectivity with incorporated tools for sharing is also a plus. Finally, programs that can support webinars (live and recorded) can help personalize the training process and foster a collaborative environment.
Interactive Content Supports
Interactive features such as gamification are progressive forms of content delivery. And they are not just for younger workers. One study shows that 97% of workers who are 45 and older think gamification is an effective learning tool.
With the help of AI, virtual tutoring has become more accessible than ever. Using assessment semantics, AI can work with employees as individuals and help them understand any material with which they struggle. This ensures that no employee has to fall behind and miss out on important information as they attempt to get caught up.
Training Outcome Resources
The best learning management system software will grade and track employee performance automatically. Additionally, many programs can track employee progress through assessment engines. Assessment engines are advanced programs that help you to identify top employees or employees who have stand-out skillsets by matching them with the key performance indicators. Assessment engines also work with a material presentation by adjusting or making recommendations based on your employees' learning preferences.
Feedback
Maintaining real communication about the learning process at the corporate level is important. Forbes states that 89% of HR officers surveyed felt that feedback was the key to success.
However, effective communication in a corporate setting can be tricky. Answering every email requesting detailed feedback can become tedious, but offering canned responses or ignoring these requests altogether can come across as disinterested.
Fortunately, the best learning management system software utilizes AI to craft feedback that directly addresses all employees' needs. Some programs can even track commonly discussed issues so you can readily offer relevant feedback to every employee who needs it.
Improve Employee Training With the Help of the Best Learning Management Software
Learning management system software has become more than just an essential business tool. Many of these programs are expanding their utility to bridge the learning and communication process between you and your employees. Invest in the right program for your company today!
---
Interesting Related Article: "What You Should Know About Management Software?"