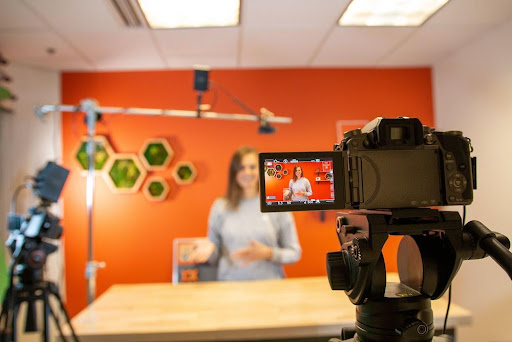 Most businesses already have some kind of advertising campaign ongoing; that's just a normal part of running a company. However, video marketing may seem unnecessary or inaccessible, especially for smaller companies. What many organizations may not know is that, when used properly, video marketing can pay for itself through boosted sales and increased brand awareness.
The question is, how does an organization get the ball rolling? For most of them, the answer is to get in touch with the professionals. For example, they could contact a video production company out of Chicago like Charter & Co for help with the entire process, from developing the script to post-production editing. This is a fairly big undertaking though, so before committing to a video marketing campaign, it's important to understand the when and why behind the decision.
Could your company benefit from increased brand awareness?
Brand awareness is crucial for building a customer base, but how important is it for your company in particular? For a local mom-and-pop doughnut store with wish to expand, this won't necessarily be a life-changer. Assuming they already have a devoted local clientele, a video marketing campaign may not make that much of a difference. What if the company in question has both the desire and the potential to develop a national customer base, though? In that case, a video marketing campaign could make a huge difference. Here's how:
It'll reach more decision-makers
Management-level professionals typically stay busy, but surveys have shown that around 75% of them still view work-related videos each week. Marketing is all about competing for views; when the viewers are in the position to make decisions, their views are all the more valuable.
It'll help you leverage online platforms
Many brands use massive platforms like YouTube and TikTok to promote their video-based content, growing their sales along with their online followings. And these videos aren't just advertisements for specific goods and services; they could be how-to videos, cooking tutorials, commentary-type videos, meme videos, or anything else that would provide value to the brand's target audience. This type of video marketing can foster a connection between consumers and brands that other types of marketing campaigns simply aren't able to, which is exactly what makes it so powerful.
No matter how well-constructed a print-based ad campaign is, there will still be people who simply aren't interested in paying attention to it. Give them a professionally shot video, though, and they're far more likely to watch it – and enjoy the experience as well! Studies have found that worldwide audiences spend 1 billion hours each month on YouTube alone. The audience is already there; now it's up to organizations to offer content that can benefit both themselves and potential customers.
Could your company benefit from improved SEO?
Let's talk about the hypothetical doughnut shop again. They've been around for decades, they're a local landmark, and they've always had more than enough customers to keep the business humming. They don't have a website, because they don't need one. In that case, video marketing might not be such a revolutionary investment.
What about a company that's just itching to take off into entrepreneurial stardom, though? They have a website, and they're ready to scale up as soon as the customers come – the trick is to build a more robust customer base. In that case, a video marketing campaign could be just the ticket.
It can improve a site's SEO
Websites with embedded videos have a couple of advantages over those without video content. Firstly, site visitors spend an average of 88% more time on sites that have video content. Secondly, statistics show that websites with embedded videos boost their chances of reaching Google's first page by 53 times. Visibility is key for a successful website, and videos could be part of the answer.
It can increase site traffic
One study indicated that embedding videos on a website can result in an increase of up to 55% in traffic; another study showed that sites with videos enjoyed a 41% boost in traffic compared to those without. And keep in mind, these video marketing campaigns aren't just cut-and-dried advertisements; they're entertaining, helpful videos that will encourage site visitors to hang around because they actually want to.
Video marketing FAQs
Video marketing is an unfamiliar medium for many businesses; the answers below should provide clarity for anyone who's considering it for themselves.
What advantages does video marketing have over other types of marketing campaigns?
There are four main advantages:
1) Videos are extremely versatile, so they can be adapted to almost any purpose
2) Videos can reach a larger audience because they're so easy to share
3) Videos are better at evoking an emotional response
4) Videos are more engaging than pictures or text
What makes video marketing such a powerful tool?
Essentially, the answer lies in boosted engagement. Videos are more visually appealing, they can relay information more efficiently, they're extremely easy to share…all of which leads to increased customer engagement, and ultimately boosted profits. They can introduce new consumers to the brand, or fortify the brand's image to their core audience. Whichever way you look at it, videos are simply more efficient at accomplishing many key advertising goals.
What are the pros and cons of video marketing?
Pros:
1) Videos are easily shareable, meaning they get the word out more quickly
2) Videos are very effective at building brand awareness
3) Videos are a great way to build a larger audience
Cons:
1) There's no guarantee that the videos will reach the target audience
2) Top-quality videos are expensive to produce
3) If a highly visible video campaign gets an unfavorable reaction, this can result in damage to the brand
Takeaway
Video marketing has been shown to increase engagement and profits time and again, for companies in all different industries. Is it always the right choice for an organization? Maybe not, but in most cases, it probably is. With the proper research and some expert help, your company could benefit from video marketing just like so many others already have.
---
You may be interested in: Top 5 Ways to Increase Brand Awareness