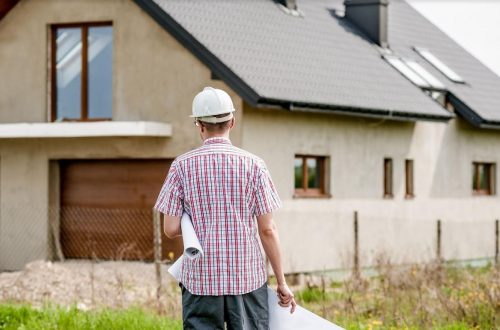 With the advanced technology of 3D printing, construction companies are now beginning to print houses. With this new technique, companies are able to build homes at a quicker pace for a fraction of the cost. Building homes using 3D printing technology is also eco-friendly and much greener for the environment. 
What is a 3D printed house?
To put it simply, a 3D printed house is a house that is made with a very large 3D printer. With no hidden meaning, a 3D printed house literally means just that! Just about anything can be printed with 3D printers. According to heating engineers at Easy Boiler Company, even chemical boilers, gas cylinders, and mechanical parts can be produced! 
Bryan Sebring, a bathroom contractor in Nashville has used 3D printing in some of his bathroom designs creating one-off bespoke kitchen islands in nonstandard shapes that would be a nightmare to construct with normal timber methods.
We covered in an earlier article how 3D printed art is now gaining mainstream popularity meaning interior designers and decor enthusiasts will be getting more involved.
Some websites already have printable 3D models uploaded by various designers, so if you have all the equipment, why not download some models and give it a go?
How are 3D printed houses made?
A computer is used to create shapes based on 3D models, which are then printed into physical objects by 3D printers. Thin layers of material such as metal, plastic, or concrete are placed onto an industrial machine, and objects are created from bottom to top. The final appearance of one of these houses in the project in Africa looks not so different from a traditional cob house.
As mentioned, 3D printers can practically print almost anything. Medical devices and parts for planes and transport have been made as well as plant-based steaks! Starting off small, a few US companies have started up in the hope to break into the construction industry. 
How to get a 3D printed house?
There are currently very few 3D printed houses available on the housing market, but construction using the 3D printing method is highly anticipated to be the future of home building. A number of companies are slowly starting to 3D print entire homes, but many real estate investors are just wondering when the advanced technology will be available to everyday customers. 
As it stands, the United States is ahead of the game – more companies now offer 3D printed homes and they hope that this could be the solution to America's housing crisis with many of the benefits discussed here.
How long will a 3D printed house last?
Although 3D printing technology is slowly improving, it still has a long way to go before it beats traditional architecture. However, its an advantage is that it's much more affordable and environmentally friendly. 3D printed houses are strong and durable and require less construction material, usually having a lifespan of 50-60 years. Compared to traditionally constructed houses, homes can stand for over 100 years, almost doubling the life of a 3D printed home.
Is a 3D printed house safe?
A 3D printed house is highly durable, strong, and resistant to everyday wear and tear. They are built to withstand fires, high-speed winds, extreme weather conditions, earthquakes, and floods. We have however covered earlier how some 3d printers release harmful fumes and particles.
How can 3D printed walls prevent moisture and damp? 
External walls are made for strength and durability and in 3D printed houses this is no different. The walls that have been produced by a 3D printer must meet the requirements of the building code. In order to meet the building code requirements Damp Hero stated that each wall must be limited to the amount of heat escaped during winter and demonstrate that overheating is prevented in summer, as well as protection from noise and excessive moisture in normal circumstances. 
In 3D printed walls, high-performance concrete is used with mineral wool for insulation. Researchers have found heat-transfer issues with walls created with high-performance concrete that has a compressive strength of over 50MPa. To solve this issue, scientists have discovered that Graded Polystyrene Aggregate (GPA) can be added to the concrete mix used in 3D printing. Other researchers have analyzed this with the printed shape and have confirmed that the thermal properties can be influenced by the structure and shape being printed.
3D printed houses vs traditional houses
3D printing is generally a more affordable option, and this is the main advantage for this type of construction. As we have already mentioned, the lifespan of a 3D printed house is reduced by almost half in comparison to traditionally constructed houses, but the cost of having a house 3D printed is also roughly half the cost! So, which type of house is better depends on what you prefer! 
From a constructor's point of view, construction companies are able to print exactly what they need, reducing the amount of waste materials left over from the production process. At present, the majority of waste materials are taken to landfill sites, which in effect pollutes the environment. If you are looking to build a home on a budget, and are an individual who likes to keep the world green, then 3D printed houses are for you!
---
Interesting Related Article: "3D printing can be used in these industries"