Salesforce offers several products to enhance operations and bring success to businesses worldwide. Every product has a specific design and can solve unique challenges and bottlenecks. This article will examine some of the most popular products offered by Salesforce, what makes them unique, and why they are a popular choice for many businesses.
Salesforce Sales Cloud
Salesforce Sales Cloud is the most popular of the Salesforce products and deals with identifying, selling, and managing prospects and customers to realize sales objectives. It covers Leads, Contacts, Accounts, opportunities, price books, Campaigns, and Quotes. It also accelerates the Sales Cycle effectively and manages all Leads, Opportunities, and Businesses. In addition, it focuses on B2B business and assists in creating a customized Customer Venture. Ultimately, it identifies more customers, wins additional transactions quickly, and boosts Conversion Rates by converting high-quality Sales Leads.
Einstein
Sales Cloud Einstein is a set of artificial intelligence features that help you make better decisions faster. You can use Sales Cloud Einstein for anything in your CRM workflow, from lead scoring and forecasting to emailing deals and personalized updates.
Salesforce Service Cloud
With its Customer Service solution, Salesforce Service Cloud helps you deliver personalized customer support, automate workflow, and provide quick solutions. It also enables you to manage cases using features like consoles, communities, collaboration, and social service. It extensively uses channels like email, live chat, phone, and SMS to connect with customers so that the service agents can know their needs.
Create service interactions that reflect your unique brand of hospitality.

Deliver proactive and personalized experiences with the help of AI-powered insights, predictive analytics, machine learning, and more.

Manage all touchpoints in one place—whether a live chat on social media or emails within Salesforce CRM.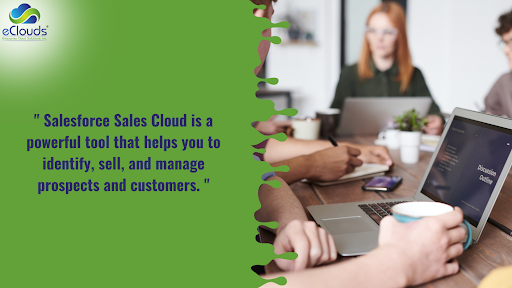 Salesforce App Cloud
App Cloud is the platform for building, deploying, and managing apps. It includes App Cloud Lightning, a cloud-based development platform for building Salesforce apps. App Cloud also includes App Cloud Console, a cloud-based management console for deploying and managing apps.
Marketing Cloud
Salesforce Marketing Cloud helps you to manage your digital marketing operations by providing a platform for email communications and branding. It allows you to build an ideal customer journey focusing on better branding across the web, mobile, social, and ad channels.
Marketing Automation is a tool that allows you to automate your marketing campaigns, from lead nurturing to email campaigns to social posts. You can segment your audience based on certain characteristics and send them personalized messages tailored to their interests.

Lead Management helps you track leads from first contact through conversion into a customer. You'll know who's interested in your business, what they're interested in, and how far along the buyer's journey they are so that you can focus on closing deals faster with less effort wasted on low-value prospects.

Email Marketing allows you to send automated emails based on trigger events like signup, purchase completion, or birthday reminders (or any other event). It makes it easy for customers who want regular updates from you without having to opt-in every time. It gives more control over when people receive those updates than if all communication was manual via phone or email.
Community Cloud
The community cloud model is a cloud computing solution for a few, governed and managed by a third-party service provider. Organizations share infrastructure and support the common mission, policy, or security requirements. It allows you to create different platforms for partners, customers, and employees to have productive interaction and good collaboration. It integrates data from third parties into Salesforce using themes and templates for a branded experience.
Analytics Cloud
The Salesforce Analytics Cloud is a data analytics platform that enables companies to gain insights from their data to help them make better business decisions. Salesforce Analytics Cloud allows you to build predictive models and automate analysis processes across your entire enterprise, on-prem or in the cloud.
Salesforce Analytics Cloud empowers you with the following:
The ability to quickly create and deploy self-service analytics applications that are easy for anyone in your organization to use.

You can keep some of your data on-premise while leveraging the cloud for other data. And you can move the entire setup seamlessly whenever you need to.
IoT Cloud
IoT Cloud is an intelligent IoT platform that helps enterprises build, connect and manage their IoT solutions. Built on the Salesforce Platform, it provides a single interface for managing all aspects of the IoT lifecycle. It reduces time-to-market by automating manual processes and enabling deeper insights into your data.
Salesforce Commerce Cloud
Salesforce Commerce Cloud combines a complete view of inventories, orders, and customer activities to grow the brand and convert leads to customers. It also uses AI in all digital channels. As a result, the platform provides the following:
The best services and purchases experiences.

Making it easy to create digital shops.

Product pages.

Campaigns based on AI.
Salesforce Pardot 
The Pardot product is a full solution that helps marketers create more pipelines, empower sales to close more deals, and create meaningful connections. Easily convert qualified marketing leads into Opportunities with this simple-to-use tool that generates quick closed/won deals!
Salesforce Health Cloud
With Health Cloud, medical providers can offer patients a complete digital experience, resulting in higher efficiencies and more engaged patients. It allows businesses to manage their referral networks and chronic illnesses. It also offers physicians a way to enhance the patient experience by providing them with forms, emails, text, and chat options that can be easily integrated into their systems.
Salesforce has a lot of cloud solutions for enterprises
.
Salesforce has a lot of cloud solutions for enterprises. These tools help businesses streamline work processes and make it easier to work with customers. They can also be used for marketing purposes like emailing or direct mailings.
Salesforce is one of the largest software companies in the world. Over 150,000 companies worldwide, including many Fortune 500 companies like Adobe and Samsung, use Salesforce.
Hiring a Salesforce implementation partner can save you a lot of time and effort, ensuring that your CRM system is set up correctly and training your staff on how to use it.
How eCloud can help you choose the best Salesforce cloud for your business?
Selecting the right Salesforce cloud for your business can take time and effort. It's a big decision that affects almost every part of your business, so take time to be sure you're doing everything right.
Eclouds offers a range of Salesforce services, including implementation and training. We have Certified Consultants for all Salesforce clouds and work with clients to expand their platform use. We complete projects on time and within budget and offer free 30-day support after launch so all customers can become comfortable using their system. Virtually all our clients see increased revenue as a result of our work with them, expanding their usage of the platform.
Key Takeaway
With all the options available, it's hard to tell which cloud is best in Salesforce. So many variables are at stake here, from security and uptime to platform features and app capabilities. It's also important to consider your company's requirements and intended user base. We know that getting Salesforce users can be a confusing experience. This article will help you make the most informed decision possible.