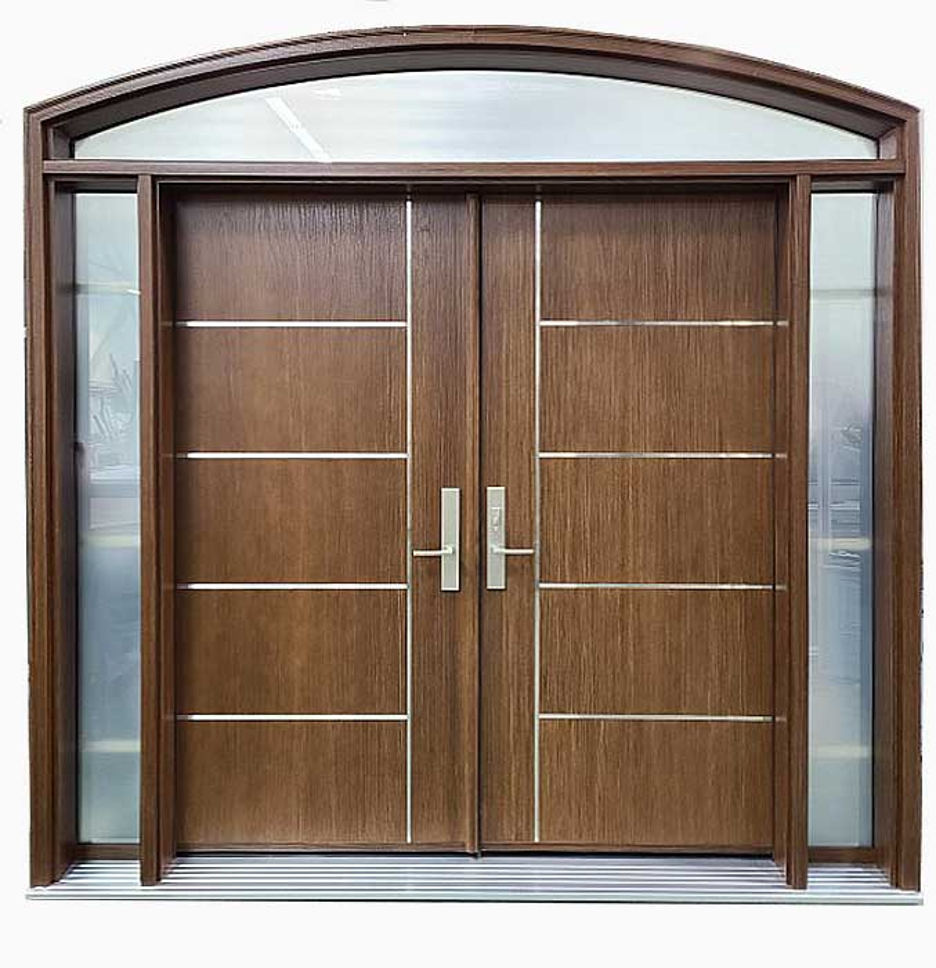 Old and outdated doors won't do your home any favours. That's why more and more of us are choosing to complete the overall look and finish of the inside of our homes with swanky new interior doors.
What's more, you don't even need an interior designer and a big budget to completely restyle your home. There are many options to bring your property up to date and add value to your home without the steep costs of renovating. It's time to ditch those 1970s/80s doors and revamp.
Let's take a look at which styles of internal door will suit your home best:
The Timeless Appeal of Oak Front Doors
Have you thought about the role your front door plays in setting the tone for your home? It's not just the first impression for guests; it's a statement of your personal style. Opting for an oak front door could provide that touch of timeless elegance you've been seeking. The natural grain and warmth of oak exudes a welcoming charm, while its robust nature adds a comforting sense of security.
Oak front doors can complement a wide range of architectural styles. Whether your home is a charming Victorian, a sleek modern apartment, or a rustic barn conversion, an oak front door can enhance its aesthetic appeal. You can choose from finished or unfinished options, giving you the freedom to customise the look to your taste and your home's existing decor. Remember, your front door is more than a functional feature – it's an opportunity to make your home truly stand out.
A Modern Home with Contemporary Finishes
Arguably the most straightforward type of home to choose internal doors for, in a modern home there is a world of options open to you. Whether your property is a new build or a recent renovation, you have an abundance of choice from modern flush doors to more traditional panel doors.
Flush doors offer flat, minimalistic lines to finish that modern feel and keep that contemporary style flowing through your home. Ideal if you have an ultra sleek kitchen and brand new flooring.
Also available in more classic and period designs, panel doors can add detail and depth to a contemporary home. The type of panelling comes in all shapes and sizes, all the way from just one panel up to six panels, flat or raised panels, with or without mouldings and in a variety of timbers and colours. 
Match the wood finish of your door to your furniture and flooring or choose a white finish to suit the aesthetic of your crisp white walls and fittings.
With either of these styles of internal doors, opting for a glazed or half glazed style can enhance a bright and airy feel by allowing natural sunlight to flood through. 
Victorian or Georgian Home Full of Period Features
New interior doors can breathe new life into your well loved period property. You don't want plain, boring doors letting down those wonderful original period features.
Originally, Georgian doors consisted of six panels, whereas Victorian doors tended to be designed with four panels. Replace these with like-for-like panel doors in a wood that matches the original style. Depending how grand you want your internal panel doors to look, you could add mouldings to those doors that lead to your entertaining and living areas.
Internal glazed doors are the latest must-have and incorporating glass into two or more of these panels will allow light into a dark room or open up the link between two rooms. 
Rustic Barn Conversion
Exposed wooden beams and hardwood flooring lends itself perfectly to matching wooden finish doors. Depending on your budget and personal preference, solid oak doors not only look incredible but can add value to your home! 
Oak veneer doors can look just as good though, with the same intricate details as solid wood but without the weight and the price tag of solid wood doors. They are also less likely to split, twist or shrink like some solid oak doors can be prone to.
There is anything from pine and oak to walnut available to you and depending on whether you have gone for a more traditional and rustic feel or a modern and contemporary aesthetic, you may even consider using the latest grey or black doors. 
There are no two barn conversions the same and no right or wrong choice when it comes to your internal doors. You can make your home anything you want it to be, so go for those modern flush doors to accompany your new fixtures and fittings, or embrace the country feel and use authentic, unfinished wooden doors.
Minimalist Apartment 
Unless you have the penthouse suite, sometimes it can be hard getting enough light into your flat. Brighten up those gloomy interior spaces with glazed doors that allow sunlight to spread through into other rooms of your home. 
Opt for full or part glazed doors in just about any door style to match your other internal doors. Online Door Store has a huge range of internal glazed doors in panelled, flush, period, contemporary and many more styles.
Bi-fold doors are a great space saving solution in apartments. They can consist of two to six doors linked together depending on the size of the opening. Use them in tight spaces or to separate an open plan living space into two rooms. As with most of the doors at Online Door Store, these are also available glazed so you can have the best of both worlds.
Established Bungalow
Depending on when your bungalow was built, you may consider getting 1930s style doors, for example, sympathetic to the era of the building to bring a sense of nostalgia. Featuring three vertical panels and one horizontal panel at the top, the simply styled 1930s doors could also suit a modern home. Inspired by the Arts & Crafts movement, these doors would also create a talking point.
1920s and 1960s style internal doors are also available at Online Door Store.
If you've recently renovated your bungalow you could also consider the suggestions at the start of this blog for a modern home.
Internal Fire Doors
Your building may have a requirement that you have fire doors but even if not, it's important to consider whether you'd like them in your home. Feel safe and secure in your home knowing you have fire doors to contain a potential hazard and buy you and your family time to escape the building if the worst were to happen. 
Fire doors may bring to mind those heavy hinged doors you get in commercial buildings, but they can look just like your other internal doors so you don't need to compromise on style. Online Door Store offers a vast range of internal fire doors in various painted or wood finishes, glazed options and much more to match the rest of the doors in your home.
Finished vs Unfinished Doors
Once you've decided on the doors you'd love for your home, the next step is to choose between finished and unfinished doors. This applies mainly to white doors. Finished doors will have been painted and varnished or oiled to factory standards and are, in many cases, ready to be fitted and used right away, making the job quicker and easier.
Some prefer to add the finishing touches to their doors themselves. An unfinished door will be sanded at the factory and ready to be painted or oiled at home. Occasionally, extra sanding and priming will be required.
Which you choose is entirely down to you, your budget and timeframe. And the same goes for the doors you end up choosing to complete your home.
You do you and follow your flair.
Speak to one of our door experts at Online Door Store, and we'll help you find the perfect door for your project from our wide selection. 
---
You may be interested in: How To Choose A Window For A Flat Roof?